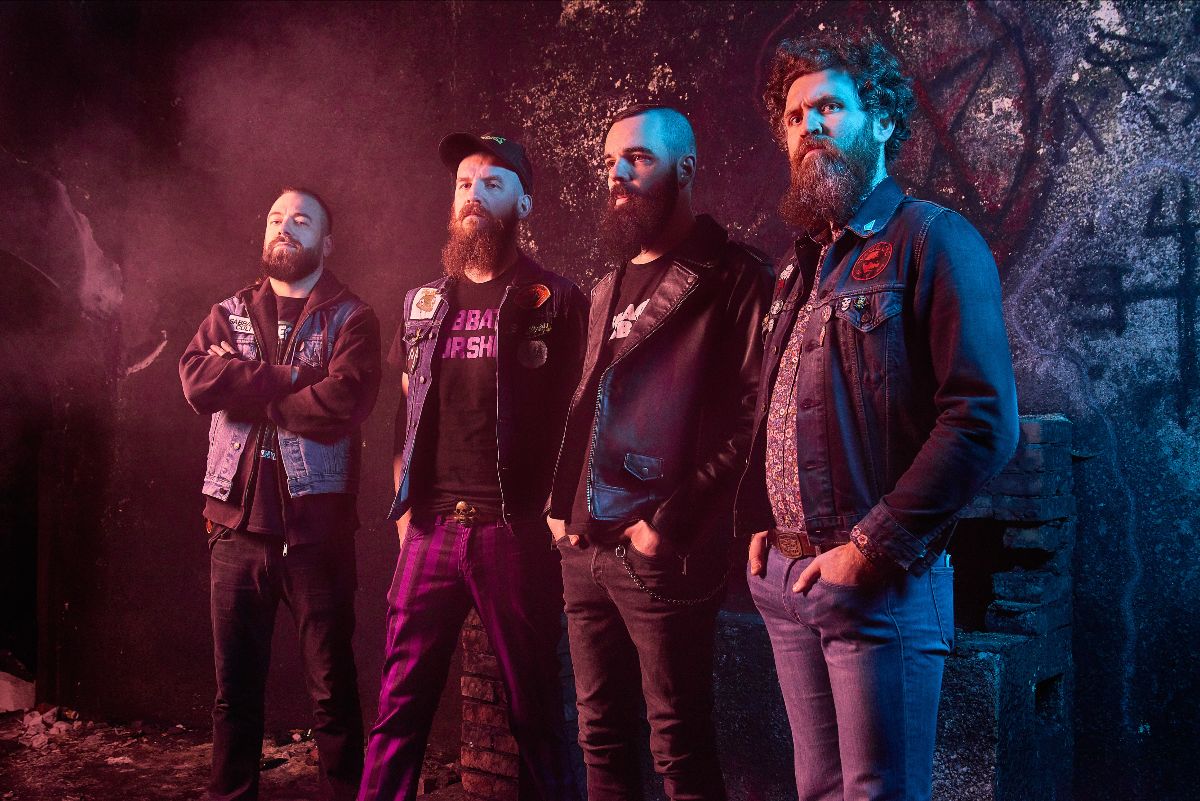 DOPELORD and THE OTOLITH confirmed to release new albums as part of PostWax Vol.II vinyl series on Blues Funeral Recordings!
Blues Funeral Recordings announce the next bands to take part in the PostWax Vol. II vinyl subscription series. Polish stoner doom flag-bearers DOPELORD are set to crank their fuzz up to stratospheric levels, and Salt Lake City avant-garde doom unit THE OTOLITH (formed by SubRosa members) will issue their awaited debut album as part of the series.
Between Acid King, Lowrider, Mammoth Volume and Josiah, Blues Funeral Recordings has gathered a wealth of artists who have been hewing riffs from stone, sand and sky for decades, inviting them to bring their immense talents and peerless legacies to their ambitious PostWax series. But, as shown by the inclusions of REZN, Elephant Tree and Vinnum Sabbathi, they also put the spotlight on bands who represent stoner, doom and heavy scene's present and future, ones with the benefit to peer across the generation of heavy rock greatness before them as they seek to forge enthusiastically forward.
Blues Funeral Recordings is happy to welcome Poland's fuzz-doom emissaries DOPELORD on board today. These masters of monolithic normally follow a deeply DIY path, having self-released almost their entire catalog while still managing to secure worldwide adoration. Albums like 'Children of the Haze' and 'Sign of the Devil' are absolute monsters of granite-thick hallucinatory riff-tripping, the latter of which landed on many end-of-2020 best of lists and garnered the band a win for best song is the recent Doomed & Stoned Awards.
Dopelord's Piotr Klusek declares: « We've been aware of the PostWax project for a few years now and thought it sounded interesting but wanted to see how it all came together, plus we were focusing on our new album. After releasing our latest record and seeing how the first PostWax series came out, we absolutely wanted to be involved if they did it again. Whatever we end up doing, look forward to something adventurous and fun but still massive and utterly Dopelord! »
As for THE OTOLITH, the new four-piece formed from the ashes of SubRosa, they will release their highly anticipated debut double LP as part of PostWax Vol. II. Those who've been following the aftermath of SubRosa's dissolution know that Kim Cordray, Levi Hanna, Andy Patterson and Sarah Pendleton announced the formation of The Otolith in 2019, and tantalized acolytes of SubRosa's avant-garde sonic palette with songs on Magnetic Eye Records'one-off'Dirt [Redux]'and 'Women of Doom' compilations.
THE OTOLITH hint: « Our debut album reveals the musical mutations and mystical wanderings of a soul, scanning the edges of the known universe through cracked glass.Ghostly symphonic strings interlace with crushing bass, guitar, and percussion; voices conducting signals across time and space to arrive through cosmic storms to a sea of liquid stars. »
The purpose of Postwax Vol. II is to create a curated series of releases that stand alone yet also connect, both through art elements and a musical throughline. Unearthing forgotten bands, unveiling new ones, and catching icons at the height of their powers, Blues Funeral Recordings are set to deliver yet another set of next level and highly collectible releases for all heavy rock, fuzz and doom fans out there. 
=> Get more info & subscribe to PostWax Vol. II at this location
The PostWaxseries present exclusive limited edition records from some of the best stoner rock, doom and heavy psych bands on the planet. Benefiting from a spectacular success in 2018, PostWax Year One debuted releases to subscribers first, which were subsequently issued in standard retail versions to the public several months later. With Acid King, Josiah, Lowrider, Elephant Tree,REZNandVinnum Sabbathi already announced, the upcoming PostWaxVol. IIserieswill present 9 deluxe releases on gorgeous vinyl, with each record including at least one exclusive track only available to subscribers, also coming with next-level sleeve design, hand-crafted art and behind-the-scenes liner notes. The first PostWax Vol. II release will be delivered directly to subscribers in the summer of 2021.
Blues Funeral Recordings is an independent label created by the founders of MeteorCity and Lowrider, and releasing music from luminary artists in the heavy/stoner/doom/psych ecosphere. While issuing stellar albums from Domkraft, Howling Giant, Lord Buffalo and Somnuri, the label has also gained attention through PostWax, a groundbreaking subscription-style series of lavish custom releases featuring exclusive music from Elder, Daxma, Spotlights, Lowrider, Besvärjelsen, Big Scenic Nowhere and Domkraft.
DOPELORD LINKS
Facebook⎮Bandcamp⎮Instagram
THE OTOLITH LINKS
Facebook
BLUES FUNERAL RECORDINGS LINKS
Website⎮Facebook⎮Bandcamp⎮Instagram | Youtube