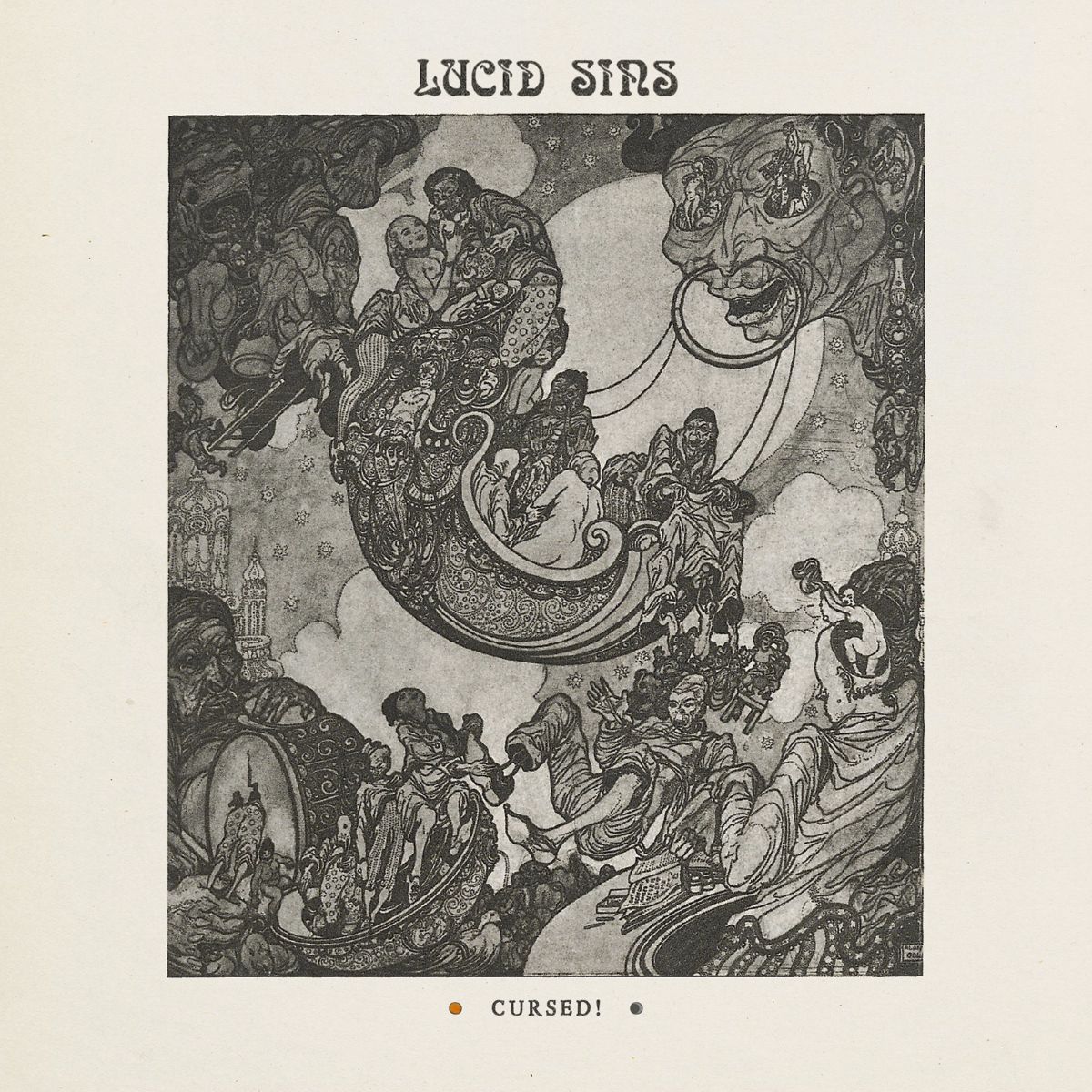 Scottish psych-prog rockers LUCID SINS stream new album 'Cursed!' in full; out May 3rd on Totem Cat Records.
Scottish 70s psychedelic rock goldsmiths LUCID SINS team up with The Sleeping Shaman website to present their sophomore album 'Cursed!' ahead of its official release this Monday 3rd May on Totem Cat Records. 
"Lucid Sins evoke stark 70's vibes while strutting around originality, chock full of black sunshine-baked reverbed vocals, galloping riffs, some Purple organ blasts." – Metal Injection
"Cursed! is such a promising release from Lucid Sins as they venture into more progressive territory whilst fully embracing psychedelic tones." -MMH Radio
"It's the sort of psychedelic trip that only the greatest bands can really pull off and draw you into." – Two Guys Metal Reviews
Seven years after their masterful 2015 debut album 'Occultation',the Glasgow-based duo has morphed into a bigger and more ambitious beast to craft their sophomore album 'Cursed!'. Inviting five other musicians from their entourage to hop on the LUCID SINS train, the group delivers an organic and progressive 8-track fueled by an intoxicating dose of keys and violins, liquid-fingered riffage and Andreas Jonsson's compelling vocals, harking back to the likes of Wishbone Ash, Blue Öyster Cult or The Doors.
Listen to new album 'Cursed!' in full via The Sleeping Shaman
Multi-instrumentalist Ruaraidh Sanachan about the album: « Our first album 'Occultation' was recorded entirely as a duo of me and Andreas Jönsson. After getting such a great response to 'Occultation »' we decided to expand the scope and invite contributions from our wider circle. We love Steely Dan and really embraced the Dan studio approach on 'Cursed!', inviting various shredders in and ruthlessly plundering their talent with vague demands until we got just what we wanted.  The creative core of the group remains the original duo but some of the collaborators really let us take it where we wanted it to go. » 
'Cursed!' will be released on May 3rd on vinyl, CD and digital via Totem Cat Records. Watch Lucid Sins celebrate life and death on their latest video « Sun & the Moon« .
LUCID SINS 'Cursed!'
Out May 3rd on Totem Cat Records – PREORDER
LUCID SINS is Ruaraidh Sanachan and Andreas Johnsson, the heads who brought an explosive freeform psychedelia to Glasgow's live scene through their first band Moon Unit. With their Totem Cat Records debut 'Occultation' (2015) — not to mention their stellar cover of Medusa's « Black Wizard » — the Scottish duo drew attention to their darkness-tinged brand of 70s psych and classic rock, making a storming entrance among their proto-metal peers Uncle Acid & The Deadbeats, Witchcraft or Dead Meadow. 'Occultation' draped itself in a stunning Alasdair Gray sleeve, which set the tone for their occult-driven ventures. In 2021, LUCID SINS return to the scene forefront with their sophomore full-length 'Cursed!', to be issued on May 3rd through Totem Cat Records. With a surrealistic artwork from Britain's early 20th century illustrator Alan Odle, 'Cursed!' makes for a must-have piece of 70s progressive rock.
LUCID SINS 'Cursed!' Lineup
Andreas Jonsson — Vocals & Guitar
Joe Gallagher — Guitar
Martin « Eggy Beard » McKenna — Violin
Ruaraidh Sanachan — Guitar, Bass, Keys and Percussion
Sondre Berge Endegal — Bass
Stuart Coleman — Keys
Additional recording by Clark Neville
LUCID SINS is
Andreas Jonsson & Ruaraidh Sanachan
LUCID SINS LINKS
Facebook⎪Bandcamp⎪Instagram
TOTEM CAT RECORDS
Website⎪Facebook⎪Bandcamp⎪Instagram