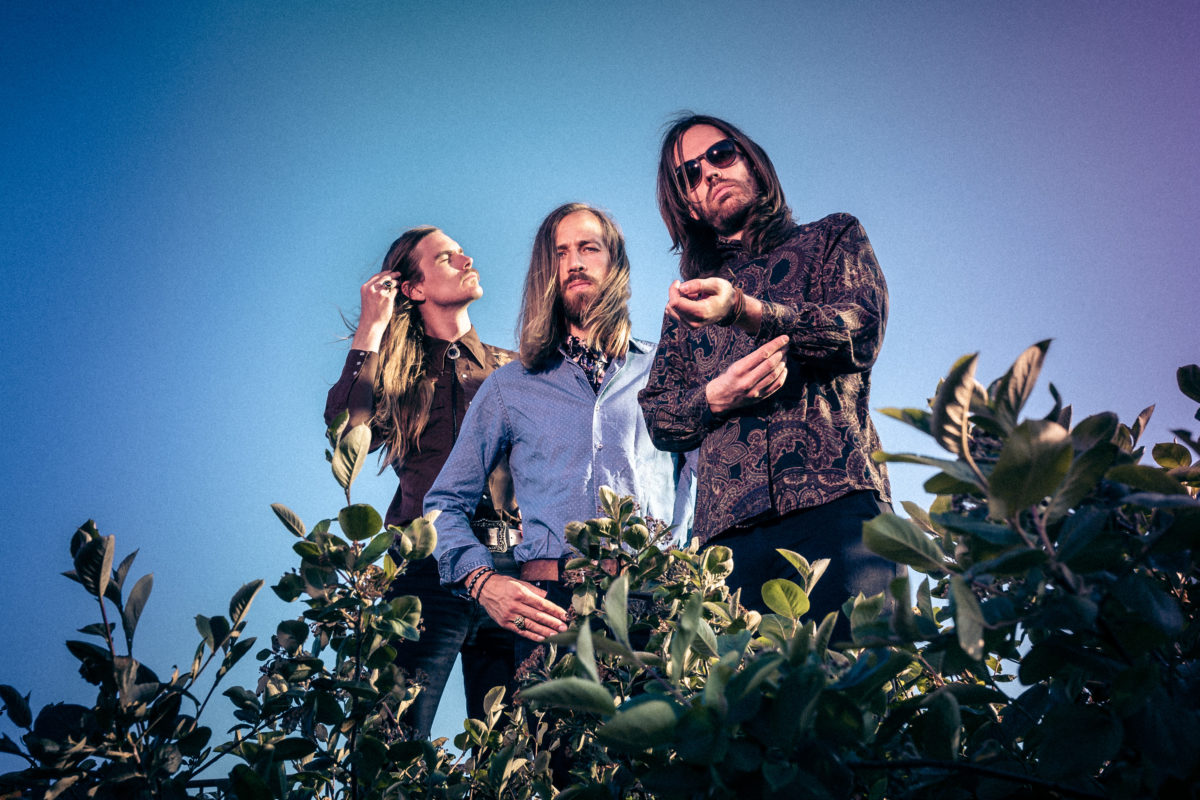 Psych rockers THE SONIC DAWN premiere "Forever 1969" off new album "Eclipse", coming February 1st on Heavy Psych Sounds Records!
Danish 60s-infused psychedelic trio THE SONIC DAWN, who just recently announced the forthcoming release of their hotly-anticipated third album Eclipse, are now premiering a first excerpt via The Obelisk!
Flickering between light and darkness, their sound burns with an intensity that places the band among the top psychedelic acts of their time. Following their first two album releases, THE SONIC DAWN have toured Europe more or less constantly, only returning home to focus on their biggest work to date.
« Eclipse » is the product of a full year's labor, with 13 blistering tracks carefully selected among over more than 40 candidates. The result became a cinematic journey in sonic technicolor with catchy melodies that cast a mysterious shadow. Recorded to tape in The Village Recording, Denmark's best analog studio, Eclipse has been produced by THE SONIC DAWN and Thomas Vang (Roger Waters). Mastered in the Svenska Grammofonstudion by Hans Olsson Brookes (Graveyard) and cut to vinyl in the Abbey Road Studios lead « Eclipse » to an ultimate sound quality. Set for a worldwide release on February 1st 2019 with Heavy Psych Sounds Records, the band is now sharing a first appetizer with the song 'Forever 1969'!
Stay « Forever 1969 »: dive into THE SONIC DAWN's new track NOW!

Says the band: « Forever 1969, the first single from The Sonic Dawn's new album, delivers a simple yet powerful message: that you can be, whoever you want to be! The 50th anniversary of Woodstock and the largest peace marches is coming up, but we are not just nostalgic: times may change, but the struggle remains the same. It is always the right time to free your mind!"
New album « Eclipse » will be released February 1st and available in the following formats:
– 25 Test Press vinyl
– 250 LTD silver vinyl
– 250 LTD splatter trasp. background / black – pink fluo
– 500 LTD red solid vinyl
– Black vinyl
– CD and digital
THE SONIC DAWN New album « Eclipse »
Out February 1st on Heavy Psych Sounds
Vinyl & CD pre-order available at this location
TRACK LISTING:
1. Forever 1969
2. Psychedelic Ranger
3. The Stranger
4. No Chaser
5. Opening Night
6. Circle of Things
7. On the Edge of Our Time
8. Christiania
9. The Last Page
10. Love Bird
11. To Change Who We Are
12. Islands in Time
13. Towards the End
But that's not all with the good news of today from THE SONIC DAWN camp! Heavy Psych Sounds has also just announced to re-release the band's ground-breaking 2014 debut album « Down the Line » in early 2019. Stay tuned for more exciting news to come!
THE SONIC DAWN was formed in Copenhagen in late 2013, by childhood friends Emil Bureau, Jonas Waaben and Niels 'Bird' Fuglede. They were soon picked up by the local underground label Levitation Records, who released their debut 7-inch, Down the Line (2014). During this period they toured Denmark extensively and made their first international appearances.
On October 31st 2015 they made their album debut with Perception on Nasoni Records. It fuses a range of musical styles into a psychedelic sound, with the intention of carrying the listener away to the unknown. The album featured Erik 'Errka' Petersson on organ/keys and extremely colorful cover artwork by Robin Gnista, both of whom THE SONIC DAWN have collaborated with on subsequent albums. The following album tour took the band to Germany, France, Switzerland, Italy, Austria and Denmark.
In April 2017, the sophomore album Into the Long Night was released worldwide on Heavy Psych Sounds Records. Written by day and recorded at night during a month of complete isolation in a country house by The North Sea, it is as light and gracious as it is dark and mysterious. Compared to the debut, Into the Long Night has been both more sensitive as well as critical in the world-view it presents. The album track L'Espion charted on Denmark's biggest radio station, peaking as no. #1 for two weeks on P3's Barometerlisten. The record was well received in the music press and the following album tour was the band's most extensive so far in Europe.
Since returning home from tour THE SONIC DAWN have worked intensely on their third full-length « Eclipse », to be released with Heavy Psych Sounds Records on February 1st 2019. Both the songwriting and the production was the most comprehensive in the band's history, fueled by certain tragedies in and around THE SONIC DAWN. Eclipse is arguably the band's strongest and most personal album to date, equally catchy and psychedelic.
THE SONIC DAWN European Tour 2018 w/ Brant Bjork:
06.11.18 DE Hamburg |  Fabrik
07.11.18 NL Amsterdam | Melkweg
08.11.18 BE Leuven | Het Depot
09.11.18 UK London | Garage
10.11.18 FR Paris | Petit Bain
11.11.18 NL Tilburg | O13
12.11.18 DE Wiesbaden | Schlachthof
13.11.18 CH Zürich | Rote Fabrik
14.11.18 CH Martigny | Caves Du Manoir
15.11.18 IT Turin | Spazio 211
16.11.18 AT Innsbruck | Hafen (HEAVY PSYCH SOUNDS FEST)
17.11.18 DE Munich | Feierwerk
18.11.18 AT Vienna | Arena
19.11.18 DE Dresden | Beatpol
20.11.18 DE Berlin  | Festsaal Kreuzberg
THE SONIC DAWN are:
Emil Bureau (guitar & vocals)
Jonas Waaben (drums)
Niels 'Bird' Fuglede (bass guitar)
THE SONIC DAWN & HPS RECORDS LINKS
Bandcamp ⎮ Facebook ⎮ Instagram
HPS website⎜HPS Facebook⎜HPS Bandcamp