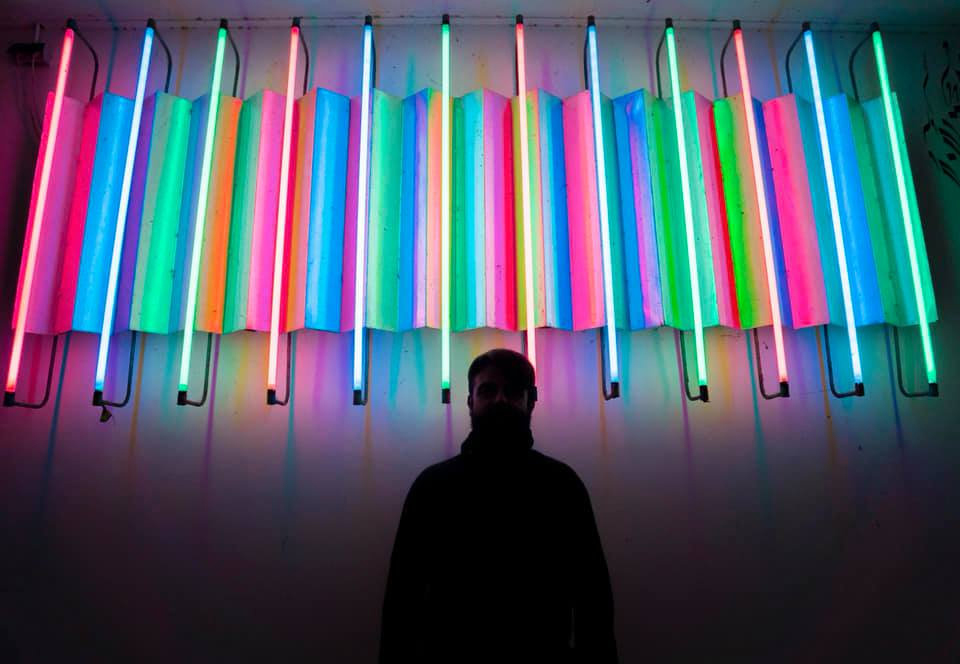 Sardinian ambient/post-metal instrumentalist S A R R A M presents first video off new album 'Albero' on Subsound Records!
Discover S A R R A M, the solo ambient/drone and post-metal project of Sardinian multi-instrumentalist and creative Valerio Marras. His fourth studio album 'Albero' will see a May 14th release on trailblazing label Subsound Records, watch the subliminal video for « Midnight » right now!

Transcending the use of guitars, sound effects, synths, glockenspiel and more through a stripped-down and atmospheric 40-minute exploration, his fourth studio album 'Albero' (Italian for « tree ») could be described as the resilient pulse of Mother Nature, a haunting instrumental ceremony which merest detail, from the delicate humming to the loudest guitars, are perfectly highlighted by James Plotkin (Isis, Sunn O))), Jesu, Cave In) work on mastering. 
? Enter 3 minutes of a world collapse with « Midnight » video ?
– Stream the song on Bandcamp –
Says Valerio Marras about the album songwriting and inspirations: « I consider "Albero" a doom-ish record, a real swarm of sounds that provides a transversal experience and a wide array of feelings. There has been a strong research in terms of frequencies, sound, the combination of acoustic instruments and distorted layers. When I started the recordings, I tried to push things in a way I had never experienced before and it turned out very dark and intense. I called it 'Albero' because the first thing that came to my mind when listening to it was a big tree. I didn't say anything to artwork designer Animamundi – I told him to follow his feelings listening to the recordings, and he came out with pictures of trees. I got totally surprised and, well, maybe it was written somewhere that it had to be called Albero.« 

Directed by long-time collaborator Claudio Spanu from Nubifilm, new video « Midnight » deals with our ecosystems and civilization collapse: « Although we had a great chance to overcome most of the capitalist selfishness in favor of greater empathy, we live more and more isolated, and get more and more alienated. The video represents how we have imagined the end of the world, the « midnight of our civilization », explains the Italian songwriter. New album 'Albero' will be released on May 14th via Subsound Records, in ultra limited fumè vinyl, limited edition black vinyl and digital.
S A R R A M – New album 'Albero'
Out May 14th on Subsound Records – PREORDER
TRACK LISTING:
1. Heavy Sleep
2. The Sound Of A Needle
3. Scraps Of Paper
4. Sinking Shadows
5. Diving Deep
6. Fading Sunlight
7. Midnight
7. The Far Side Of The Moon
S A R R A M is the solo project of Sardinian multi-instrumentalist Valerio Marras, combining elements of drone/ambient, post-rock, doom and electronica. Also guitar player of post-rock oriented trio Thank U For Smoking and post-metal foursome Charun, Valerio Marras played extensively in Europe, with appearances at the KME, Schwarzer Herbst in Germany, Whoneedslyrics?! in Slovakia, Johanneskirche in Lobau, The Academy of fine Arts in Munich, Spazio Musica Project and Signal Fest in Cagliari, Dunk!Festival in Belgium and Young Team in France. He also collaborated with MAN and Ciusa Museum in Nuoro, Mua Museum in Sinnai, Nubifilm, Animamundi and naturalistic photographer Bobore Frau.

His fourth album 'Albero' presents a balanced and enigmatic mix of drone and ambient soundscapes, walls of guitar and hypnotic loops, while incorporating electronic and warm whispers. It's a deep and intense journey, a dark ceremony of frequencies. It was recorded and mixed at ACME Studio at Cagliari, Sardinia by Nicola Olla and mastered by James Plotkin. Artwork was designed by Animamundi.
S A R R A M is
Valerio Marras — Guitar/fx, synth, glockenspiel, mandolin, kalimba

S A R R A M LINKS
Facebook⎜Bandcamp⎜Instagram

SUBSOUND RECORDS LINKS
Website⎜Facebook⎜Bandcamp⎜Instagram⎜Youtube