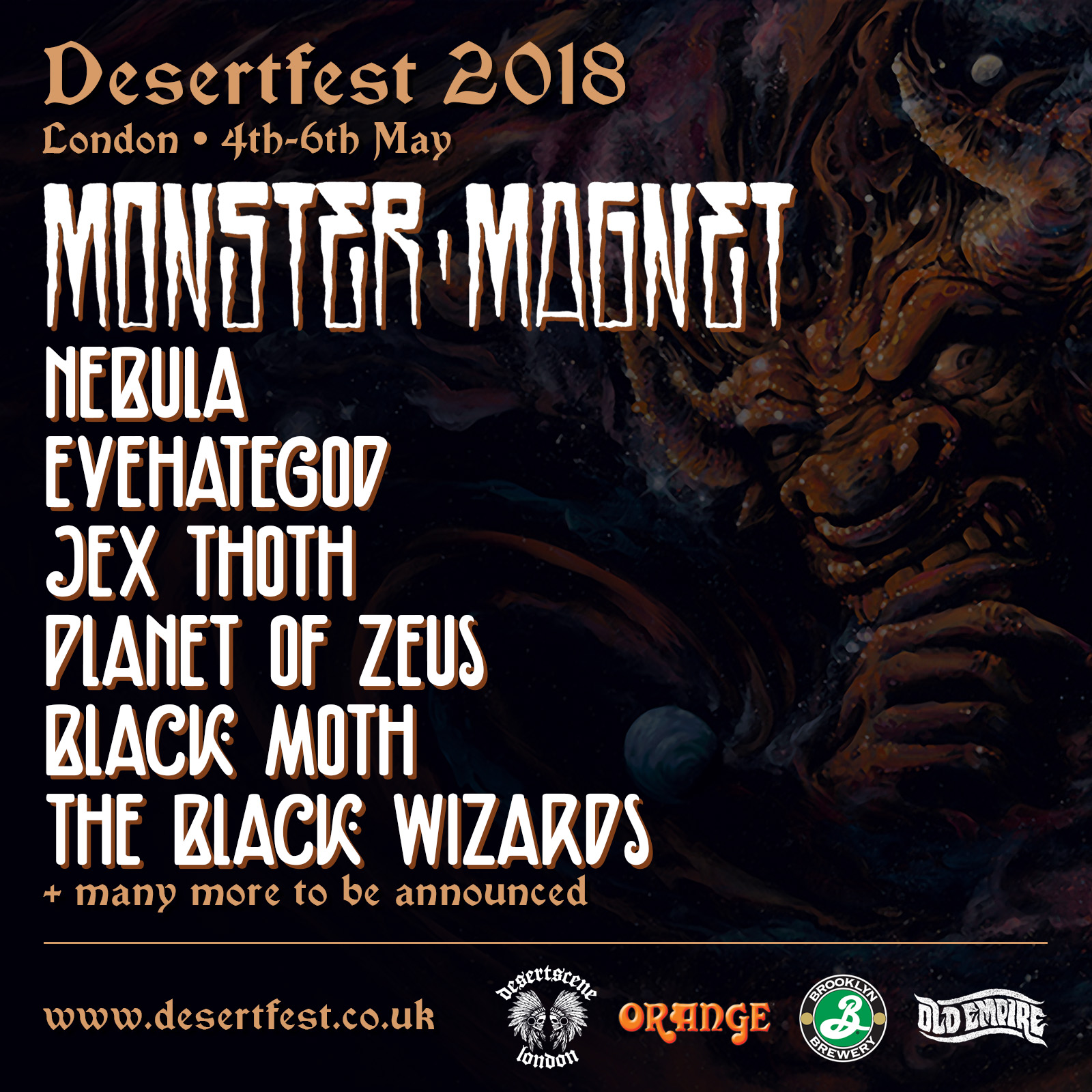 DESERTFEST LONDON announce first headliner and bands for their 7th edition; tickets on sale now!
DESERTFEST LONDON
is ecstatic to reveal the first batch of bands confirmed for the 7th edition of the UK premiere stoner rock, doom, sludge and psych festival, taking place May 4th-6th, 2018 in Camden Town.
After the festival's most successful edition to date a mere 6 months ago, which saw the prestigious Roundhouse being added to the list of venues, and in turn selling out, it's time to raise the stakes again. The 2018 proceedings will see more venues, more outdoor space, more merchandise, more bars and even more bands. There is a lot to be revealed, but for now here's the initial installment of riff-filled goodness to get your gears going…
Our first headliner comes in the form of the mighty MONSTER MAGNET. Making their long awaited Desertfest debut, these New Jersey legends are bringing their space-tinged stoner rock to the holy ground of Camden town for a stomping main stage set. This will be the band's only UK appearance for 2018 and we have an extremely special day planned to celebrate the arrival of these visionary heavyweights into the DF family. A band that flawlessly sum-up what Desertfest was born out of and stands for, Monster Magnet is going to be one of those perfectly placed and truly life-affirming performances for the weekend – monolithic, baby!
Yet another one for the books: intrepid cosmic rockers NEBULA are reforming for Desertfest 2018. The set will see founding member Eddie Glass at the forefront alongside drummer Michael Amster – having held a truly a staggering role in desert rock history we are honored to play host to this fabled trio's first performance in almost a decade.
One of the most widely re-requested acts in Desertfest history; it's about time we welcomed back one of our most beloved bands into the fold, EYEHATEGOD are fighting fit and back on true form. Expect the total annihilation of Camden from these NOLA legends because their comeback will take zero prisoners. Also jumping across the pond for another far-out feat are psych-rockers JEX THOTH, who have consistently stunned crowds with their hexing and mysterious performances worldwide.
Greek overlords PLANET OF ZEUS will return with some earth shattering sounds that will undoubtedly rattle the gods to an abrupt awakening. And another helping of doom comes from UK favorites BLACK MOTH, while Portuguese fuzz-rockers THE BLACK WIZARDS will play their first Desertfest with their seamlessly perfected proto-rock sounds. Keep your eyes open, as dozens more huge bands will be announced over the next few months…
Desertfest London 2018
4th-6th May in Camden Town, London
3-day pass (£115) now on sale AT THIS LOCATION
– Hotel + ticket packages available here –
For the first time ever, the festival is also offering a split payment plan.
Pay half of your ticket now and the other half early next year! Find more info here.