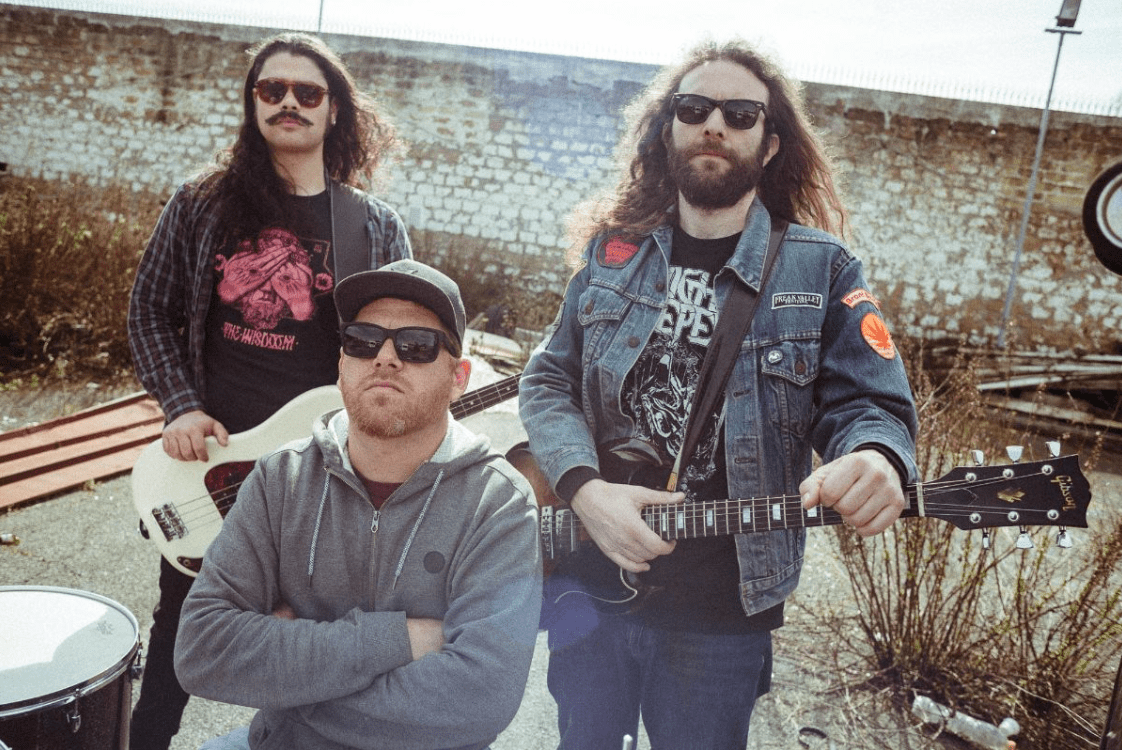 Stoner rock trio BLACK RAINBOWS releases new track off 'Live at Desertfest Belgium' album on Heavy Psych Sounds.
Italian stoner rock heroes BLACK RAINBOWS are set to release their first live album 'Live at Desertfest Belgium' this February 25th through Heavy Psych Sounds. This will also mark the 15th-anniversary reissue of their cornerstone debut 'Twilight in the Desert'. Listen to a brand new live track « Supernova & Asteroid/Fire in the Sky » exclusively on The Obelisk!
BLACK RAINBOWS frontman Gabriele Fiori comments: « We're delighted and excited to still be here in this wonderful scene after 15 years. Last time has been tough for all of us because of the fucking pandemic, but it looks like we're almost back! We wanted to double celebrate this moment with the 15-year anniversary of our first album and the recording of our first live set after the pandemic! Enjoy! »
🔥 Listen to Black Rainbows new song « Fire In The Sky » 🔥
The 'Live at Desertfest Belgium' album features nine songs that include two previously unreleased tracks: « Fire In The Sky » presented here, as well as « Desert Sun » (watch video). BLACK RAINBOWS recorded the album at Desertfest Antwerp at Trix venue in October 2021, delivering 45 minutes of high-octane heavy psych'n'roll in the band's finest tradition. The album was mixed and mastered by Shane Trimble. It will be issued on February 25th, just as the 15th-anniversary reissue of their cornerstone debut album 'Twilight In The Desert' (preorder here).
BLACK RAINBOWS 'Live at Desertfest Belgium'
Out February 25th on Heavy Psych Sounds – PREORDER
TRACKLIST:
1. Evil Snake
2. The Prophet
3. Supernova & Asteroid + Fire In The Sky
4. Black to Comm
5. Desert Sun
6. Isolation
7. Grindstone
8. The Hunter
BLACK RAINBOWS are now established among the best Heavy Psych Stoner Space band coming from Europe, spreading the word of Fuzz since 2007! Their sound has oozed between classic '90s-style stoner fuzz and deep-cosmos psychedelia, drawing on the best of hard-driving space rock to conjure a vibe totally tripped-out. In 2020, Black Rainbows entered the new decade refreshed and with well-earned veteran status resulting from countless tours, festival appearances, and their track record of absolutely unstoppable energy. They released their eighth studio album "Cosmic Ritual Supertrip" on Heavy Psych Sounds to great applause from the stoner rock community. The band then returned to Desertfest Belgium in 2021, a special performance that was captured and recorded for a special release on the band's 15th anniversary.
BLACK RAINBOWS is
Gabriele Fiori — Guitars & Vocals
Filippo Ragazzoni — Drums
Edoardo Mancini — Bass
BLACK RAINBOWS links
Facebook⎜Website⎜Bandcamp⎜Instagram⎜Spotify

HEAVY PSYCH SOUNDS links
Website⎜Facebook⎜Bandcamp⎜Instagram⎜Youtube