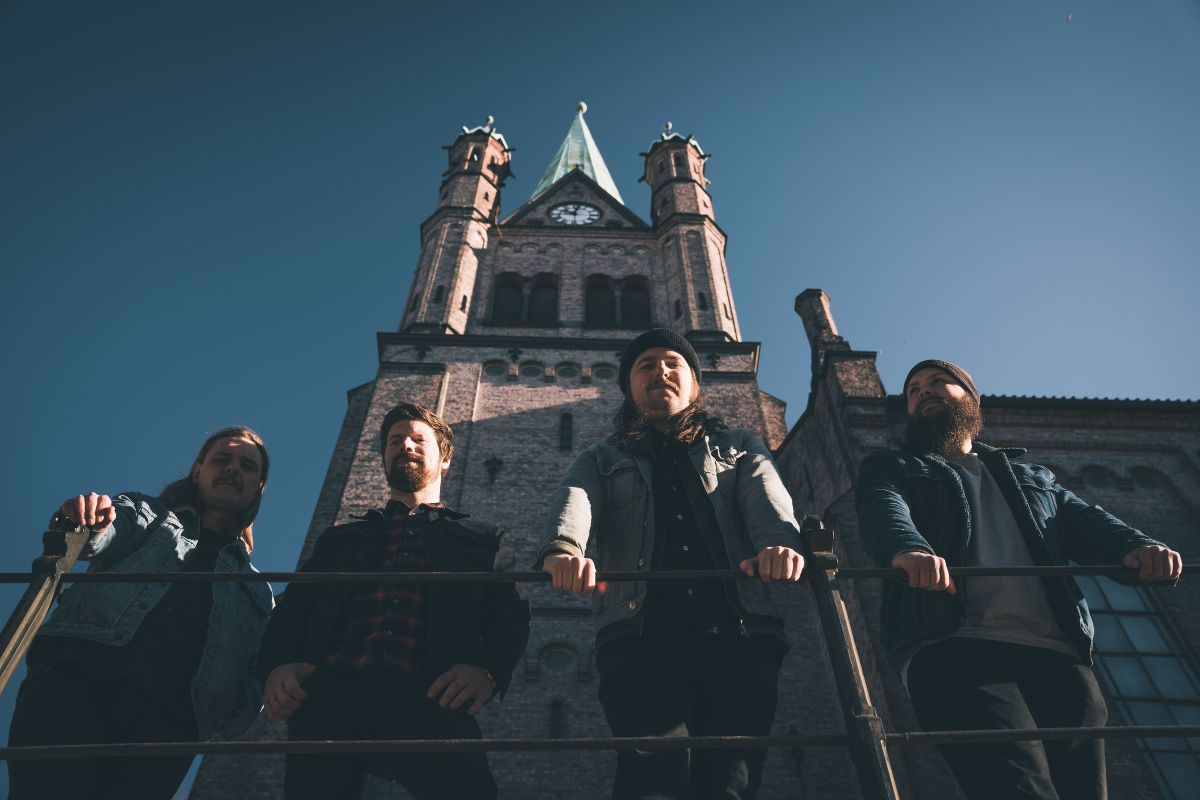 Norway's doom'n'roll champions HÅNDGEMENG premiere new track « Temple of Toke »; debut album out March 10th on Ripple Music!
Oslo-based doom'n'roll geniuses HÅNDGEMENG team up with Invisible Oranges to present their groovy new track « Temple of Toke », taken from their debut album « Ultraritual » to be released on March 10th on Ripple Music.
« Like any potent sorcery, the spell that Håndgemeng weaves on their upcoming debut album Ultraritual is a magic of many disciplines. (…) The world of 'Ultraritual' is a tumultuous one, full of danger and mystery. » — Invisible Oranges
Check out Håndgemeng's new track « Temple of Toke« 
Go headfirst in the glorious riff-heavy of Norwegian rockers HÅNDGEMENG! A high-octane, unstoppable weapon of sonic destruction, their debut album « Ultraritual » intrepidly draws from the fuzz-laden wizardry of stoner rock, the melodic richness of classic rock, all topped off by the band's hardcore roots.
Somewhere in the tundra, the cosmic offspring ofKvelertak and Mantar was born and decided to crank it loud while getting tenfold trippier. With seven bangers propelled by Martin Wennberg's galvanizing roars, Håndgemeng takes you from the depths of hell to the farthest reaches of space in a blink of an eye. Buckle up! ► Listen to previous singles « The Astronomer » and « Cro-magnon vs Neanderthal« !
HÅNDGEMENG – Debut album « Ultraritual »
Out March 10th on Ripple Music
US preorder – European preorder – Bandcamp

HÅNDGEMENG was formed in Oslo in 2017 by brothers Martin and Filip Wennberg on vocals and bass, Charlie Ytterli on guitar and Ola Holseth on drums. They had played together in various hardcore and punk bands in the early days, but the puzzle pieces didn't come together until Håndgemeng was formed and the riffs got slower, and the amps got louder. In 2019 they released their first EP "Motorcycle Death Cult" followed by the "Grim Riffer" EP. Playing shows constantly, they became a band to take notice of in the Oslo underground scene. After parting ways with bassist Filip, longtime friend Kim Grannes took over as groovemeister in the band. Just when they started making their debut album, society collapsed, and the world went into a global lockdown. Coincidence? We think not… Still, from that darkness, the band wrote and recorded « Ultraritual », eight songs that will take you on a forceful, hard-hitting and definitely spacey heavy rock journey over millions of years.
HÅNDGEMENG is:
Martin Wennberg aka Hellvis Presley – vocals
Charlie Ytterli aka Abuse Springsteen – guitars
Kim Grannes aka Jeans Simmons – bass 
Ola Holseth aka Motörola – drums

HÅNDGEMENG links
Facebook⎪Bandcamp⎪Instagram⎪Spotify
RIPPLE MUSIC links
Website⎪Facebook⎪Bandcamp⎪Instagram