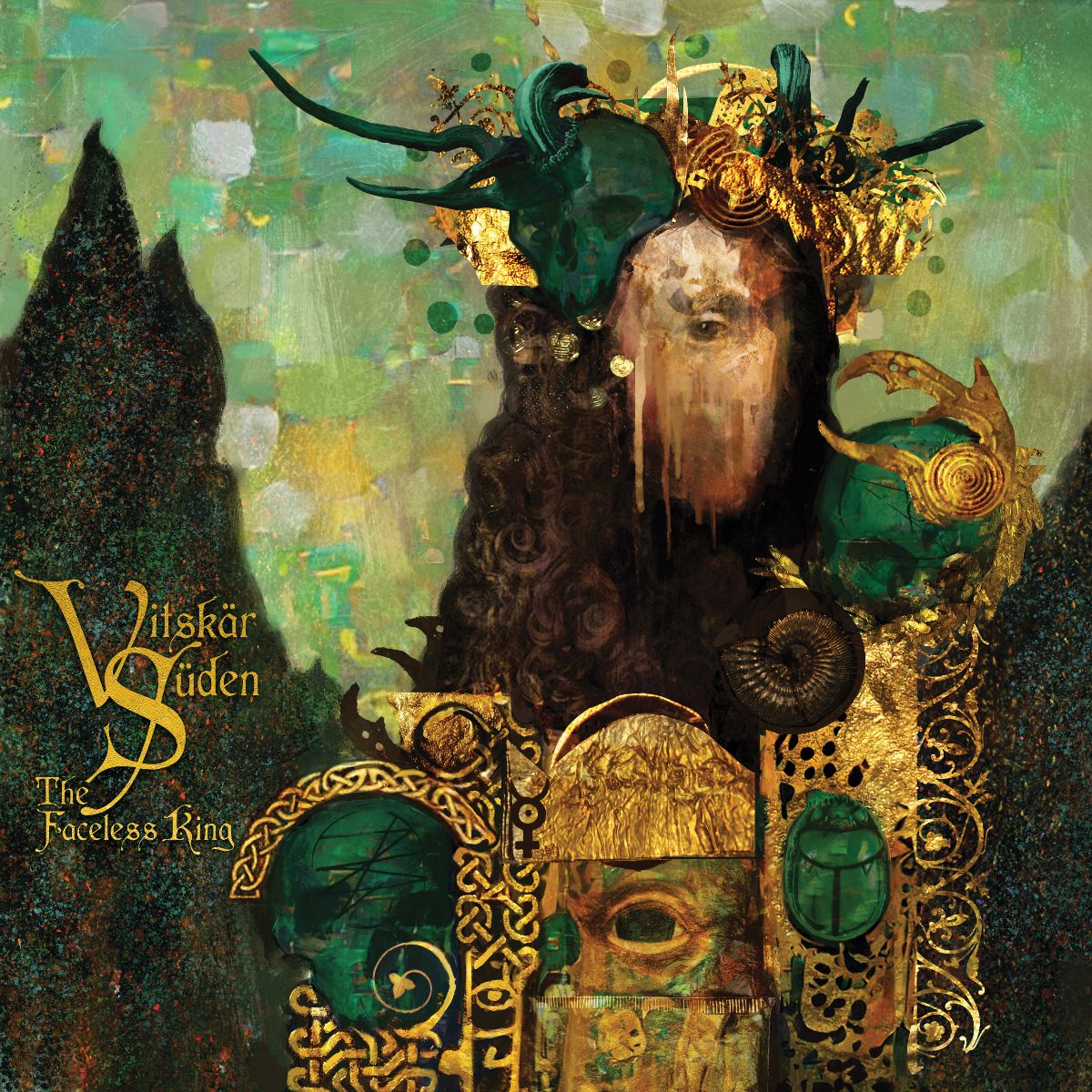 L.A. psych-prog goldsmiths VITSKÄR SÜDEN stream « Archdiocese of Worms » video; new album out now on Ripple Music!
Los Angeles progressive space rock quartet Vitskär Süden celebrate the release of their dark fantasy concept album « The Faceless King » on Ripple Music today, by premiering a brand new video for « Archdiocese of Worms » exclusively on Doomed & Stoned. Feel the magic of these psych-prog goldsmiths now! 
"A breathtaking adventure." Stoner Hive
"Vitskär Süden have successfully entered the realm of ancient folklore and a fantasy world in this multimedia musical epic." At The Barrier
"The Faceless King is that kind of special record that you'll always treasure.
It's an album you'll want to tell everyone about." Musipedia Of Metal
The captivating Californian foursome returns after their acclaimed 2020 self-titled debut with their new full-length « The Faceless King ». A fascinating dark fantasy concept album, « The Faceless King » offers a collection of seven brooding rock spells, the hypnotic soundtrack of a not-so-distant future when the sun rises no more. Weaving progressive rock, heavy psychedelia and dark folk into towering and intensely beautiful soundscapes enhanced by Martin Garner's heartfelt deep-toned vocals, they explore the eerie fringes of the rock spectrum for an expansive journey that should thrill fans of King Crimson, Pink Floyd, Lord Vicar, Jaye Jayle.
♠️ Watch new video « Archdiocese of Worms » ♠️
Stream new album « The Faceless King » at this location
About the "Archdiocese of Worms" video, the band says: "Our collaborator Andrew Jarvis was the singular vision and artist behind this video. It pulls together multiple aspects of the track and motif of our album. He describes it as: « The idea was to show decay on multiple levels—a visual abstraction of this king's mental state, and the way his cruelty ate away at his kingdom and his legacy. Ultimately, the landscape gives way to his decaying flesh as his transformation begins."
Vinyl editions of « The Faceless King » purchased from the Ripple Music store will come with a retro-styled 24-page adventure RPG module that expands on the album's story and world. Written by and featuring the band, Ascension of the Faceless King was illustrated by David Paul Seymour, and contains cameos by acclaimed cosmic horror author Laird Barron as well as Ripple Music CEO Todd Severin.
VITSKÄR SÜDEN « The Faceless King »
Available now on vinyl, CD and digital via Ripple Music
It's clear that Los Angeles-based quartet Vitskär Süden operates from a shared musical consciousness. Having played together over the course of two decades, bassist/vocalist Martin Garner and drummer Christopher Martin unite effortlessly for a locked-in, half-time-heavy rhythm section approach. Guitarists Julian Goldberger and TJ Webber bring their own distinctive influences, touching on both the ambient and melodic but unified in an appreciation of layered sonic texture.
Drawing on elements of heavy psych and prog, their cosmic horror-inspired 2020 debut landed at #17 on Doom Charts' best of the year list, also scoring an 8/10 review in Metal Hammer. Vitskär Süden are now ready to embrace its destiny, as the foursome recently signed to Californian powerhouse Ripple Music for the release of their anticipated sophomore album « The Faceless King » in the late fall of 2022. With stunning artwork by Samuel Araya, "The Faceless King" is a dark fantasy concept album that expands the Vitskär Süden mythos, weaving the origin story of the record's antihero namesake. Acclaimed horror author Laird Barron describes it as "gorgeous and sinister; shoots images into my brain of blacklight posters of secret rites in lost, desecrated valleys performed while some bastard '70s metal band croons a sword & sorcery drug rock accompaniment naming, song-by-song, a terrible thing that should remain nameless.« 

Tackling themes of rebirth and the lust for power, « The Faceless King » retains the cosmic horror undertones of the band's self-titled 2020 debut while leaning further into the fantasy realm to build out the mythology of the shadowy forces at work in their first record. It was recorded and produced by Vitskär Süden and Don Cento at Studio 64 in Los Angeles, mixed by Don Cento at CenTones, Austin, TX, and mastered by James Driscoll. It will be released on November 4th, 2022 on various vinyl formats, CD, and digital through Ripple Music.
Vitskär Süden is:
Martin Garner – Bass/Vocals
Julian Goldberger – Guitar/Synths
Christopher Martin – Drums
TJ Webber – Guitar

Vitskär Süden links
Website⎪Facebook⎪Bandcamp⎪Instagram⎪Spotify
Ripple Music links
Website⎪Facebook⎪Bandcamp⎪Instagram