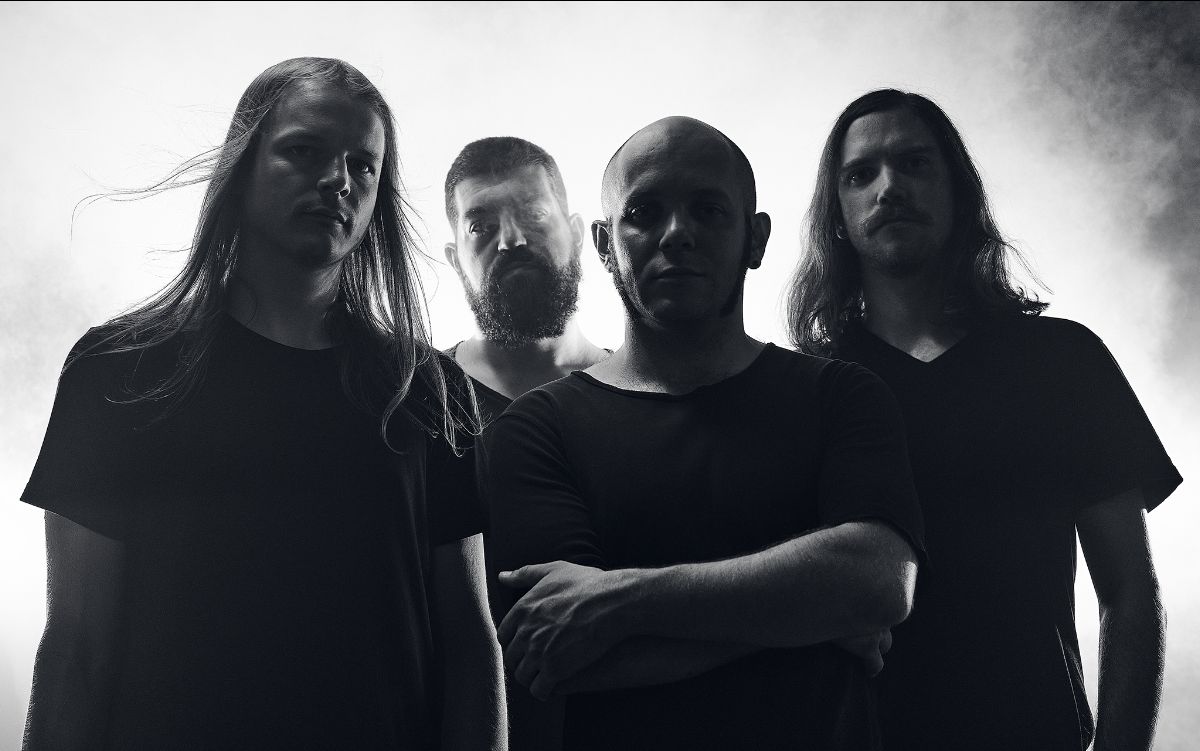 Baltimore stoner metallers BLACK LUNG announce new album « Dark Waves » on Heavy Psych Sounds; first track available!
Baltimore's prolific progressive stoner metal unit BLACK LUNG sign to Heavy Psych Sounds for the release of their ambitious fourth album « Dark Waves » this May 27th. Hear its compelling title track and first single exclusively on The Heavy Chronicles! 

The year 2019 marked significant changes for BLACK LUNG. Following the release of their third album « Ancients », guitarist and founding member Adam Bufano amicably departed the band and in November 2019, was replaced by guitarist Dave Fullerton. In the existential dread, loss and uncertainty of the global pandemic, with the backdrop of malignant fascism and cultural enmity in the USA, the band began writing the songs that would comprise their next record. There is no question that « Dark Waves » was conceived in hostile times, and Dave Cavalier's lyrics reflect this hostility. On the title track , the band channels this mood of bitterness through their instruments, as a meditative bridge is slowly transformed into a foreboding storm front centered around Dave Fullerton's hypnotic guitar melodies.
Listen to new single « Dark Waves » at this location
Despite the apparent darkness, « Dark Waves » is not a cold or desolate sounding record. BLACK LUNG leaps forward from their previous releases with warmer, brighter sound crafting and more audacious songwriting. There are passages with a tangible sense of jubilation and excitement, as they revel in the recording process after more than a year of uncertainty and frustration. For the new release, the band was inspired to leave behind the power trio convention and add bass player Mac Hewitt (ex-The Flying Eyes) into the mix. Produced by J. Robbins and mixed by Kurt Ballou (member of Converge and Grammy-winning producer for High On Fire), it will be released on May 27th through Heavy Psych Sounds.
BLACK LUNG New album « Dark Waves »
Out May 27th on Heavy Psych Sounds
In the winter of 2014, the trio of Adam Bufano, Elias Schutzman (both founding members of The Flying Eyes) and multi-instrumentalist Dave Cavalier emerged from Baltimore as BLACK LUNG. The band quickly set themselves apart in the crowded field of psych-doom and heavy-blues bands by eschewing a bass guitarist, instead of finding the backbone of their sound in the interchange of fuzzed-drenched guitars, deep driving drum beats, and Cavalier's raw, blues-tinged vocals. Following the release of their self-titled debut in 2014, Black Lung was named « Best New Band » by the Baltimore City Paper and embarked on their first European tour. The tour was capped with a performance at the Rockpalast Crossroads Festival, broadcast on German national television.

In 2016, BLACK LUNG released their sophomore album « See The Enemy » on Noisolution Records. Produced by J. Robbins, guitarist and frontman for post-punk icon Jawbox (and producer for The Sword and Clutch), See The Enemy saw the band building on the strengths of their debut while at times pushing into garage-psych territory in the vein of The Black Keys and Jack White. They followed the release with a headlining European tour, notably appearing at Freak Valley Festival and Desertfest Belgium alongside bands like Graveyard, Dead Meadow and All Them Witches.

After several more years of touring and songwriting, BLACK LUNG returned with « Ancients » in 2019. Produced by Frank Marchand (producer for The Obsessed), it found the band taking even more adventurous departures from doom and psych-rock tropes. The album was followed by another successful release tour in the EU and in late 2019, guitarist Adam Bufano amicably departed the band. Shortly thereafter, guitarist Dave Fullerton (member of the post-rock trio Deaf Scene) joined the fold only to find the world turned upside down by Covid-19. Despite the setbacks and ripples of doubt across the whole of the music industry in 2020 and 2021, BLACK LUNG pushed forward with their new lineup and quietly stayed hard at work on their fourth album.

While in some ways « Dark Waves » offers a departure from prior Black Lung records, the band stays true to their roots in doom and psychedelic music, delivering eight songs packed with the frenzied, fuzzed-out guitar breakdowns, booming drums, and soulful vocals that longtime fans will appreciate. The decision to bring bass guitar prominently into the mix on « Dark Waves » adds new levels of depth and heaviness to their songs, which may be the album's most notable and exciting development. For them, making it through these dark times meant reflecting on the past while pushing forward without knowing what the future may hold. The result is a record that sees BLACK LUNG rising to new sonic heights. « Dark Waves is set for global release through Heavy Psych Sounds Records May 27th, 2022.

BLACK LUNG is
Dave Cavalier – Guitar & Vocals
Elias Schutzman – Drums
Dave Fullerton – Guitar
Mac Hewitt – Bass

BLACK LUNG links
Facebook⎪Bandcamp | Instagram | Spotify

HEAVY PSYCH SOUNDS links
Website⎜Facebook⎜Bandcamp⎜Instagram⎜Youtube