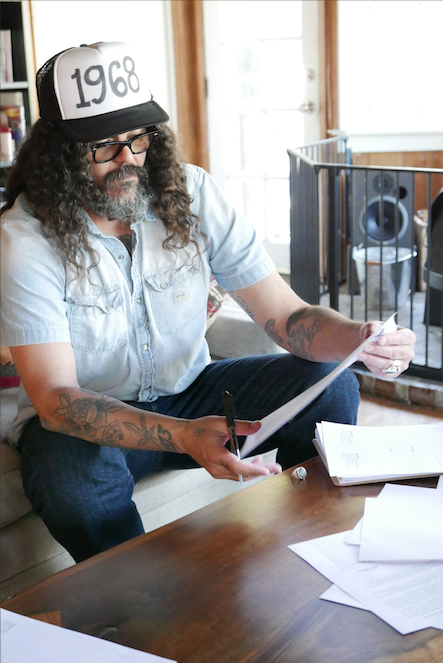 Desert rock legend BRANT BJORK signs to Heavy Psych Sounds for brand new album, back catalogue reissue and « Jakoozzi » long-awaited release!
In a union born of a meeting in the desert night, Heavy Psych Sounds Records could not be prouder to announce the signing of desert rock legend 

BRANT BJORK

 to its ever-growing roster. Starting immediately, the entire Brant Bjork discography from 1999-2010 is available through the label's digital platforms: iTunes, Amazon, Spotify, Bandcamp, Deezer, and more.
As a founding member of and a main songwriter in Kyuss, BRANT BJORK is a pivotal figure in desert rock. His time on drums in Fu Manchu only solidified his position, and when he released his first solo album, Jalamanta, in 1999, he brought new elements of soul to the style and crafted a sound all his own that he continues to develop to this day.
In 2014, BRANT BJORK formed the Low Desert Punk Band and released two albums, Black Power Flower (2014) and Tao of the Devil (2016), as well as a live album on Napalm Records. In signing to Heavy Psych Sounds, his much-anticipated collection of funk-influenced material, Jakoozzi, will at long last be released, and the man himself will set to work on his next studio LP.
"Super psyched to sign with Heavy Psych Sounds Records," enthuses Bjork. "I'm looking forward to making brand new rock, re-releasing my catalog and the long-awaited Jakoozzi album. Most definitely, Heavy Psych Sounds Records are the people to help me do this. I met Gabriele when Black Rainbows supported us in 2016, and then we had him come to the desert to play Desert Generator. Good guy doing good things for rock and roll. Right on."
"We are absolutely thrilled to partner with Brant Bjork," affirms label head Gabriele Fiori. "Bringing in Brant Bjork is a desert rock dream come true and we can't wait to help expose a whole new generation to his previous releases and work together for a long time to come on new music as well! Brant will be our top artist and we are looking to work hard with him to bring his music around the globe!"
BRANT BJORK – along with his partners Mario Lalli and manager Ryan Jones – are throwing a generator party called Stoned and Dusted which will take place at a secret desert location in Joshua Tree, CA, on May 26 and 27. Brant will headline the event alongside The Obsessed, Nebula, Yawning Man, and many more. Stay tuned for more news from Brant Bjork and Heavy Psych Sounds in the coming weeks and months.
BRANT BJORK & HPS RECORDS LINKS
Facebook ⎜ Twitter ⎜ Instagram ⎜ Website
HPS website ⎜ HPS Facebook ⎜ HPS Bandcamp