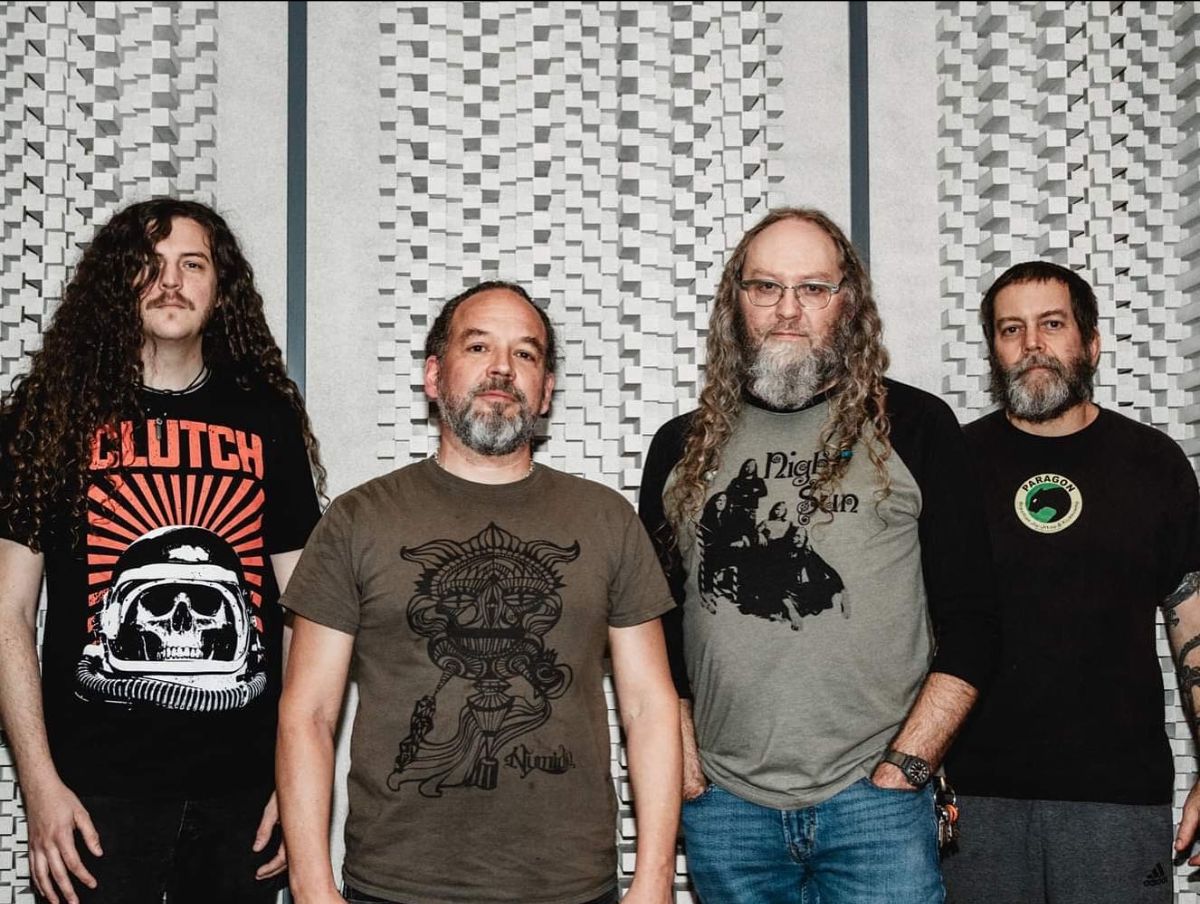 US psychedelic doom behemoths WO FAT release new single « Orphans Of The Singe »; new album out May 6th on Ripple Music!
Dallas-based psychedelic doom legends WO FAT unleash a mammoth 14-minute new track taken from their upcoming seventh studio album 'The Singularity', due out May 6th on Ripple Music. Get swallowed up into the hazy meanders of « Orphans Of The Singe » now.
WO FAT return with their seventh studio album, a record they feel is their most adventurous and exploratory yet. While not necessarily a concept album, its themes relate to existential threats and a dark destiny, a reflection of the times we're living in. Its title, 'The Singularity', can refer to an environmental tipping point beyond which irreversible cascading feedback loops of climate destruction are inevitable; it can also refer to a point in the evolution of artificial intelligence and machine learning after which everything changes and goes beyond what we can control, potentially leading to humankind's destruction. These apocalyptic and sci-fi-based ideas also serve as metaphors for the struggle for truth and reality in the face of disinformation, manufactured facts and cultic thinking. In essence, the battle for the future of our planet and civilization.
WO FAT recently made a statement to announce new additions to the lineup: « Patrick Smith is joining us playing bass and OG Wo Fat member Matt Watkins has come back to play guitar with us. Matt played way back in the early days of Wo Fat. We also want to send a huge thank you to Zack Busby, for supremely kicking ass on bass with us for the last 6 years. He recently decided he needed to step down, but really brought a lot to the band and helped shape the sound of the new record. »
Listen to new single « Orphans Of The Singe » at this location
'The Singularity' ventures outside WO FAT's well-establish blues-based paradigm, keeping all the heaviness but also tapping into some 70's fusion influences and more open jamminess. All in all, it's the perfect return and elaboration of everything we love about one of the most iconic bands in all of heavy rock history! 'The Singularity' will be released on limited edition colored 2xLP, classic black 2xLP, limited digipack CD and digital through Ripple Music.Listen to the first single « The Witching Chamber« .
WO FAT – New album 'The Singularity'
Out May 6th on Ripple Music
US preorder // World preorder
TRACKLIST: 
1. Orphans of the Singe
2. The Snows of Banquo IV
3. Overworlder
4. The Unraveling
5. The Witching Chamber
6. The Singularity
7. The Oracle
After over 16 years of slinging their Texas-sized psychedelic blues doom, WO FAT is going stronger and rocking harder than ever, as they continue their swampadelic vision quest of overdriven, fuzz-laden riffage and jazz-minded jam explorations, and with six studio albums, a live album, and a couple splits under their belt, Wo Fat has gained a reputation as one of the premier US Stoner Metal bands. Starting with 'The Gathering Dark' in 2006, they have stayed true to the deep, dark blues that wails from within and have forged their riffs with a primal grooviness, giving them a consistency of style, even while they have progressed and matured as a band, with their musical forays getting heavier but also trippier at times.
2009's 'Psychedelonaut' really began to solidify the WO FAT name, garnering them wider critical recognition, leading to releases with Nasoni and Totem Cat Records and then on to their two most critically acclaimed releases to date: 'The Black Code' (2013) and 'The Conjuring' (2014) on Small Stone Records, with 'The Conjuring' landing on NPR's "Top Ten Metal Albums of 2014" among numerous other best-of lists. During these last few years, Wo Fat have made appearances in a number of iconic festivals in Europe and the US, Wo Fat teamed up with Ripple Records to release 'Midnight Cometh', a slab of riffage that is possibly their most daring psychotropic exploration of heaviness to date.
With voodoo drums beating and molten blues-tempered waves of guitar riffery, they are carrying on the WO FAT tradition of keeping things heavy and fuzzy, but also groovy, which, all too often, is a missing element in much modern heavy music. You can hear the echoes of field hollers and that oft-forgotten "way back yonder funk" that fuels the fire that burns deep in the swamp at the witching hour. You can feel the rush of living on the edge and glimpse a phantasmal Coltrane in your peripheral vision as they careen through improvisational jams. And all this with an unrelenting metal heaviness underscoring apocalyptic lyrics that conjure visions of the end of an age, and black midnight bargains and the consequences reap. While Wo Fat may be speaking a familiar language to the apostles of the riff, there isn't anyone that sounds quite like them.
'The Singularity' lineup is:
Kent Stump – guitar, vocals
Michael Walter – drums
Zack Busby – bass
WO FAT links
Web | Facebook | Bandcamp | Instagram | Spotify
RIPPLE MUSIC links
Website | Facebook | Bandcamp | Youtube | Instagram