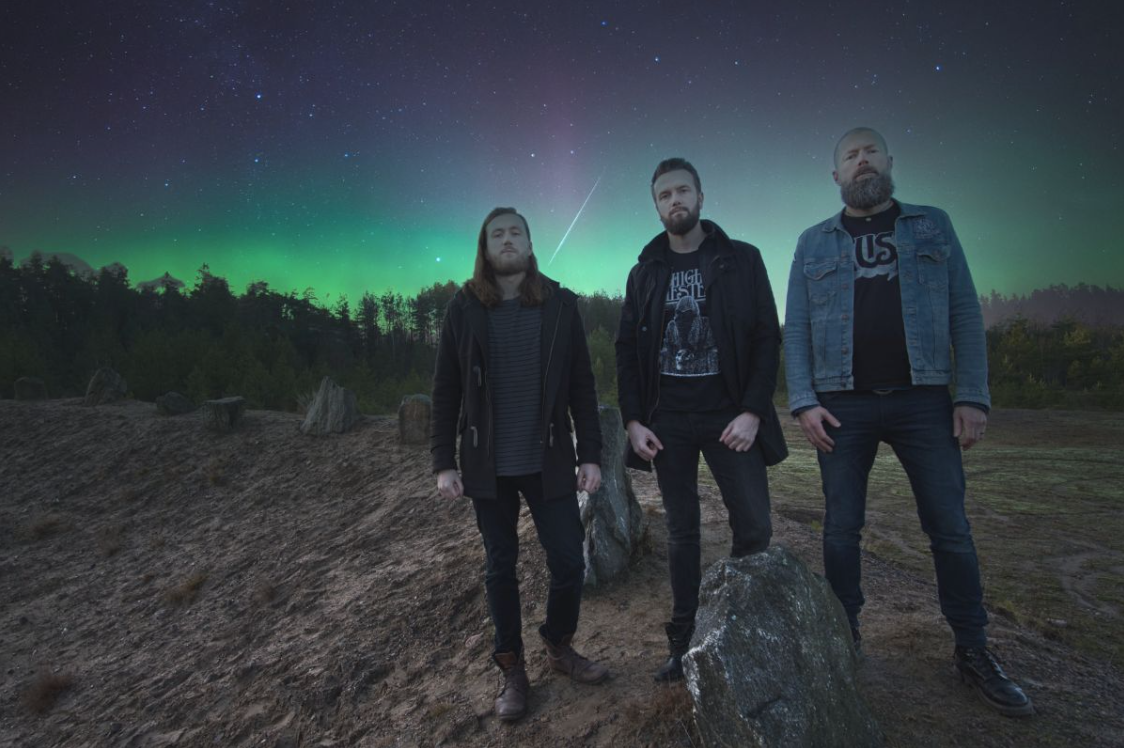 Gothenburg cosmic doom unit CITIES OF MARS to release new album on Ripple Music; watch new video « Towering Graves (Osmos) »
Swedish doom cosmonauts CITIES OF MARS announce the release of their third studio full-length 'Cities of Mars', to be issued on May 20th through Ripple Music. Unfold the mysteries of their heavy realm with new video « Towering Graves (Osmos) »!
CITIES OF MARS combine heavy doom riffs with ambient soundscapes and haunting vocals. The lyrics on each song add a chapter in a continuing story, where a Soviet cosmonaut on a covert space mission in 1971 discovers an ancient Martian city and awakens a sleeping conspiracy from the dawn of humanity…
Watch their new video « Towering Graves (Osmos)« 
Their third album is even more rooted in the band's evolving mythos, with each song adding another piece to the puzzle. 'Cities of Mars' contains a story from each of the seven cities on the red planet, each invoking a distinct identity and character. Seven years of existence as a band, several European tours and countless hours of relentless 105 dB creativity later, CITIES OF MARS present their widest sonic palette to date, including acoustic songs, more intricate vocals and prominent electronic soundscapes, all recorded by the band but mixed and mastered by Kent Stump (of Wo Fat fame) in his Crystal Clear Sound studio in Texas. 
From the ethereal melody of the ghost city of Sarraqum in « Reflected Skyline », the haunted skyscraper riff of « Towering Graves », to the desperate howls from the buried city of Methusalem in « The Prophet », this album represents all the musical facets so far of Daniel, Chris and Johan in their quest for not only the heaviest of riffs but also great melodies, hooks and the occasional 80's throwback. Artwork was designed by Mirkow Gastow.
CITIES OF MARS 'Cities Of Mars'
Out May 20th on Ripple Music
US preorder / EU preorder / Bandcamp


Formed in 2015 by Danne Palm (vocals, synth, bass), Christoffer Norén (vocals, guitar) and Johan Aronstedt (drums, vocals), their first two songs were recorded into a single produced by Esben Willems (Monolord/Berserk Audio) and released for the band's first live show at the Wizard of Fuzz Festival. 2016 saw the release of 'Celestial Mistress', a three-song vinyl EP with the captivating artwork of Gothenburg-based graphic artist Axel Widén and the band's first European tour. More shows and new songs followed into 2017 when the album 'Temporal Rifts' was released with a three-week tour through Europe. CITIES OF MARS didn't stay idle and have sharpened their songcraft to release 'The Horologist' through Ripple Music in April 2019. The band consequently performed at Desertfest London as part of a 22-show tour across Europe. Their third full-length 'Cities of Mars' will see a May 20th release on Ripple Music. 
Line-up:
Danne Palm – lead vocals, bass, synths
Christoffer Norén – lead vocals, guitar
Johan Aronstedt – backing vocals, drums & percussion, sound FX
Band links
Website⎪Facebook⎪Bandcamp⎪Instagram⎪Youtube⎪Spotify
Ripple Music links
Website⎪Facebook⎪Bandcamp⎪Instagram