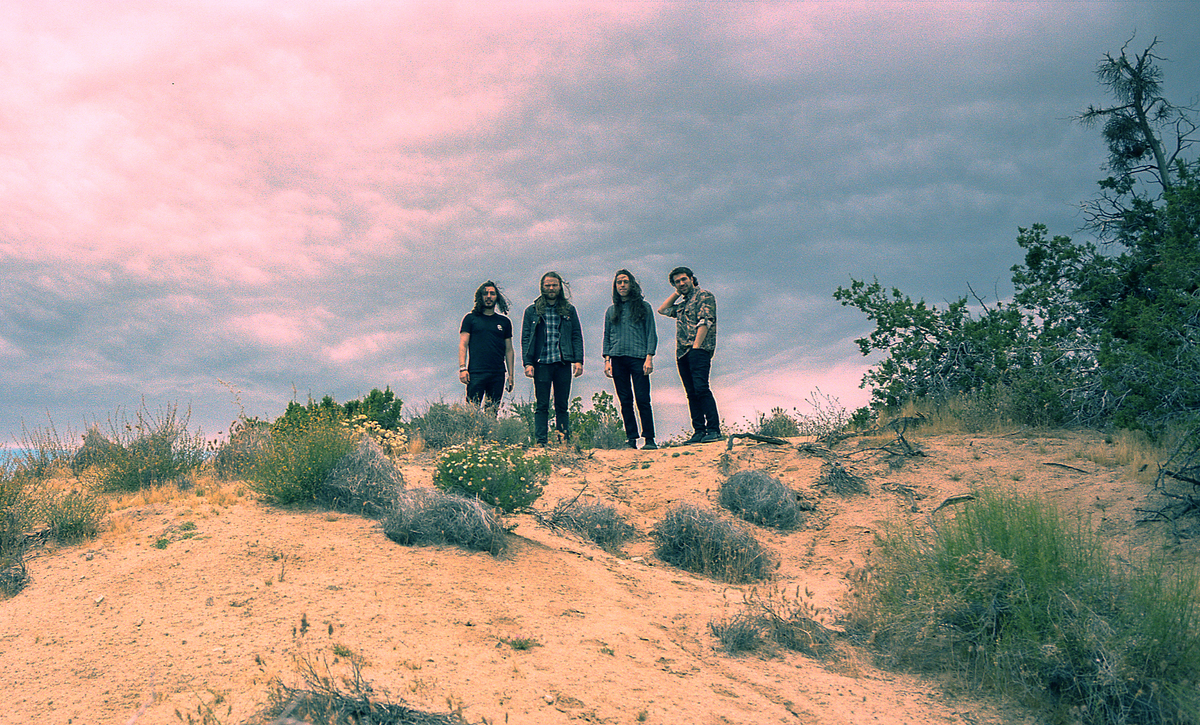 Blues Funeral Recordings announce REZN and VINNUM SABBATHI for PostWax Vol. II; Kickstarter for subscription signups live now.
Hot on the heels of the Acid King and Josiah announcement, Blues Funeral Recordings reveal Chicago's REZN and Mexico City's VINNUM SABBATHI as the next two bands to take part in the second volume of their PostWax vinyl subscription series, this time for a special collaborative release.
The joining of REZN's gargantuan heaviness and lysergic dreamscapes with VINNUM SABBATHI's hypnotic and jammy superscience soundtracks is the exact type of aural mind-meld that PostWax was conceived to present. These two avant-garde outfits will deliver one massive and ground-breaking effort, one that has chance to make an impression among heavy music lovers and beyond.
REZN guitarist Rob McWilliams elaborates: « Our intention is to give this collaboration a solid REZN foundation with Vinnum Sabbathi providing the cosmic textures and atmosphere to align it all under the same sonic storyline. We've been talking about doing something together for a little while now, since our bands are a great match sonically and already sync up in a lot of ways. In the end, we'll have a roasty REZN dish with a decadent Vinnum Sabbathi glaze. »
VINNUM SABBATHI guitarist Juan Tamayo adds: "For us, this collaboration with REZN is very special. From the day we played with them in Mexico, we knew we wanted to create something together, and being able to do it with Blues Funeral for the PostWax series is a great privilege. We can't wait to make something truly unique by adding a story to the sonic landscapes, and all the fans are in for some cosmic epicness."
The PostWaxseries present exclusive limited edition records from some of the best stoner rock, doom and heavy psych bands on the planet. Benefiting from a spectacular Kickstarter success in 2018, PostWax Year One debuted monster releases to subscribers first — including Elder's « The Gold & Silver Sessions » and the seminal comeback album « Refractions » from Lowrider — which were subsequently released in standard retail versions to the public several months later. PostWax Vol. II will unfold as a series of 9 deluxe releases on gorgeous vinyl, with each record including at least one exclusive track only available to PostWax subscribers, also featuring next-level sleeve design, hand-crafted art and illustrations, and behind-the-scenes liner notes by JJ Koczan of The Obelisk. The first PostWax Vol. II release will be delivered directly to subscribers in the summer of 2021.
=> Get more info and subscribe to PostWax Vol. II at this location
About REZN
The music churned out by Chicago quartet REZN somehow manages to convey both crushing mass and cosmic weightlessness. The seed was planted when guitarist Rob McWilliams and bassist Phil Cangelosi began jamming together at age twelve in the DC commuter town of Leesburg, VA. They relocated to Chicago in 2015, recruited Patrick Dunn to bash on the drums, and set about recording their debut album 'Let It Burn' after playing just three shows together. Spencer Ouellette rounded out their bottom-heavy sound with the hum-and-squall of modular synth, and the added textural component immediately became a key facet to their sound. REZN quickly established their footing in the heady-and-heavy Chicago rock community, playing with esteemed riff barons like Bongripper and Oozing Wound, as well as landing coveted slots for Conan and Acid King. The 2018 sophomore album 'Calm Black Water' continued the band's penchant for molasses-thick guitar-and-bass punishments with soaring minor key vocal melodies, but Ouellette further pushed the dreamscape envelope by supplementing the synth duties with blissed out saxophone passages. REZN's newest offering 'Chaotic Divine' continues their melding of gargantuan heaviness and lysergic calm, as well as the band's penchant for tying the music to a visual landscape.
About VINNUM SABBATHI
Formed in 2012 in Mexico City, Vinnum Sabbathi merge loud, slow and distorted riffs with samples from science and sci-fi to create a unique sonic experience. From 2013 to 2016, the band released two EPs and two split albums, but it's their 2017 debut album 'Gravity Works' (LSDR Recs) that really caught the international scene's attention. Their space-themed doom traveled from Mexico to the Old Continent's shores, leading them to play at Bristol Psych Fest, Doomlines and Sonic Blast Moledo. Between 2018 and 2019, the band released two more split records including 'The Good Earth is Dying' with Cegvera, also playing shows with Red Fang, Rosetta, Rezn and Truckfighters. Early in 2020, their sophomore album 'Of Dimensions & Theories' sees the light of day and slowly but steadily proves that science, space and riffs belong together, leaving an elephantine trail for their works to come.
Blues Funeral Recordings is an independent label created by the founders of MeteorCity and Lowrider, and releasing music from luminary artists in the heavy/stoner/doom/psych ecosphere. While issuing stellar albums from Domkraft, Howling Giant, Lord Buffalo and Somnuri, the label has also gained attention through PostWax, a groundbreaking subscription-style series of lavish custom releases featuring exclusive music from Elder, Daxma, Spotlights, Lowrider, Besvärjelsen, Big Scenic Nowhere and Domkraft.
BLUES FUNERAL RECORDINGS LINKS
Website⎮Facebook⎮Bandcamp⎮Instagram
REZN LINKS
Website⎮Facebook⎮Bandcamp⎮Instagram
VINNUM SABBATHI LINKS
Facebook⎮Bandcamp⎮Instagram