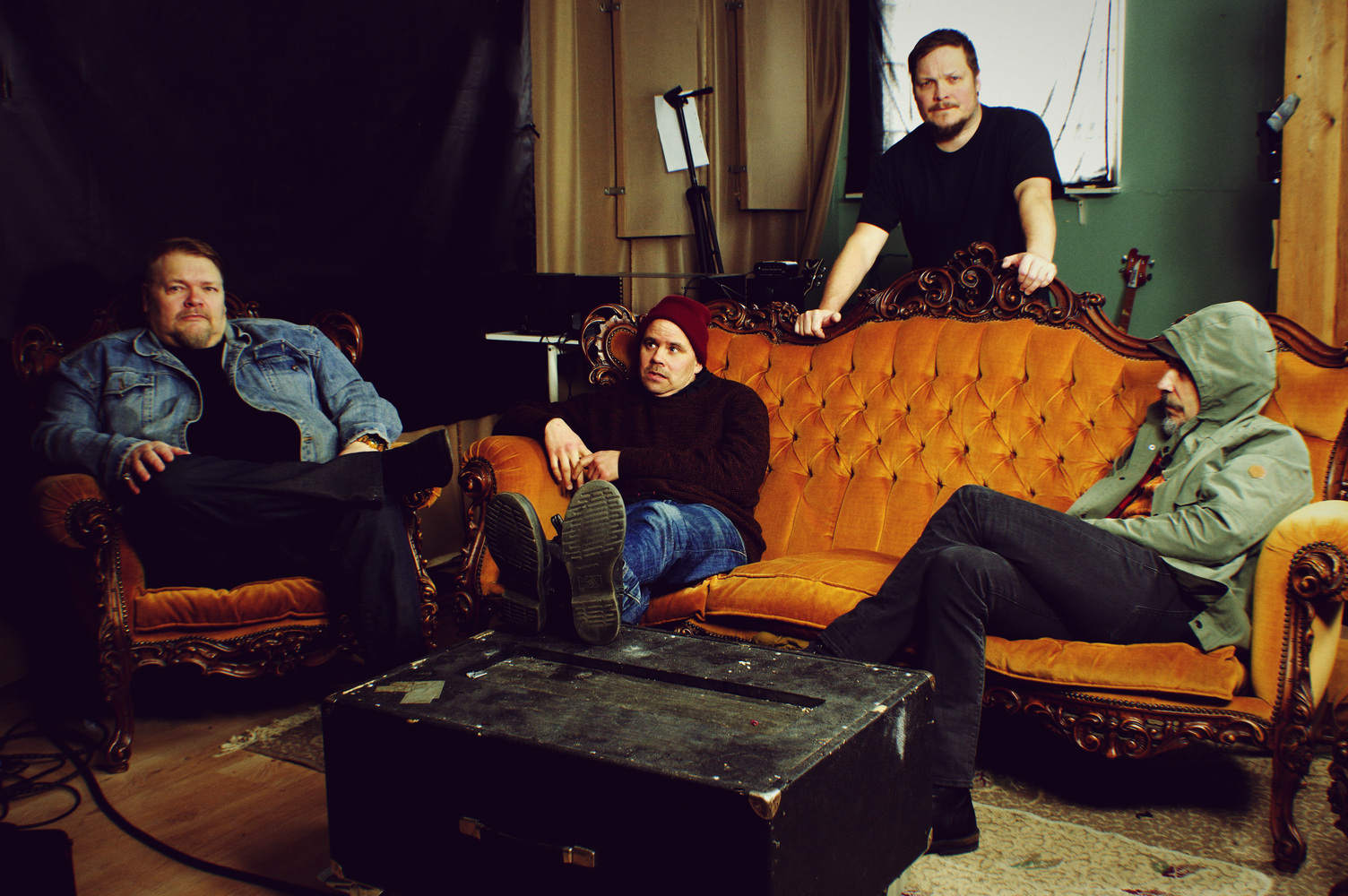 Swedish stoner prog veterans MAMMOTH VOLUME to release new album as part of PostWax Vol. II series on Blues Funeral Recordings.
Swedish stoner prog veterans MAMMOTH VOLUME are confirmed to take part in Blues Funeral Recordings' anticipated PostWax Vol. II vinyl series by releasing their first album in almost twenty years. Blues Funeral Recordings also present the art team to provide the illustrations and artwork on PostWax Vol. II: heavy music scene stalwart Maarten Donders and award-winning artist Johnny Dombrowski.
In the years between 1998 and 2002, MAMMOTH VOLUME released three albums that each made an increasingly massive impact among the growing worldwide heavy-rock community. With a style that blended an affection for American desert rock but was just as deeply characterized by a passion for 70s prog, jazzy breaks and wistful passages, their quirky take on heavy rock offered an angular yet infectious alternative to the boogie van riffage advanced by so many of the genre's purveyors.

Re-activated in 2019, MAMMOTH VOLUME will soon return with a new album that's vibrating with long-bottled-up energy. Drummer and founder Nicklas Andersson says: « Mammoth Volume is back, stronger than ever. It will be incredibly exciting to share our new music with the people for the first time in quite a few years. One thing is certain: this is exactly the record we wanted to make as we return to underground heavy scene, and we're anxious for everyone to hear it! »
The work of heavy music art veteran Maarten Donders is known for its surreal, experimental, almost dreamlike qualities, and he has provided handmade illustrations, logos, designs and creative direction for countless musicians, bands, record labels, artists, magazines and venues in the music world. His work includes album covers and posters for the likes of Roadburn, Windhand, Monolord, Graveyard and Brant Bjork. Brooklyn-basedaward-winning illustrator Johnny Dombrowski has produced pieces for The New York Times, Penguin Random House, StudioCanal, GQ, Black Dragon Press and more. Recently, he has ventured into replicating, as closely as possible, the process and aging of pre-digital comic books. What started as an experiment soon turned into an obsession, taking influence over his client work and technique.

These two illustrators will alternate in creating album covers for each of the PostWax Vol. II releases, as well as contributing other elements throughout the process and collaborating on one cover piece, all under the art direction of Peder Bergstrand.  
=> Get more info and subscribe to the PostWax Vol. II
AT THIS LOCATION
The PostWaxseries present exclusive limited edition records from some of the best stoner rock, doom and heavy psych bands on the planet. Benefiting from a spectacular success in 2018, PostWax Year One debuted releases to subscribers first, which were subsequently issued in standard retail versions to the public several months later. With Acid King, Josiah, Lowrider, Elephant Tree, REZN and Vinnum Sabbathi already announced, the upcoming PostWaxVol. IIserieswill present 9 deluxe releases on gorgeous vinyl, with each record including at least one exclusive track only available to subscribers, also coming with next-level sleeve design, hand-crafted art and behind-the-scenes liner notes. The first PostWax Vol. II release will be delivered directly to subscribers in the summer of 2021.
Blues Funeral Recordings is an independent label created by the founders of MeteorCity and Lowrider, and releasing music from luminary artists in the heavy/stoner/doom/psych ecosphere. While issuing stellar albums from Domkraft, Howling Giant, Lord Buffalo and Somnuri, the label has also gained attention through PostWax, a groundbreaking subscription-style series of lavish custom releases featuring exclusive music from Elder, Daxma, Spotlights, Lowrider, Besvärjelsen, Big Scenic Nowhere and Domkraft.
MAMMOTH VOLUME on Bandcamp
BLUES FUNERAL RECORDINGS LINKS
Website⎮Facebook⎮Bandcamp⎮Instagram | Youtube