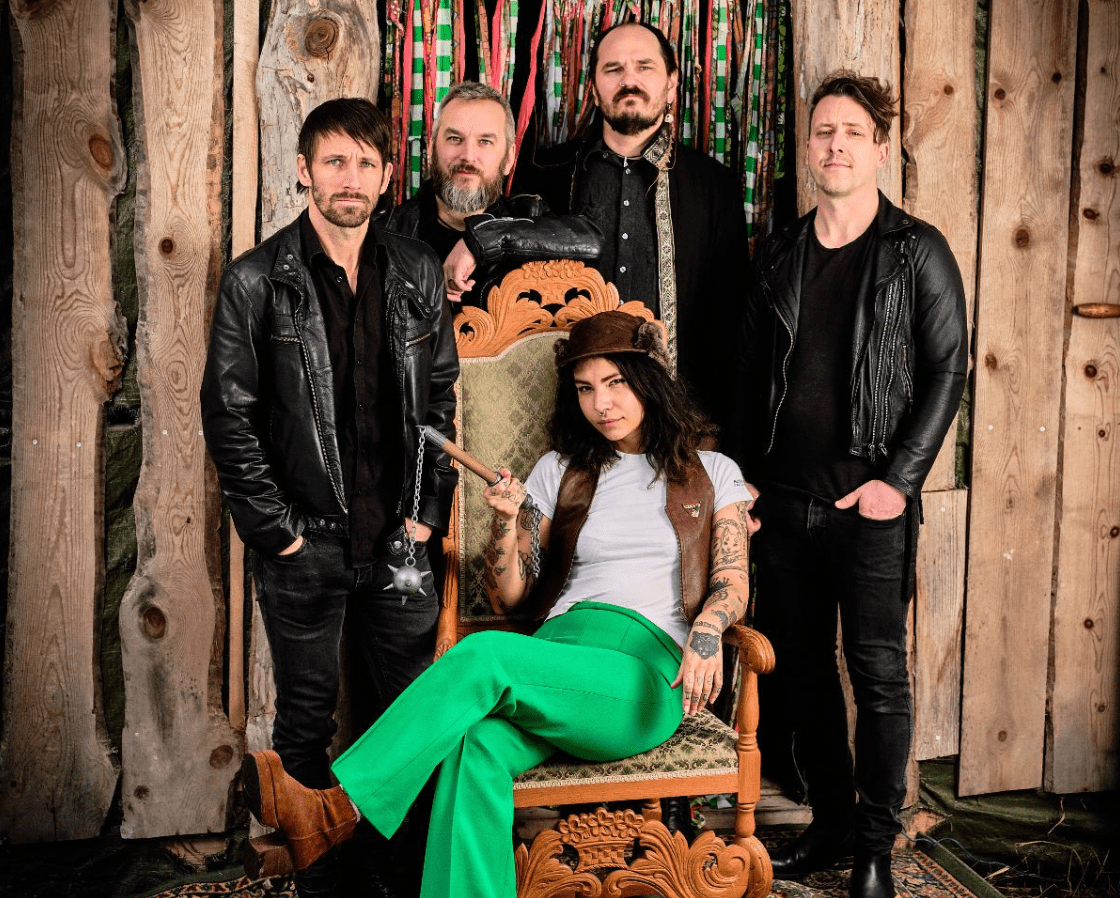 Swedish rockers BESVÄRJELSEN release « Digerliden » video and announce new album 'Atlas' on Magnetic Eye Records.
Swedish heavy rockers BESVÄRJELSEN share their new video « Digerliden » as the first single taken from their new album 'Atlas',  to be released on May 27, 2022 through Magnetic Eye Records.

Guitarist and vocalist Andreas Baier explains the song title: « The title 'Digerliden' takes its name from a place in Sweden's Dalecarlian Finnmark which roughly translates as 'the dire suffering', which relates to the hardship that its ancestral people endured while trying to survive and grow crops in its vast forests and mountains. It is a magical and mysterious please, and its native folk music was a well of inspiration for this song. » Singer Lea Amling Alazam adds: « The lyrics deal with people in love who hate themselves. After watching Alice in Chains' MTV Unplugged, I was very inspired by the way their harmonies work and the kind of numb yet powerful melodies. I also felt a bit of a need for an Arabic harmony, so I wanted to find a way to combine grunge and Middle Eastern influences.« 
Watch Besvärjelsen new video « Digerliden« 
On their sophomore full-length « Atlas », aptly named after the mythical Greek titan who literally carries the weight of the world on his shoulders, BESVÄRJELSEN take a huge step toward the perfect wedding of melodic doom with subtle touches of prog as well as punk, folk, and classic rock. The distinctly urban component in the sound of these rockers is very much amplified by the outstanding vocals of Lea Amling Alazam. The charismatic singer took a fresh approach by embracing melodies and phrases of the grunge and emo sounds that defined her youth as well as African and Middle Eastern music – while keeping her characteristic bluesy undertones.
With its wistful melodies and towering riff-power, « Atlas » represents a logical progression along the course that BESVÄRJELSEN charted from the start. The band was co-founded by guitarists and vocalists Andreas Baier and Staffan Stensland Vinrot in 2014 with a clear vision to channel the spirit and traditions of the vast Dalarna forests, a region otherwise famous for its painted wooden horses, into contemporary heavy music. Andreas, coming from a background in punk and hardcore, had realized that by slowing things down, their music would gain in-depth while allowing haunting melodies to exist alongside a cathartic heaviness.
'Atlas' was recorded at Studio Gröndal and Studio Glashuset, mixed and mastered by Karl Daniel Lidén in Sweden. The artwork was created by Besvärjelsen and Łukasz Jaszak. The album will beavailable as blue and curacao marble vinyl LP, digisleeve CD and digital on May 27th, 2022 with preorder available now via Magnetic Eye Records.
BESVÄRJELSEN New album « Atlas »
Out May 27th on Magnetic Eye Records – Preorder
TRACKLIST:
1. The Cardinal Ride
2. Acheron
3. Clouds
4. House of the Burning Light
5. Paradise
6. Digerliden
7. Descent
8. Celestial
9. Obscured by Darkness
10. Divided Ends
What to do when you like rock and doom born from the desert but your surroundings offer anything but arid lands? BESVÄRJELSEN found an impressive answer in the grim forests of their homeland in Dalarna, Sweden. Having grown up in the far north at the meeting grounds of ancient Norse and Finnish cultures amongst echoes of runes and gods, shamans and spirits, the spellbinding five-piece crafted their name from the Swedish word for « conjuring » while drawing heavy inspiration from local lore, mysticism, and the dark, old musical traditions. Yet BESVÄRJELSEN are anything but another « pagan » outfit longing for a time that never was. Once vocalist Lea Amling Alazam arrived with a fiery passion for punk and stoner rock that had begun at the local skate park when she was just counting 13 years, Andreas and Staffan happily relegated their shared vocal duties to a supporting role – an easy choice as Lea's distinctive voice summoned the intimacy and charisma of singers like Nina Simone or Amy Winehouse.

BESVÄRJELSEN released their debut EP « Villfarelser » a year later in 2015, which was followed quickly by the « Exil » EP in 2016. Around this time, former Dozer and Greenleaf drummer Erik Bäckwall joined the line-up as a permanent member. Both EPs, though self-financed and released with minimal promotion, were well-received and even gained airplay on Swedish national radio. Their debut full-length « Vallmo » hit the streets of Stockholm and elsewhere in 2018, shortly after Erik had convinced his Dozer and Greenleaf bandmate Johan Rockner to join the band on bass. « Vallmo » merged crushing riffs and storming drums with increasingly sophisticated melodies and thoughtful themes, which even earned the band a festival slot opening for DEEP PURPLE.

With the mini-album « Frost », BESVÄRJELSEN intended to crush stages all over Europe in 2019, before being forced into involuntary live performance hibernation (like every other band around the globe) for two years. Although forced to write separately, the band used the spare time to compile a wealth of ideas, amassed remotely and shared across the miles and months of relative solitude, which would finally result in the recording of « Atlas » with producer Karl Daniel Lidén in 2021. Re-purposing melancholic harmonies that could have been derived from the playbook of Alice In Chains, adding gravity that would make Windhand proud, and topping their upgraded sound with exciting yet intimate vocal lines,they have carved a towering monolith from solid rock and planted it firmly into the magical woods of their homeland to send its heavy lay-lines around the globe.

BESVÄRJELSEN are
Lea Amling Alazam – vocals
Staffan Stensland Vinrot – guitars, vocals
Andreas Baier – guitars, vocals
Erik Bäckwall – drums
Johan Rockner – bass

BESVÄRJELSEN links
Facebook⎜Bandcamp⎜Instagram⎜Spotify

MAGNETIC EYE RECORDS links
Website⎜Facebook⎜Bandcamp⎜Instagram⎜Youtube