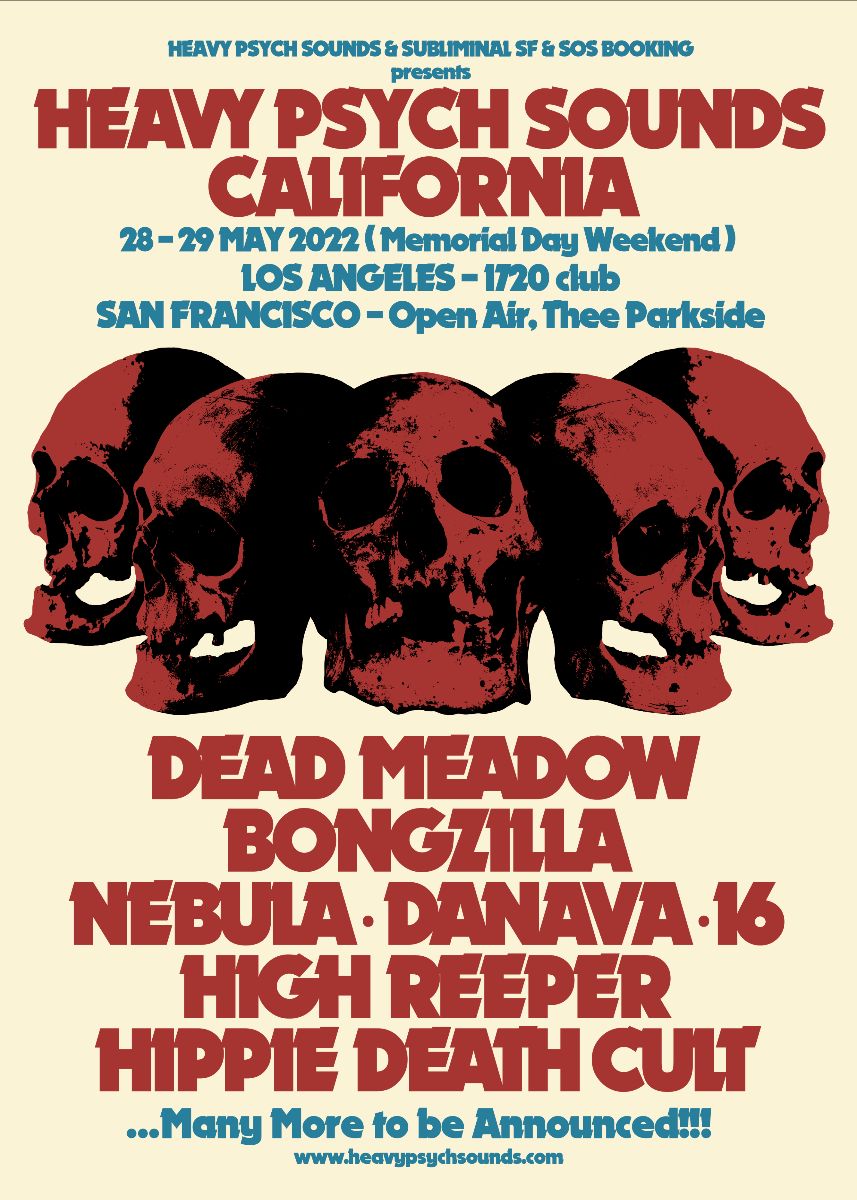 Dead Meadow, Bongzilla and more to play Heavy Psych Sounds California Fest in May 2022; early bird tickets on sale now!
Heavy Psych Sounds (in association with SubliminalSF and SOS Booking) reveal the first names confirmed to play the 2022 edition of HPS Fest California, to take place on May 28-29th in Los Angeles and San Francisco. Early bird tickets are on sale now!

HPS Records comment: « We're so excited to present HPS Fest California 2022 and so happy to be back on two great markets as L.A. and San Francisco! This year the lineup will be bigger, fatter and better than ever. Looking forward to seeing you there!« 

US heavy psych legends Dead Meadow will headline both events hand in hand with weed metal icons and recent HPS signees Bongzilla. Joining them will be West Coast stoner rock pillars Nebula and Danava, L.A. prolific sludge unit -(16)-, as well as HPS bands High Reeper and Hippie Death Cult. The festival will take place over the Memorial Day weekend as an indoor event at 1720 Club in Los Angeles, and as an open-air event at Thee Parkside venue in San Francisco.
Buy tickets for HPS Fest Los Angeles
Buy tickets for HPS Fest San Francisco
2-day pass: $50 / Single day pass: $30
---
Headquartered in Rome, Italy, Heavy Psych Sounds specializes in introducing the best artists of the international heavy psych, doom, stoner, sludge and space rock scene such as Brant Bjork, Bongzilla, Nebula, Nick Oliveri, Yawning Man, Stöner, Black Rainbows, Acid Mammoth, Belzebong and more. While the first HPS Fests were held in Italy, the label has since extended its reach to the UK, Belgium, Germany, France, the Netherlands, Austria and the United States. The underground cult label is not only the place for all heavy rock record collectors, but it has also become an essential part of the live scene with brisk participation from heavy music fans all over the world.

HEAVY PSYCH SOUNDS RECORDS links
Website⎜Facebook⎜Bandcamp⎜Instagram⎜Twitter