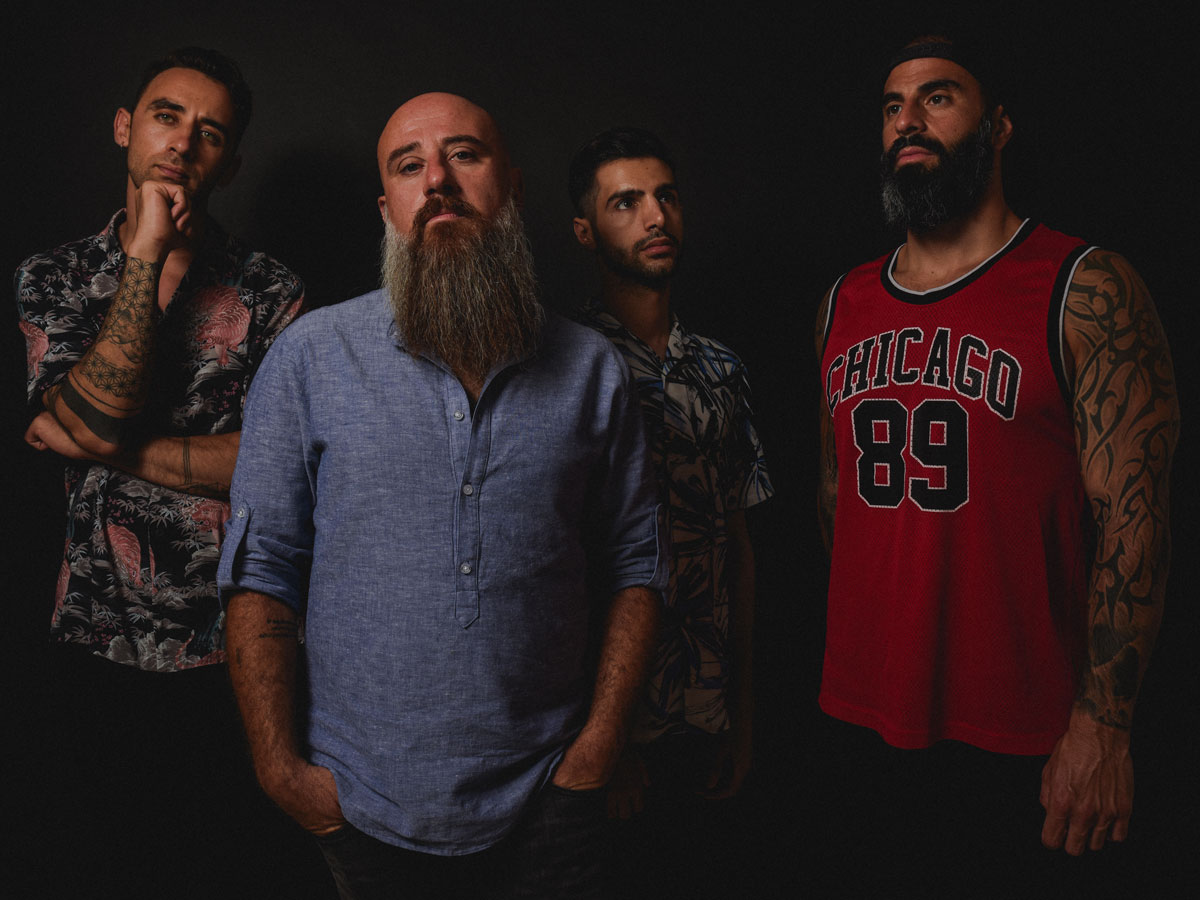 Mediterranean psychedelic rockers ARCADIAN CHILD share subliminal new video off upcoming 'Protopsycho' album on Rebel Waves Records.
Mediterranean Sea's psychedelic rock craftsmen ARCADIAN CHILD premiere their sexy and subliminal video for « Snakecharm » today! The single is taken from their new album 'Protopsycho', coming out on October 9th through Ripple Music's garage and psych imprint Rebel Waves Records.
« Snakecharm is a trippy, mesmerizing listening experience with a Balkan-folk feel deep within its instrumentals. Its combination of post- and psych rock is something you won't be listening to every other day. Make sure to check this out » describe Everything Is Noise.
Get mesmerized by the Oriental vibe of « Snakecharm« 
ARCADIAN CHILD's third album 'Protopsycho' finds the mercurial Cyprus psychedelic rock quartet experimenting with new sounds to progress and evolve. With a music that channels the squealing sirens of the Mediterranean up to the dark bellows of the West, Arcadian Child deliver their ritualistic psych-rock melded with tripped-out ambiances, hallucinogenic patterns, and cathartic outbursts. Boasting a heady swagger, sophisticated riffs and purposeful lyrics, their music echoes far and wide.

Let their warm and voluptuous incantations make you reach an unexpected spiritual climax, and rethink your vision of the European psych rock scene, as this incredibly talented four piece will take you slowly but steadily on a journey like no one before. The band previously released the album's debut single « Bitter Tea », which you can hear at this location.
ARCADIAN CHILD New album 'Protopsycho'
Out October 9th on Rebel Waves Records
Preorder via Rebel Waves and Ripple Music



TRACK LISTING:
1. Snakecharm
2. Wave High
3. Sour Grapes
4. The Well
5. Bitter Tea
6. Bodies of Men
7. Raising Fire
8. Protopsycho
ARCADIAN CHILD are a mercurial psychedelic rock quartet based out of Limassol, Cyprus. Psyched, potent and intoxicating, they deliver their diverse rock melded with tripped-out ambience, hallucinogenic patterns, and cathartic outbursts. With sounds rivaling the squealing sirens of the Mediterranean up to the dark bellows of the West, Arcadian Child convey their psychedelic ritual in their jam-filled live shows where they spread their hypnotic vibrations. Boasting a heady swagger, sophisticated riffs, and purposeful lyrics their music echoes far and wide.

Their 2017 debut album "Afterglow" was widely acclaimed and received compelling support from the growing international neo-psych scene and the Limassol psychedelic rockers signed with California-based Ripple Music in January 2018 to reissue it worldwide on vinyl. Their highly anticipated sophomore studio record was released in November 2018 through Ripple Music and Rebel Waves Records (formerly known as Rogue Wave Records) and received multiple raving reviews, hitting many year-end lists including the likes of The Obelisk and It's Psychedelic Baby Mag. ARCADIAN CHILD once again teamed up with Rebel Waves Records to release their third album 'Protopsycho' on October 9th, 2020.

REBEL WAVES RECORDS is an imprint of Californian label Ripple Music, bringing the finest alt-rock, psychedelic pop, post-punk and garage/lounge music to music lovers ears worldwide. 'Protopsycho' will be released on limited edition CD and digital on October 9th, 2020 and available to preorder now through Rebel Waves Records and Ripple Music.

ARCADIAN CHILD IS
Panagiotis I.G – Vocals & Guitars
Stathis Hadjicharalambous – Guitars
Andreas Kerveros – Bass & Backing Vocals
Constantinos Pavlides – Drums

ARCADIAN CHILD LINKS
Facebook⎪Bandcamp⎪Youtube⎪Spotify

REBEL WAVES RECORDS LINKS
Facebook⎪Bandcamp⎪Instagram⎪Shop