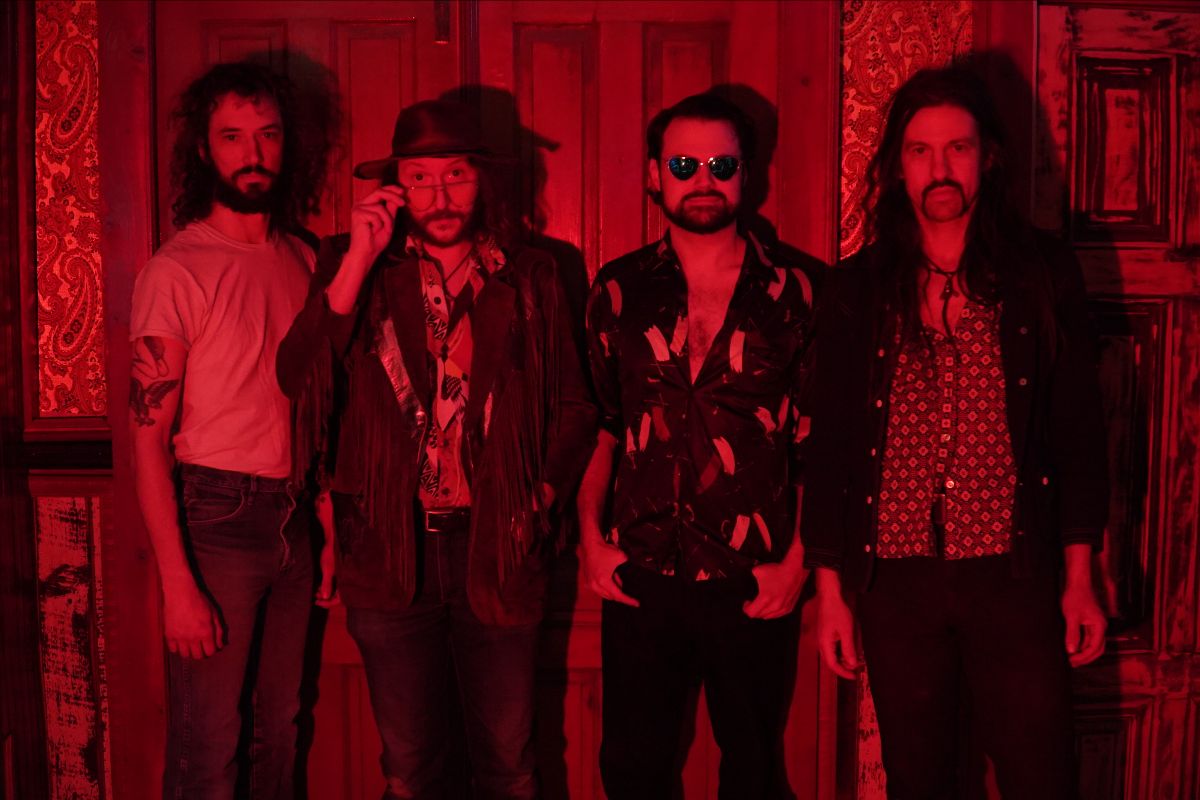 US psychedelic rock warriors ECSTATIC VISION to release new album on Heavy Psych Sounds; first track available!
Philadelphia's psychedelic hard rock flag-bearers ECSTATIC VISION announce the release of their fourth studio album 'Elusive Mojo' on May 13th through Heavy Psych Sounds. Stream their flamboyant new track « March Of The Troglodytes/Elusive Mojo » now!

About this first excerpt, the band comments: "These were the first tracks written for the album and is a good bridge between the EV of old and the EV of 2022.  It sounds like the Asheton Brothers jammin' some burly, unhinged heavy psych wit' da Flower Travelin Band circa 1971 except it's played by a bunch of low lifes from Philly."
Listen to new track « March Of The Troglodytes/Elusive Mojo« 
'Elusive Mojo' finds ECSTATIC VISION firing on all cylinders with this unhinged, raw and dangerous new album. The band continues down their unique warpath mixing heavy psych rock, Detroit-rock, proto-punk, and world music. The album contains caveman grooves that would rattle the remaining teeth out of the Asheton brother's skulls, scorching saxophones that would make Nik Turner feel high on a potent mix of speed and Viagra, and basslines hot enough to melt down the Lemmy statue.

'Elusive Mojo' was recorded live to 2" tape in their beloved hometown of Philadelphia by Joe Boldizar (Sonic Praise) with Bob Pantella (Monster Magnet) and mastered by their old drinking buddy Tim Green (Melvins). What emerged was a burly, timeless and unique sounding record that is hard to tell if it was recorded in 1971 or 2022. It will be issued on May 13th in various vinyl formats, CD and digital through Heavy Psych Sounds, with preorder available at this location.
ECSTATIC VISION New album « Elusive Mojo »
Out May 13th on Heavy Psych Sounds – 
TRACKLIST:
1. March Of The Troglodytes
2. Elusive Mojo
3. Times Up
4. The Kenzo Shake
5. Venom
6. The Comedown
7. Deathwish 1970
ECSTATIC VISION have tapped into something that expands heavy rock's vocabulary and moves into a far-out sonic galaxy where there is music in the spheres, but the spheres vibrate on previously untold frequencies. Spacey, tripped-out, avant-garde, and definitely rock and roll are key words when describing their sound. They introduced their brand of heavy primal psych influenced by Hawkwind, Aphrodites Child, Olatunji Can and Amon Duul ll in late 2013. Formed in Philadelphia to primarily "play what they wanted to hear", the band quickly rose to those in the know as a force to be reckoned with through two albums released on Relapse Records, followed by a signing to Italian powerhouse Heavy Psych Sounds, who released their latest record 'For The Masses' in 2019. Ecstatic Vision have shared the stage with the likes of Enslaved, YOB, John Garcia, Dead Meadow, Bongzilla, Earthless, Red Fang, Acid King and many others.

ECSTATIC VISION links
Facebook⎜Bandcamp⎜Instagram⎜Spotify

HEAVY PSYCH SOUNDS links
Website⎜Facebook⎜Bandcamp⎜Instagram⎜Youtube