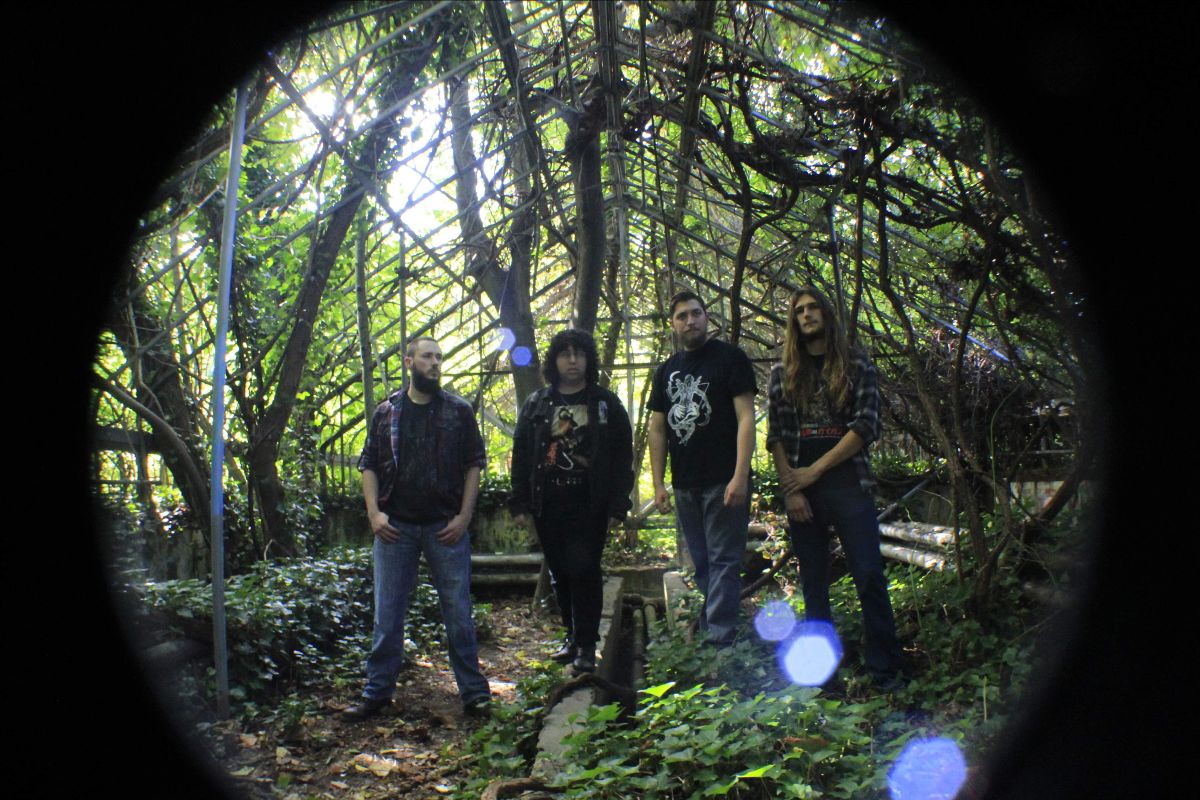 Sci-fi psychedelic doom unit KING BASTARD shares brain-melting new track « Bury The Survivor/Ashes To Ashes »; debut album out January 14th.
New York-based psychedelic doom visionaries KING BASTARD deliver an 8-minute sledgehammer track off their debut album 'It Came From The Void', out January 14th. Watch their brain-melting visualizer for « Bury The Survivor / Ashes To Ashes » exclusively on Doomed & Stoned!
« We're on a journey to nowhere, yet possibilities surround us as far as the eye can see. » Doomed & Stoned
The first part « Bury The Survivor » is the crushing aftermath of KING BASTARD's impressive debut single and video « Psychosis (in a Vacuum) » — which told the story of Russian astronaut Vladimir Komarov's crash on Earth following a failed spatial mission. The band's improvisational forces are put on display, drowning the listener in an ethereal whirlpool of phasers, reverb, and delay. The second part « Ashes To Ashes » explores even darker soundscapes, and features a sample from the movie Aliens, alluding to the covering up of the incident by burying those who may have survived. 
? Experience new track « Bury The Survivors / Ashes To Ashes » ?
KING BASTARD's debut album 'It Came from the Void' follows the journey of a group of cosmic colonists by invoking a synesthetic experience: the journey begins on suffering Earth and quickly ascends into the cosmos, bringing visions of disaster and human failure. Melding 70's sci-fi horror imagery with a modern doom sound that incorporates synths, percussions, saxophone, violin and viola, 'It Came from the Void' plays with contrasts: it is trippy yet skull-crushing, infectious yet repulsive, as proven by their latest video « Black Hole Viscera« . The album was recorded, mixed and mastered by Colin Marston (Gorguts, Krallice) at Thousand Caves studio in Queens, NY. The artwork was created by Intuitive Designs.
Debut album 'It Came From The Void' (S/R)
Out January 14th on CD and digital – Preorder
It took only one fateful moment of 2018 in Stony Brook University to make planets align and the passion of Izzy Guido (synth), Arthur Erb (bass), and Mike Verni (guitar) coalesce to create the fearless and gargantuan beast that would soon be known as KING BASTARD. While their initial drummer couldn't cope with the crushing force of the threesome's cosmic convergence, the arrival of drummer Matt Ryan behind the kit finalized the sealing of their sonic oath. 
After a run of demo tapes including "Have You Seen This Man?" and "Live at the Haunted Barn", the foursome took to Menegroth, the Thousand Caves studio in Queens, NY to record their debut full-length 'It Came from the Void' with the legendary Colin Marston – a collaboration that was benevolently encouraged by Mike's uncle, Darren Verni of Unearthly Trance. The six tracks were recorded live in one weekend, as KING BASTARD knew exactly where they wanted to take their sound: a fusion of traditional doom riffs with experimental psychedelic jams. The following year was spent honing the smallest details, from tracking synths and guitar leads, to adding percussions, saxophone, violin and viola, adding that unearthly vibe that makes their music stand out from the pack.

KING BASTARD lineup:
Mike Verni: Guitar
Isabel Guido: Synth, saxophone, and vocals
Arthur Erb: Bass
Matt Ryan: Drums and auxiliary percussion

KING BASTARD links
Facebook⎪Bandcamp | Instagram | Spotify