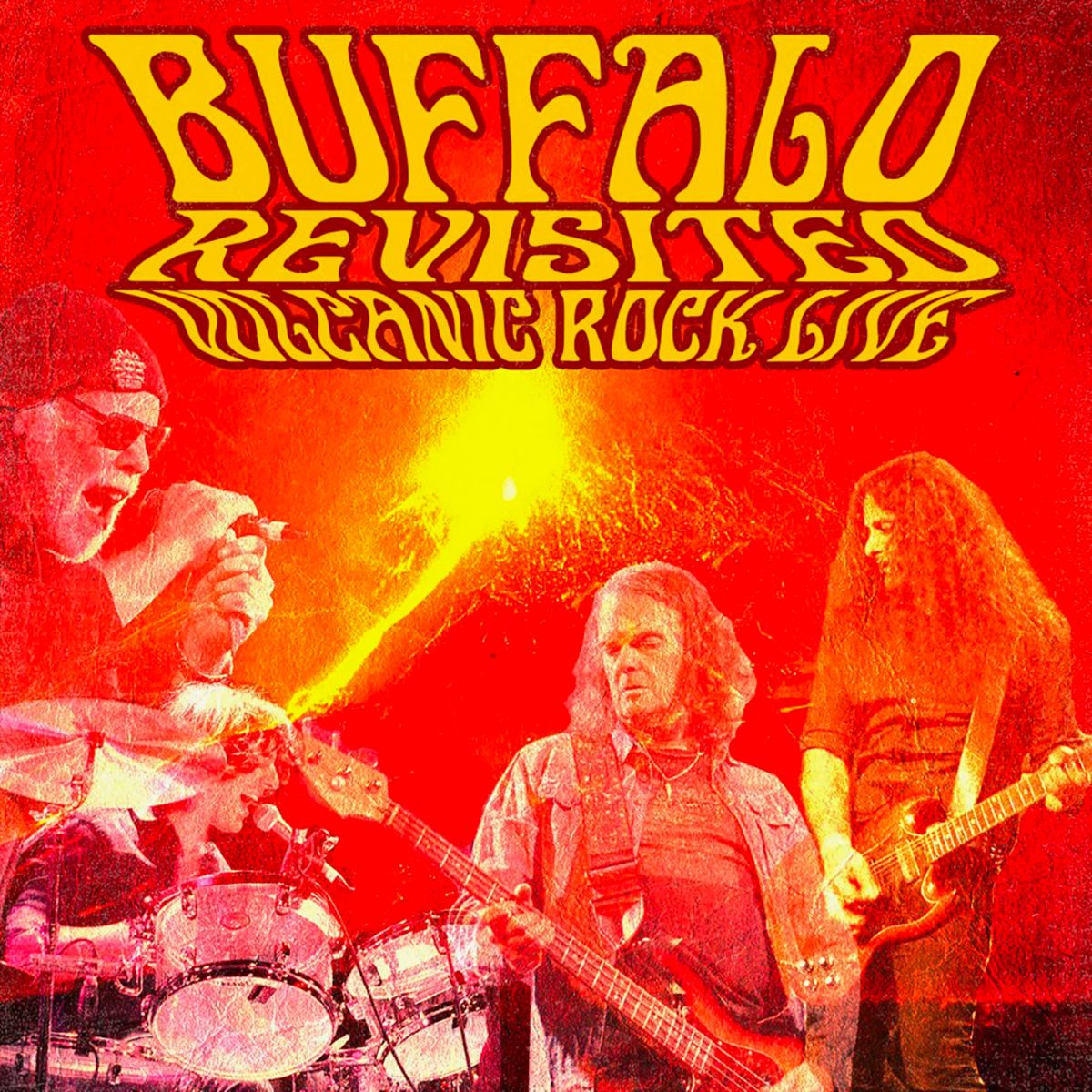 Australia's heavy pioneers BUFFALO REVISITED share new live track off « Volcanic Rock Live » album, out January 14th on Ripple Music.
Australia's heavy rock progenitors Buffalo Revisited reveal a second excerpt off their upcoming live album « Volcanic Rock Live », to be issued on January 14th through Ripple Music. Listen to their soulful performance of « Freedom » exclusively via The Obelisk now!
Buffalo is widely acclaimed as the Australian band that paved the way for hundreds of others in the stoner, hard rock and heavy metal genres. Formed in Sydney in August 1971 from expatriate Brisbane band Head, the original line-up was Dave Tice (vocals), Alan Milano (vocals), Paul Balbi (drums), John Baxter (guitar) and Peter Wells (bass). Buffalo was the first Australian act to be signed to UK label Vertigo Records and released five albums between 1972 and 1977, but stubbornly remained an underground band.
Since the band's hiatus in 1977, frontman Dave Ticecarved out a successful career as a solo artist, and as a member of The Count Bishops and The Headhunters. As requests for a Buffalo reunion became more and more insistent, he responded by playing select events as Buffalo Revisited, showcasing their first three albums. Shows in Sydney, Melbourne and Brisbane reaffirmed the band's legendary status, blowing away audiences made up of old fans along with young Heavy Rock fans experiencing Buffalo's raw power live for the first time.
⚡️ Listen to Buffalo Revisited perform « Freedom » at this location ⚡️
To mark the 45 anniversary of "Volcanic Rock » — the album widely considered the defining record of Buffalo's career — Dave Tice reconvened Buffalo Revisited with the line-up if Troy Scerri (guitar), Steve Lorkin (Bass) and Marcus Fraser (drums). Their first official live recording to date, « Volcanic Rock Live » was taped on June 6th, 2018 at The Bald Faced Stag Hotel in Sydney. The album was mixed by John Bee and mastered by Kent Stump, and will be released on January 14th, 2022 through Ripple Music. The band previously presented a first track « Sunrise (Come My Way », which you can hear at this location.  
BUFFALO REVISITED « Volcanic Rock Live »
Out January 14th on Ripple Music on vinyl, CD, digital
World preorder – US preorder

TRACKLIST:
1. Sunrise (Come My Way)
2. Freedom
3. Til My Death
4. The Prophet
5. I – Pound of Flesh II – Shylock
Alongside Billy Thorpe & the Aztecs and Blackfeather, Buffalo pioneered Australia's heavy metal, pub rock and alternative rock movements in the 70s. In May 1972, they issued their debut single, « Suzie Sunshine », followed a month later by their debut album "Dead Forever…". Both the single and album sold well with the album sales reaching 25,000 despite a virtual commercial radio blacklisting stemming from the band's uncompromising hard rock sound and a ghoulish LP cover. In mid-January 1973, Buffalo supported Vertigo label-mates Black Sabbath on the Australian leg of the Volume IV Tour. The four-piece line-up of Baxter, Economou, Tice and Wells recorded their next two albums, "Volcanic Rock" (July 1973) and "Only Want You For Your Body" (June 1974).

By mid-1974 Norm Roue (ex-Band of Light) had joined on slide guitar. Later that year, Baxter parted ways with the group. A series of new guitarists passed through: Karl Taylor joined on guitar in 1975 for the more commercially-oriented "Mother's Choice", with Roue and Taylor replaced by Chris Turner (ex-Drain) on guitar and (briefly) Colin Stead. Wells left before the end of 1975 to form Rose Tattoo. With Turner on guitar and Ross Sims on bass, Buffalo recorded their final LP, "Average Rock and Roller". Buffalo disbanded in March 1977, when Tice travelled to London to join local rock group The Count Bishops alongside his former band mate Balbi.
Buffalo pre-dated other early Australian hard rockers like Coloured Balls (formed March 1972),  AC/DC (late 1973), The Angels (1974, as The Keystone Angels), and Rose Tattoo. Like many pioneering heavy metal acts, Buffalo incorporated strong influences of blues-rock and psychedelic rock. The band toured across Australia incessantly, at venues ranging from school dances in tiny halls to large outdoor concerts. Some say Buffalo pre-empted doom metal and stoner rock.

BUFFALO REVISITED lineup
Dave Tice — Vocals
Troy Scerri — Guitar
Steve Lorkin — Bass
Marcus Fraser — Drums
Find the band on Facebook
RIPPLE MUSIC links
Website⎪Facebook⎪Bandcamp⎪Instagram