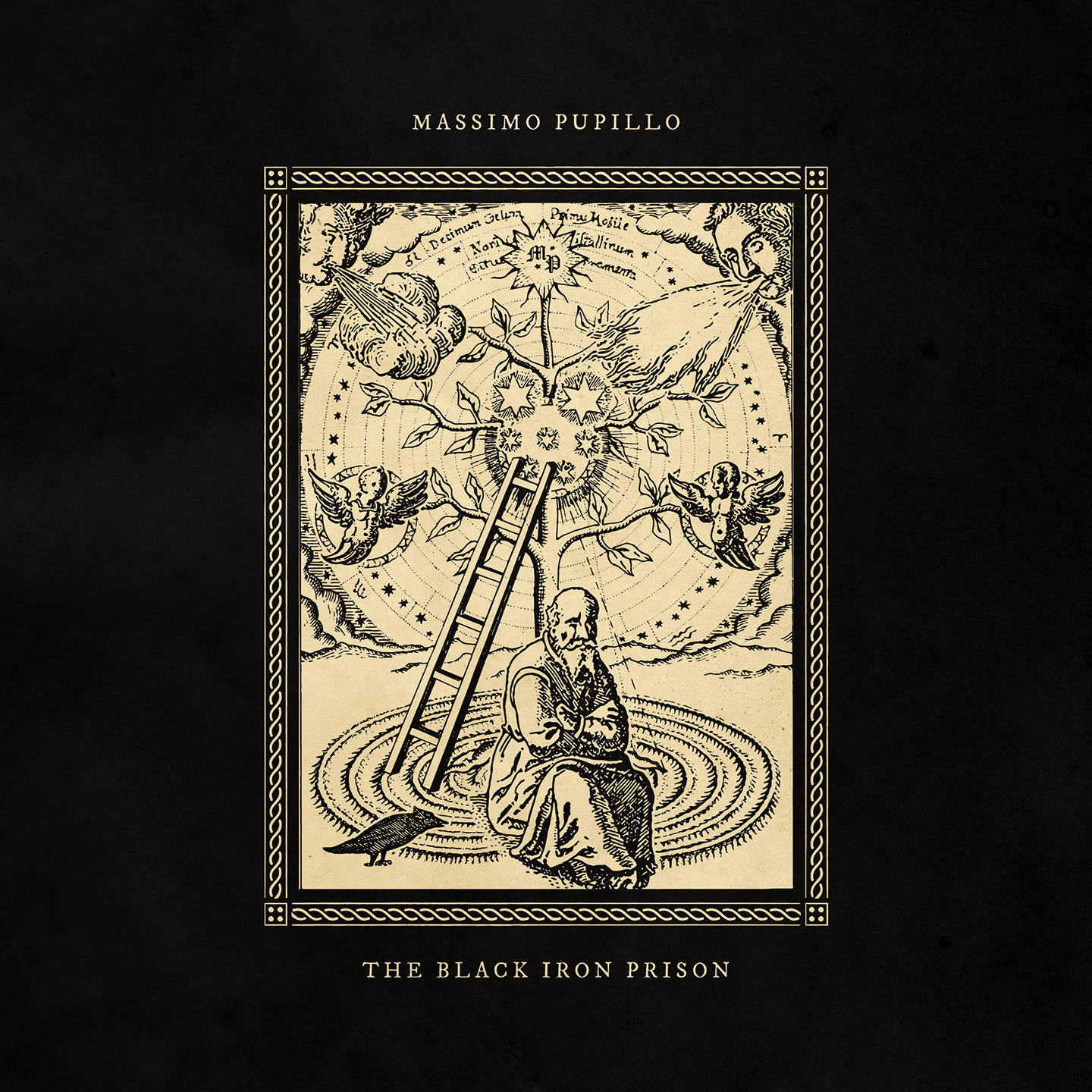 Italy's avant-garde performer MASSIMO PUPILLO (ZU) to issue debut solo album 'The Black Iron Prison' on November 6th via Subsound Records.
Rome's boundless occult experimentalist MASSIMO PUPILLO announces the release of his very first solo album after more than 70 releases with numerous prestigious collaborators. 'The Black Iron Prison' will see the light in November 6th through Subsound Records.

Well known for his experimental jazz metal project ZU, MASSIMO PUPILLO also collaborated with heavyweights such as Mike Patton (Faith No More), Buzz Osborne (The Melvins) or Sonic Youth's Thurston Moore and Jim O' Rourke, all impressed by his talent and overflowing creativity.

Matchingliveinstruments and machines to perfection, MASSIMO PUPILLO'sambientdrone sound will drive you to the abysses of mankind. 'The Black Iron Prison' is remarkably obscure and mystic: it's a dark philosophical and esoteric record, distilling a lifetime of extra-musical experiences and readings, in particular Gnostic texts, sci-fi novels and alchemy's basics and fundamentals — the latter have been chosen to illustrate the artwork. The title was drawn from writer Philip K. Dick's concept of an all-pervasive system of social control, a description particularly apt and meaningful in 2020. Massimo Pupillo describes his record:
« The Black Iron Prison is a somber meditation and rumination inspired by the Gnostics, Philip K. Dick, and the alchemical maps of Nigredo. As the world is unveiled, and the Storm is upon us. »
'The Black Iron Prison' was recorded in complete solitude at Thighpaulsandra's Aerial Studio in Wales, using a heavily processed electric bass, synthesizers, sampler and, of course, mixer, and recorder. Mixed and mastered by Lorenzo Stecconi (Ufomammut, ZU) at Triple Sun studios, Rome. Artwork by Francesco Russo.
MASSIMO PUPILLO New album 'The Black Iron Prison'
Out November 6th on Subsound Records
Preorder coming soon
TRACK LISTING:
1. My Inaugural Address At The Great White Throne Judgement Of The Dead
2. Pistis Sophia
3. The Great Tribulation
4. The Black Iron Prison
MASSIMO PUPILLO is a bass and double bass player and composer, well known for playing in experimental jazz metal trio Zu, with whom he released 15 albums on labels like Atavistic / Touch'n'Go (USA), Southern (EU), Heads (JAPAN), Ipecac Records (USA), and numerous singles and splits with other labels. His sound features darkness, spirituality, strangeness and beauty prominently. His creativity is infinite, whether in the electronic research or the instrumental mastery.

MASSIMO PUPILLO collaborated on many art and music projects, from jazz and improvisation to avant-garde and noise, taking an interest in movies soundtracks and theater. He shared the stage and the sounds with a very long list of musicians including Mike Patton (Faith No More), Buzz Osborne (The Melvins) Thurston Moore and Jim O' Rourke (Sonic Youth), Eraldo Bernocchi (Sigillum S), Joe Lally and Guy Picciotto (Fugazi), Damo Suzuki (Can), Eugene S. Robinson (Oxbow), Steve MacKay (The Stooges)…

More experimental than ever, his debut solo record is a four tracks concept album inspired by Philip K Dick's fantastic and philosophical novels, and old esoteric writings. 'The Black Iron Prison' will see the light in November 6th throught Subsound Records.

MASSIMO PUPILLO plays:
Electric bass, electronics, synths, sampler.
MASSIMO PUPILLO LINKS:
Website | Facebook | Subsound Records