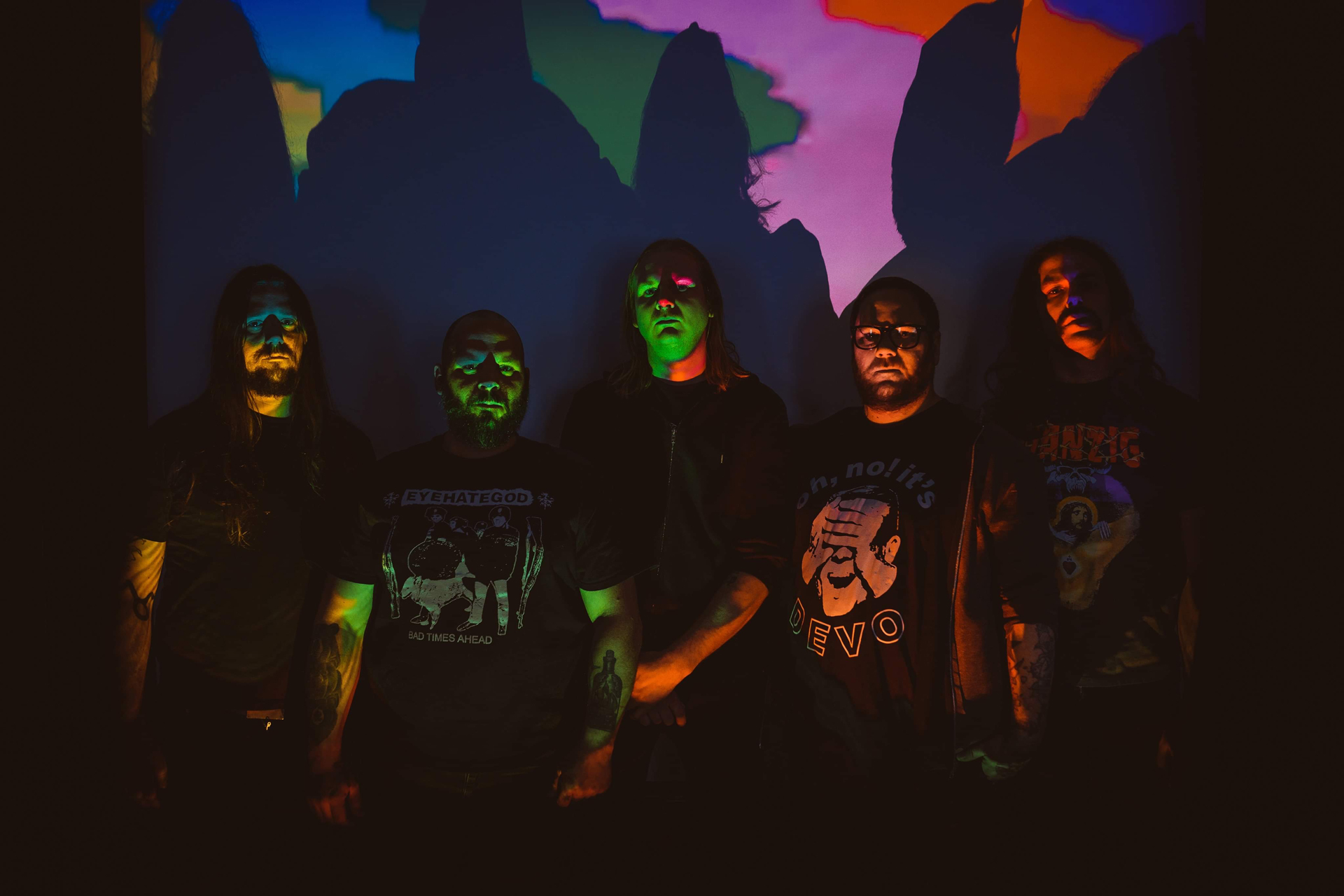 Swedish nihilistic doom quintet ENDTIME drops debut single « Harbinger Of Disease » on Heavy Psych Sounds.
Sweden's nihilist doom newcomers ENDTIME make their entrance with a bleak and deafening first single « Harbinger Of Disease », premiering on The Sleeping Shaman! The Uppsala quintet will issue their debut album « Impending Doom » on March 4th, with preorder available now on Heavy Psych Sounds.

« Five minutes and eleven seconds of bleak nihilistic doom metal. The sound of a plague unending, a famine unceasing, a drought unquenched… »
ENDTIME hail from Uppsala, Sweden. They play doom metal but take cues and mix up influences from the progressive horror music genre combined with the legendary heritage of Black Sabbath. They feature current and ex-members from bands such as Obnoxius Youth, Undergång, Taiwaz, Krusus and Noctum.
☠️ Listen to « Harbinger Of Disease » at this location ☠️
Not only is the world on a downward spiral to annihilation, but it's also the name of Endtime's forthcoming LP,  to be released March 4th, 2022 on Heavy Psych Sounds Records. 'Impending Doom' contains five tracks so powerful that it makes the Tzar Bomba look like a firecracker. Put the needle to the wax and you will experience the sound of a thousand collapsing stars and a feeling like hell is imploding and heaven is falling. Recorded at Studio Shitfun in the band's hometown of Uppsala and mastered by Dan Randall at Mammoth Sound Mastering (Sodom, Better Call Saul Soundtrack, The Walking Dead soundtrack, Violence). The artwork was created by Robert Sammelin (Mondo, Waxwork, Arrow Video).
ENDTIME Debut album 'Impending Doom'
Out March 4th on Heavy Psych Sounds – Preorder

TRACKLIST:
01. Harbinger Of Disease
02. ICBM
03. They Live
04. Cities On Fire With The Burning Flesh Of Men
05. Living Graves
ENDTIME started out in 2015 under the name Saturniids with the pure intention of creating apocalyptic and earth-shattering musical compositions. That name didn't suit their needs or personality, so in 2019 they decided to change it to the more fitting name Endtime. They are the ambassadors for no tomorrow, fostering exploitation movies and aesthetics from the 1980's. Think Giallo, Carpenter and Cronenberg. They don't believe in groove, and they don't believe in swing. They turn amps up to 11, they cause ruptured eardrums and serious dysentery with their subatomic frequencies. ENDTIME are the music equivalent to a nuclear blast.
ENDTIME is
Joppe Ebbeson – Guitar
Daniel Johansson – Guitar
Nicke Björnör – Drums
Afshin 'Affe' Piran – Bass
Christian Chatfield – Vocals
ENDTIME links
Facebook⎪Instagram

HEAVY PSYCH SOUNDS links
Website⎜Facebook⎜Bandcamp⎜Instagram⎜Youtube