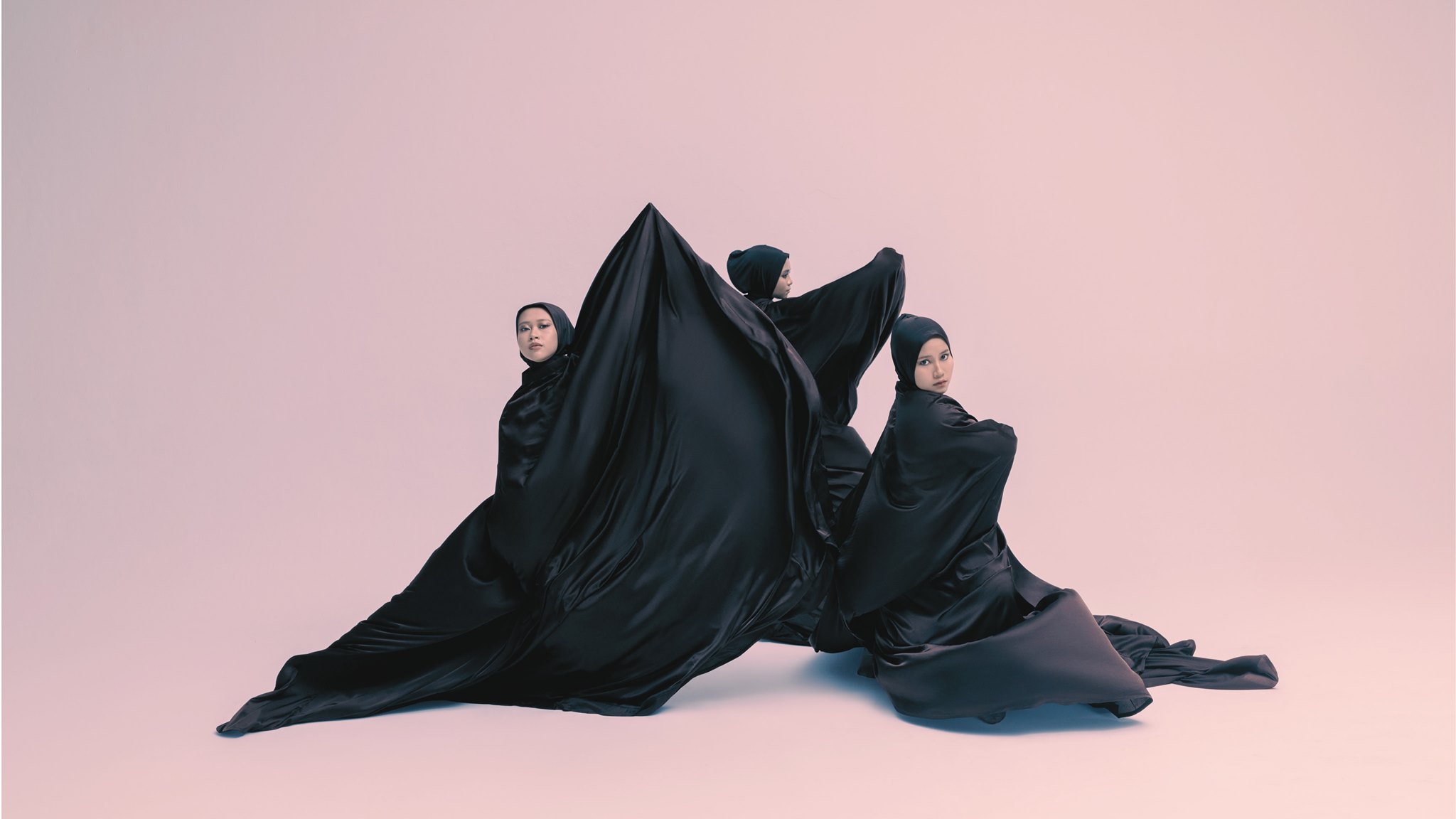 All-female Indonesian metal revelation VOICE OF BACEPROT to kick off « Fight Dream Believe » European tour!
Young, stereotype-smashing Muslim metal band from West Java, Voice Of Baceprot, are gearing up for their upcoming « Fight Dream Believe » European tour, to take place this fall in Belgium, the Netherlands, Switzerland and France. Hear the true sound of rebellion, hear VOB!
Voice Of Baceprot – often abbreviated as VOB – is an Indonesian all-girl rock band hailing from a small and rather conservative village just outside Garut, a town in West Java. Consisting of Firdda Marsya Kurnia (vocals and guitar), Widi Rahmawati (bass), and Euis Sitti Aisyah (drums), the word "baceprot" from their band name comes from the Sundanese language meaning "noisy". This young hijab-wearing trio has been making waves since its formation in 2014, by breaking the mold of a typical metal band and delivering high-energy covers of modern metal classics. Voice Of Baceprot has become a point of discussion for a host of renowned global media such as The New York Times, NPR, BBC, The Guardian and Metal Hammer, who deemed them as "the metal band the world needs right now". Three years after their self-written debut single "School Revolution", VOB returned this summer with their latest video "God, Allow Me (Please) to Play Music » to wide acclaim.
Their fire-driven blend of groove metal, thrash and funk metal with melodic vocals is influenced by Rage Against The Machine, Lamb Of God, Slipknot and Metallica, dealing with topics such as tolerance, faith, and the daily fight for freedom. The band was recently confirmed to play Wacken Open Air festival in August 2022.
VOICE OF BACEPROT « Fight Dream Believe » European tour
Nov. 28 – Patronaat, Haarlem (NL)
Nov. 30 – Merleyn, Nijmegen (NL)
Dec. 1 – Vera, Groningen (NL)
Dec. 2 – Le Botanique, Brussels (BE)
Dec. 4 – Transmusicales, Rennes (FR)
Dec. 8 – L'Entrepôt, Arlon (BE)
Dec. 9 – Atelier des Moles, Montbéliard (FR)
Dec. 10 – L'Usine PTR, Genève (CH)
VOB began to turn heads when a video of the band performing a cover of a song by Rage Against The Machine in 2015 became popular on YouTube. The three-piece continued to produce more videos of them covering songs by their idols, including Red Hot Chili Peppers, Metallica, and Slipknot, which garnered even more attention from both local and international media.
Besides their obvious prodigious musical talent, it was also the unique and contradictive combination of heavy rock/metal music and their wearing of the hijab that caught the eye of media from across the globe. "Wearing a hijab has not been a hindrance for us so far as we attempt to chase our dreams of becoming musicians. We are free to express our creativity through rock music, while also fulfilling our responsibilities as Muslims," says frontwoman Marsya.
VOB quickly went viral. When Guns N' Roses held a concert at the Gelora Bung Karno Stadium in Jakarta in November 2018, the three band members were personally invited by its legendary guitarist Slash to meet him backstage. Further confirmation of their burgeoning reputation came via personal shout-outs from their idols Rage Against The Machine guitarist Tom Morello and Red Hot Chili Peppers bassist Flea on social media, along with Living Color guitarist Vernon Reid.
VOICE OF BACEPROT links
Website⎪Facebook⎪Instagram⎪Twitter