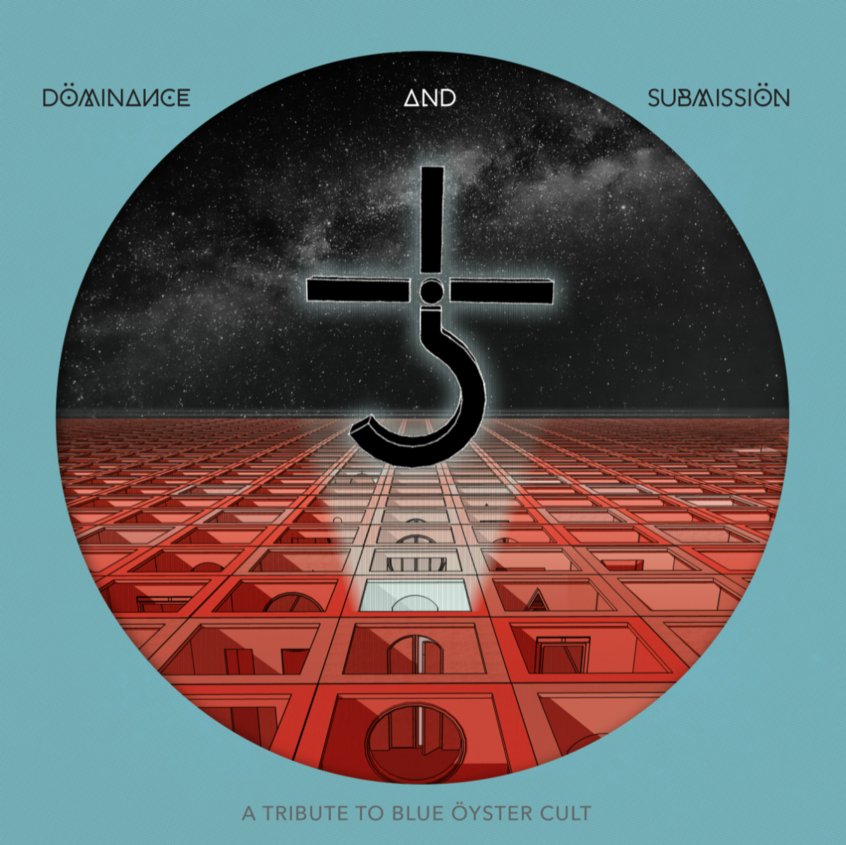 Bob Balch and Howling Giant cover BLUE ÖYSTER CULT's « Godzilla » as part of upcoming tribute album on Ripple Music.
Ripple Music presents the first track from the ambitious « Döminance and Submissiön: A Tribute to Blue Öyster Cult » all-star tribute album, to be issued on January 14th. Listen to the first track with a heavier than heavy rendition of « Godzilla » by Howling Giant and Bob Balch of Fu Manchu, and preorder now!
Founded in 1967, Blue Öyster Cult are considered pioneers of occult rock'n'roll, marking generations with timeless anthems such as « (Don't Fear) The Reaper », « Burnin' for You », « Cities on Flame with Rock and Roll » or « Godzilla ». The New York outfit has since then remained a reference act of the 70s rock scene alongside MC5, The Stooges, or Steppenwolf.
This ambitious tribute album was initiated by Poison Idea's departed drummer Steve Hanford aka Thee Slayer Hippy, in conjunction with Ian Watts of Ape Machine. "Dominance and Submission » highlights some of the finest work from the legendary band, with unique contributions from Mondo Generator, Mos Generator, Great Electric Quest, War Cloud, Ape Machine, Zeke, Year Of The Cobra, Fetish, Spindrift, IT, Howling Giant, members of High On Fire, Quasi, Holy Grove, Fu Manchu, Witch Mountain, Wild Eyes, as well as Mark Lanegan and Billy Anderson, and artwork byDave Snider.
Listen to « Godzilla » by Howling Giant and Bob Balch on Brooklyn Vegan
« We started covering this song on our first few tours and decided to record it a couple of years back for a limited picture disc release. When I got in touch with Ian about this compilation, he had the idea to get Bob Balch involved. It was absolutely amazing to hear the dude behind one of the greatest 'Godzilla' covers rip a solo on our track, » Howling Giant comment.
"Dominance and Submission: A Tribute to Blue Oÿster Cult » will be released in a special edition 2xLP with D-side etching in a gatefold jacket (limited colored edition and classic black edition), as well as on CD and digital.  All proceeds will go to Hanford's widowed partner, Kitty Diggins.
"Dominance and Submission: A Tribute To Blue Öyster Cult"Out January 14th on Ripple Music – PREORDER
TRACKLIST & LINEUP:
Side 1:
1) « ME 262 » – Mondo Machine
2) « Flaming Telepaths » – Great Electric Quest
3) « Dominance and Submission » – Cosmo-Daemonic Telegraph Company featuring Mark Lanegan, Nick Oliveri and Sam Coomes
4) « Godzilla » – Howling Giant featuring Bob Balch
Side 2:
1) « Transmaniacon MC » – Tony Reed (Mos Generator) with Thee Slayer Hippy
2) « Wings Wetted Down » – IT featuring Andrea Vidal
3) « Tattoo Vampire » – Mondo Generator with Thee Slayer Hippy
4) « Veteran of the Psychic Wars » – Ape Machine
5) « Cities on Flame with Rock and Roll » – Zeke
Side 3: 
1) « Stairway to the Stars » – War Cloud featuring Janiece Gonzalez 
2) « Fireworks » – Year of the Cobra with Thee Slayer Hippy
3) « 7 Screaming Diz-Busters » – Fetish
4) « (Don't Fear) The Reaper » – Spindrift
As Poison Idea's drummer and producer, Hanford lived the hard road of the rock veteran. He played on two highly influential hardcore records: 'War All The Time' and 'Feel The Darkness,' and worked as a producer on indie rock projects such as Heatmiser (with Elliot Smith) and punk albums for notable names like The Hard-Ons. Following struggles with addiction and a seven-year prison sentence, he turned his life around, starting work in a music program and playing drums first in The Skull and then joining Ape Machine as drummer and producer. While on the road with Ape Machine, Steve decided to produce a tribute record to one of his favorite bands, Blue Öyster Cult.
Hanford was an accomplished and respected musician, able to round up a star-studded cast of bands for the tribute. Passing away in May of 2020, he didn't see the project's completion, but he completed most of the recordings, leaving Watts to gather the final pieces.
RIPPLE MUSIC links
Website⎪Facebook⎪Bandcamp⎪Instagram⎪Shop