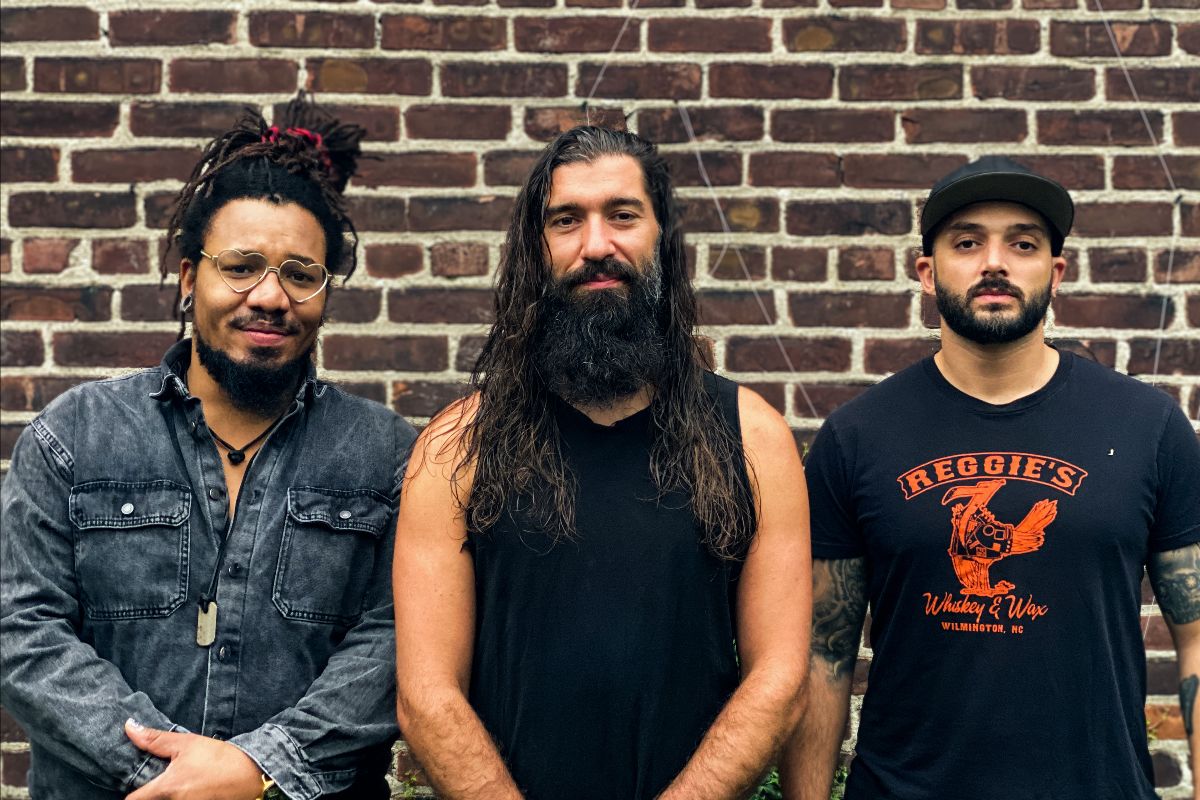 Brooklyn sludge metallers SOMNURI release new video « Beyond Your Last Breath » + details for new album on Blues Funeral Recordings.
Brooklyn, NY's sludge metal juggernauts SOMNURI arise to unleash the first video from their awaited new album 'Nefarious Wave', out June 4th on Blues Funeral Recordings. Watch the trio's cathartic « Beyond Your Last Breath » video now exclusively on Brooklyn Vegan!
SOMNURI's sound weaves together breakneck energy, infectious melodies and slow-burning aggression, a cacophony of bludgeoning riffs and pounding grooves that shares DNA with High on Fire, Mastodon, Torche, even Soundgarden.  Elements of the city surface throughout: brutality and spaciousness, stark dissonance, and delicate hush. « Beyond Your Last Breath takes a proggy, tech-y, and punk-infused approach to sludge with hints of Southern rock riffage and melodic, harmony-laden hooks » describe Brooklyn Vegan editors. 
Watch new video « Beyond Your Last Breath » on Brooklyn Vegan
About the video, drummer Phil SanGiacomo comments: « Beyond Your Last Breath is about the cyclical and intertwined nature of life and death, and how the struggle to survive and find light can bring you to the brink of darkness and beyond. The video, directed by Susan Hunt of Five Sigma Films, weaves through a dreamlike environment and shows both the grittiness and beauty of Brooklyn and New York City, all through a surrealistic lens. The song also ties into the greater theme of the 'Nefarious Wave' album title, which alludes to a process that repeats endlessly throughout time. The idea of facing that wave head-on is prevalent throughout the record.« 
A sprawling record full of time and tempo shifts, 'Nefarious Wave' is a story of survival and resilience. As naysayers flee the city, claiming the scene is dead and will never be what it used to, SOMNURI is alive, breathing, adapting and mutating into something greater, and continues to push the possibilities of heavy music and the ideals of how a DIY band fights for their place. Embodying their refusal to concede or compromise, 'Nefarious Wave' is a reflection of their undeniable ethic, a devastating musical worldview ready for those willing to inhabit it with them.
'Nefarious Wave' was mixed by Phil SanGiacomo, and mastered by Justin Mantooth at Westend Recording Studios KC. The artwork was designed by Dani Otrajki. It will be released on June 4th, 2021 worldwide on various vinyl formats, CD and digital through Blues Funeral Recordings.  
SOMNURI New album 'Nefarious Wave'
Out June 4th, 2021 on Blues Funeral Recordings
PREORDER NOW
TRACK LISTING:
1. Tied To Stone
2. Tooth & Nail
3. Desire Lines
4. Beyond Your Last Breath
5. Watch The Lights Go Out
6. In The Grey
7. Nefarious Wave
Nothing burnishes heaviness like being a DIY band in Brooklyn. The strength of will to survive in New York inevitably seeps into the music, and toughens the musical character of those who persevere. SOMNURI started when two multi-instrumentalists sharing adjacent practice spaces heard like-minded styles and energies coming from next door. Justin Sherrell had played drums in Brooklyn bands Blackout, Tower, and Bezoar, but yearned to take on guitar and vocals. He heard Phil SanGiacomo (Family, Grandfather, Last Hours) pounding out polyrhythms through the wall and thought, 'this could be the foundation of something awesome.

Hitting the pavement with an underground cannabis delivery service to fund the band's beginnings immediately catalyzed their uncompromising ethos. SOMNURI self-released an ambitious and well-received debut LP in 2017, earning high marks from Decibel, Metal Injection, Invisible Oranges and Metalsucks, and powered ahead with a series of blistering shows. The arrival of bassist Philippe Arman (Tower, The Advertisers) in 2019 seemed to complete the band at last, with the addition of live vocal harmonies and slick yet thunderous low-end.

SOMNURI is:
Justin Sherrell — guitars/vocals (also bass on the album)
Philippe Arman — bass
Phil SanGiacomo — drums

SOMNURI LINKS
Facebook⎪Bandcamp⎪Instagram

BLUES FUNERAL RECORDINGS LINKS
Website⎪Facebook⎪Bandcamp⎪Instagram⎪Youtube