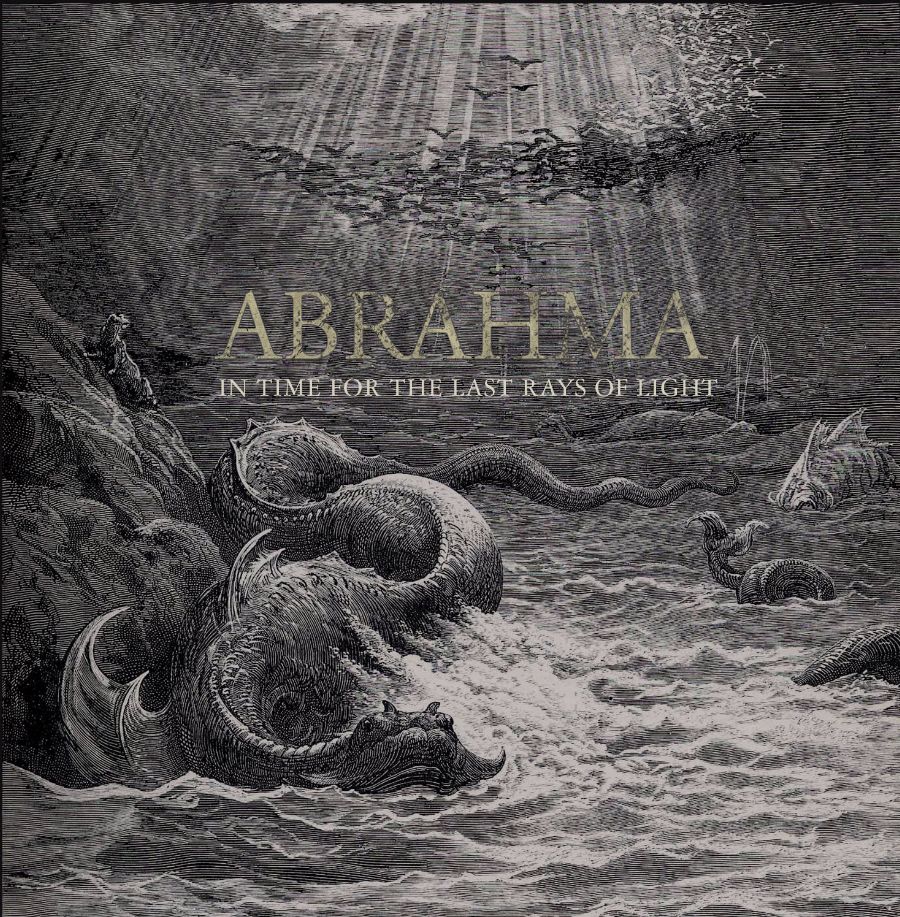 Heavy rockers ABRAHMA stream powerful new track off "In Time For The Last Rays Of Light", out May 24th on Small Stone Records.
French heavy rockers ABRAHMA return this May 24th with their third full-length and most accomplished effort to date on Small Stone Records. Today, the band is sharing an epic new track « In Time for the Last Rays of Light », available below. 
Listen to « Eclipse Of The Sane Pt. 2: Fiddler Of The Bottle » HERE
Frontman Sebastien Bismuth tells the whole story behind this new song: « The 'Eclipse Of The Sane' duology is dealing with another side of Depression. The feeling of being disconnected from everyday life. This sensation of being alone and rejected, even if you have family, friends. It's like no one understands you and you have a different language from other people… And the more you try socialize, the more you lose. Then begins self-destruction, where all sanity slowly disappears and gives way to some really dark thoughts, which will sometimes give you the need to end it all, and join your ghosts. This song is also about the « alcoholic » side of it. You know that the « magic potion » will kill you, but this is the only one you can easily buy to rearrange your mind… Like a suicide helped by the bottle… The narrator is jailed in his suffering and sings his last requiem to his family and friends.« 
« In Time for the Last Rays of Light » follows three tumultuous years of personal challenges and lineup changes. It is a chronicle of the ravages of coping with loss and mental illness, brought to bear with heavy and progressive songwriting, melodic catharsis and an impact that goes beyond the material itself.
ABRAHMA « In Time For The Last Rays Of Light »
Out May 24th on Small Stone Records
Limited bundles available via Deadlight Records
Produced and mixed at Orgone Studios by Jaime Gomez Arellano (Paradise Lost, Ghost, Candlemass), « In Time for the Last Rays of Light » follows 2015's « Reflections in the Bowels of a Bird » and whether it is the stark chug and lumbering weight of "Eclipse of the Sane Pt. 1: Isolation Ghosts" or the furious blast-beating in the prior "Lucidly Adrift," its songs produce a depth of atmosphere that speaks to the soul that birthed them. A split with the prior lineup of the band brought the Rouen, France-based founding vocalist/guitarist Sébastien Bismuth into contact with local outfit Splendor Solis, whose members would soon be folded into the new incarnation of ABRAHMA. After many false starts, the band hit the studio in July 2018 and set to work on what is unmistakably their greatest accomplishment to-date: an album that copes with the depression that birthed it and soars hopefully above while reminding that the darkness beneath is ever-present.
"People do not take mental illness seriously," says Bismuth. "People suffering from depression generally feel rejected, and it is not only a feeling. People that never gone through it generally do not really understand how hard it can be to live every day with this weight on your shoulders, all those questions going through your head." Spanning genres and decades of influence, from the Bowie-ism of "…Last Epistle" to the gothic unfolding of closer "There Bears the Fruit of Deceit," « In Time for the Last Rays of Light » speaks with raw honesty and lush craft to its challenges and realizations. In keeping with the album's theme, a portion of the merch proceeds from ABRAHMA's next tours will go to help those suffering from mental illness. "I decided to use this album has a medication against this depression and maybe help other people in this situation," Bismuth recounts. "Each song explains a different side of it: loss of confidence, other's critical looks, the impression of not having a place in this world."
With front and back covers by famed French artist Gustave Doré (1832-1883) and a greater expanse of sound than ABRAHMA has ever had before, « In Time for the Last Rays of Light » confronts its demons and offers a reminder that light exists in the first place. » (Words by JJ koczan for The Obelisk)
ABRAHMA is
Sébastien Bismuth – Vocals/guitar/effects
Florian Leguillon – Guitar/backing vocals
Benoît Carel – Guitar/synth/backing vocals
Romain Hauduc – Bass/backing vocals
Baptiste Keriel – Drums/backing vocals
ABRAHMA LINKS
Facebook ⎜Bandcamp ⎜ Website
Small Stone Records ⎜Deadlight Entertainment