Ukraine's post-rock veterans KROBAK stream new album « Nightbound » in its entirety via Metal Injection now.
Instrumental post-rock magicians 

KROBAK

 are revealing their stellar new album in its entirety today. Explore new emotional places now and listen to « Nightbound » via Metal Injection. 
Ukraine's post-rock veterans KROBAK are back with their third full-length « Nightbound » this November 4th. Hailing from Kiev, this unique foursome creates powerful and inspired rock soundscapes filled with violins… and soul.

Discover KROBAK's new album « Nightbound » NOW
KROBAK's founder and guitarist Igor Sydorenko comments: « Nightbound » is definitely our most mature and challenging work to date. And by saying « our » I mean exactly that: this is also the first Krobak record where everything is not written solely by me. I'd got fed up with the whole one-man-band routine back in 2009, so bringing Krobak as a full band in 2012 meant a lot to me. Having Asya (bass), Natasha (drums) and Marko (violin) taking part in the writing process made the whole experience pretty different but more enjoyable. 2013's « Little Victories » was good but there are some predictable post-rock cliches we were trying to avoid while working on « Nightbound ». I would say  it's way more diverse and recognizable, even though we're still influenced by other musicians obviously… but this time around it's rather Swans, King Crimson or The Mars Volta than Godspeed You! Black Emperor, Mono and Yndi Halda.« 
KROBAK « Nightbound » (S/R)
Out on November 4th – Pre-order on Bandcamp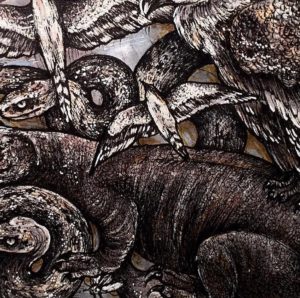 KROBAK (from Ukrainian « хробак », i.e « worm ») is an instrumental progressive/post-rock quartet from Kyiv, Ukraine. Initially founded as a solo project of guitarist Igor Sydorenko (Stoned Jesus, Voida, Arlekin), Their early releases were inspired by the likes of Godspeed You! Black Emperor, Yndi Halda and Mono. Encapsulated in « The Diary Of The Missed One » (Cardiowave, 2008) which is Ukraine's first officially released post-rock album, this era ends around late 2009 when Igor decides to focus on Stoned Jesus.
In 2012, a new lineup emerges with Asya on bass, Natasha on drums and Marko on violin. Second full-length « Little Victories » then comes out in 2013 along with a string of European and Ukrainian dates, including shows with Samsara Blues Experiment, Alcest and Maybeshewill. A wider scope of influences – Swans, The Mars Volta and King Crimson being the pivotal ones – helps the band develop their distinctive brand of instrumental soundscapes further. This autumn will see the release of their new album « Nightbound », recorded and mixed at Lipky Zvukozapys, Kyiv. KROBAK's third full-length album is filled with passion, tension and violins… More violins, please!
KROBAK LINKS