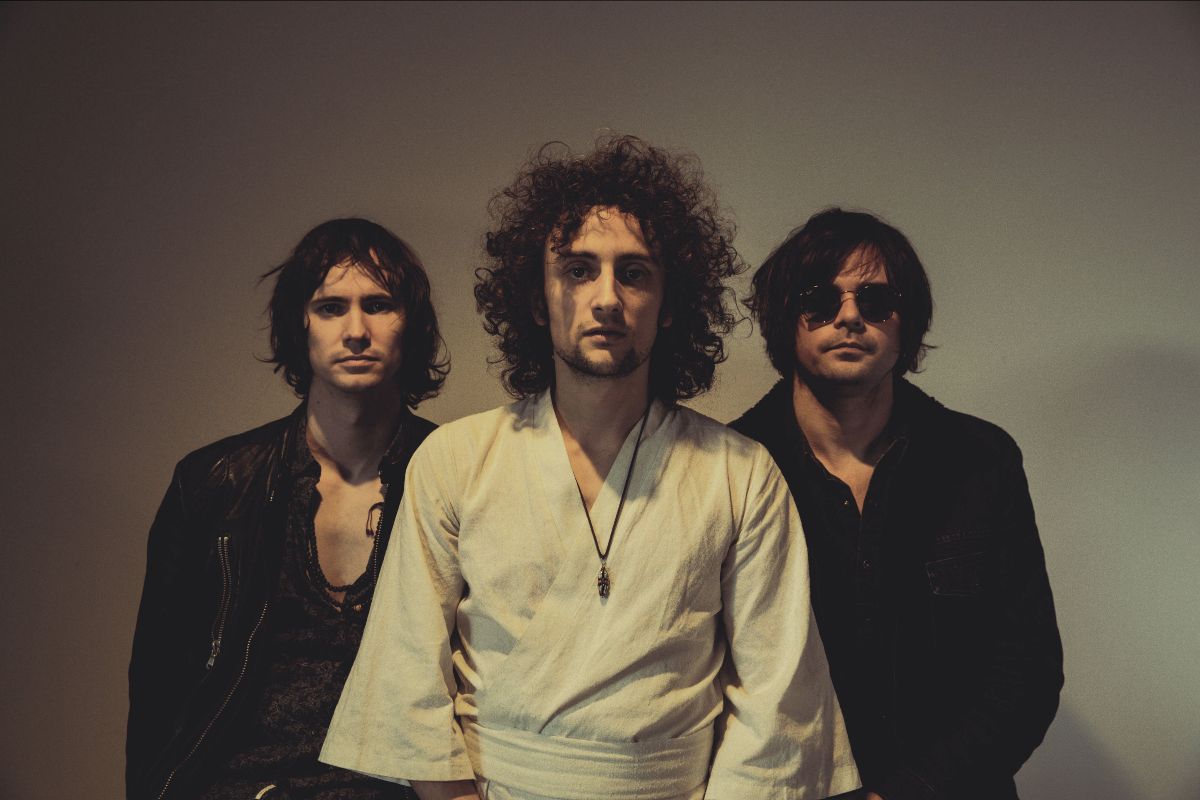 French blues rock trio DÄTCHA MANDALA announce conscious new album « Hara »; due out April 24th via Mrs Red Sound.
Bordeaux-based 70s blues rock trio DÄTCHA MANDALA just confirmed an April 24th release for their awareness-raising new album « Hara », coming out on Mrs Red Sound. They are now gearing up for an extensive French tour, including a batch of shows with Powersolo and James Leg. High voltage riffage, political and philosophical lyrics, Robert Plant-like vocals and an overflowing energy characterize DÄTCHA MANDALA's new album « Hara » perfectly. On this sophomore LP, the heavy blues trio delivers their strongest, most generous and firmly rock'n'roll record to date. Each one of these songs oozes the energy this seasoned live performers convey on stage.
Says the band: « This new album has been recorded at Studio Black Box (Elder, The Kills, Lysistrata) andStudio Berduquetin France by Clive Martin (Queen, Tom Yorke, The Cure). We wanted to get a more modern sound, and stir analog and digital technologies together. On top of our will to root our blues rock, folk, and tribal sound ever further, 'Hara' points out our desire to raise awareness about ecological matters, something strongly topical these days. »
DÄTCHA MANDALA New album « Hara »
Out April 24th on Mrs Red Sound
Over the years, French heavy blues trio DÄTCHA MANDALA have found the perfect balance between material and spiritual thoughts, providing a sensorial experience directly inspired by the sonic effervescence of the 70s. The Bordeaux-based blues rockers seduce with their high-powered guitars, transcendental voices and this generous energy of theirs. Their musical esthetics falls within a blend of mystical psychedelia and oriental-tinged sounds. Since 2009, DÄTCHA MANDALA have performed more than 550 shows through Europe and North America. In 2017, they supported famous French rock trio Les Insus (former Téléphone) in an arena in front of a 35,000 people! The same year, they released their fully analog debut album « Rokh » through Mrs Red Sound (label founded by Mars Red Sky), which was produced by Clive Martin (Queen, Tom Yorke, The Cure, Midnight oil, Skunk Anansie). Hundred of gigs later, the French prodigies returned to the studio to record their sophomore and ecologically conscious album « Hara », due out April 24th via Mrs Red Sound.
DÄTCHA MANDALA on tour:
07.02.20    BOURGOIN-JALLIEU (38) Les Abatoirs
08.02.20    JARNAGES (23) L'Alzire
15.03.20    ANGOULEME (16) La Nef w/ Kadavar
27.03.20    ROUBAIX (59) La Cave Aux Poètes*
28.03.20    BOURGES (18) Le Nadir*
29.03.20    STRASBOURG (67) La Maison Bleu*
31.03.20    LYON (69) Ninkasi Kafé*
01.04.20    PARIS (75) Petit Bain*
02.04.20    MONTPELLIER (34) Le Black Sheep*
03.04.20    PARTHENAY (79) Le Diff'Art*
04.04.20    BORDEAUX (33) Le Grand parc*
05.04.20    TOULOUSE (31) Le Rex*
30.05.20    SAINT PIERRE D'ENTREMONT (73) Rock and Ruines
06.06.20    ASQUES (33) Festiv'Asques
*with Powersolo and James Leg

DÄTCHA MANDALA are:
Nicolas Sauvey – vocals, bass, harmonica
Jérémy Saigne – guitar, vocals
Jean-Baptise Mallet – drums, vocals 
DÄTCHA MANDALA LINKS: Website | Facebook⎪Bandcamp⎪Mrs Red Sound