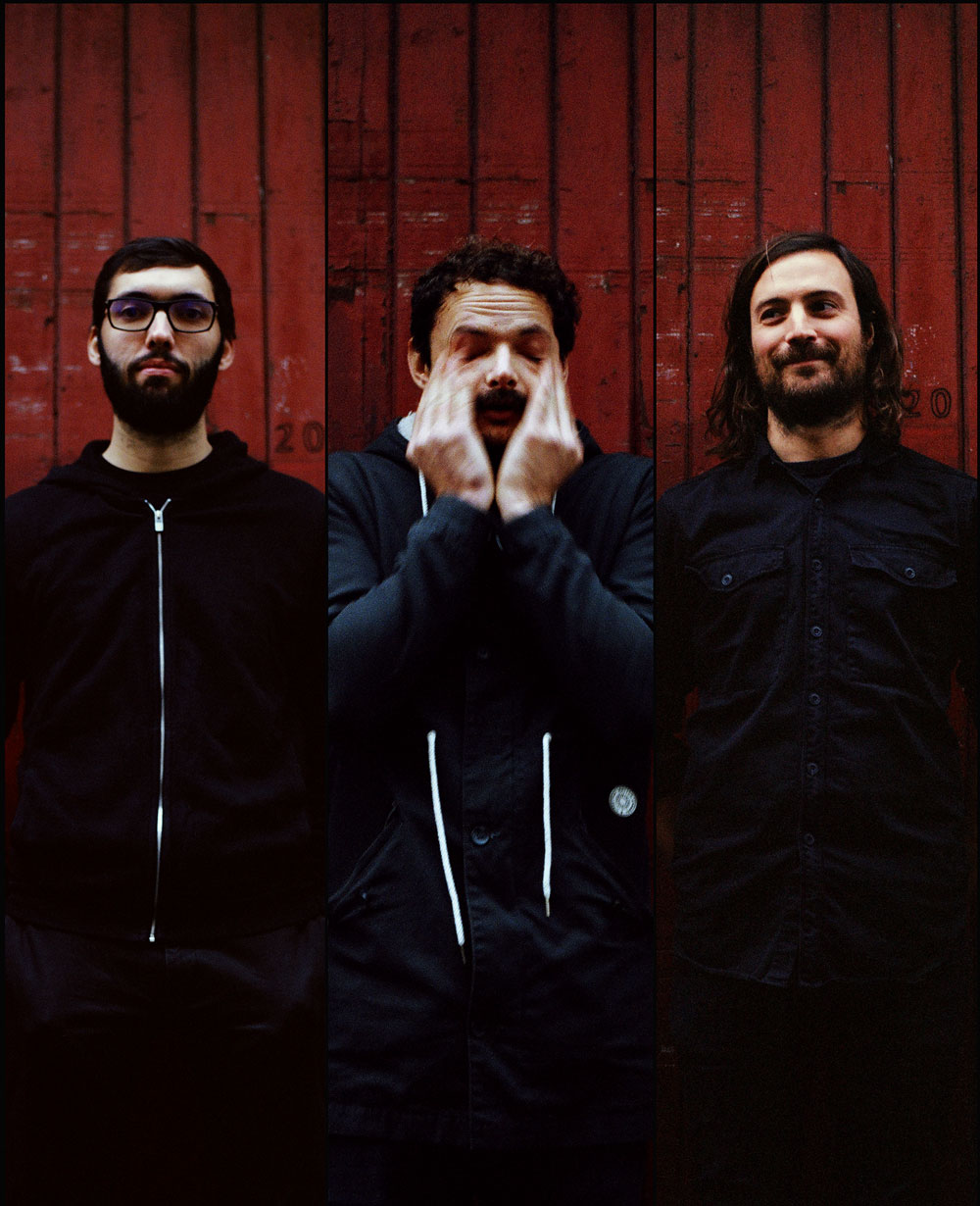 Experimental doom unit ENDLESS FLOODS premiere new album "Circle The Gold" in full ahead of 15.02.19 release ; preorders available now!
Straight from Bordeaux cellars, experimental doom unit ENDLESS FLOODS are premiering their third album « Circle The Gold » in full via Cvlt Nation. The band also announces the addition of guitarist Jérôme Alban (also Year Of No Light) to the lineup. 
A realm of darkness awaits. France's cathartic metal specialists ENDLESS FLOOD formed in 2015 in Bordeaux around Stephane Miollan (Monarch, Bombardement), Benjamin Sablon (Bombardement, Shock) and Simon Bédy. With "no boundaries in heaviness" as a motto, they raise a prodigiously thick wall of sound by blending drone and doom metal aesthetics with mind-expanding ambient structures. A sorrowful procession arising from the limbo…
✙ Forget everything you know about doom
and listen to « Circle The Gold » in full NOW ✙
Returning after their largely acclaimed second album « II » (2017), new album Circle The Gold" results from a year-long reassessment among the trio and symbolises a fresh start in their creative process. Over the span of 40 minutes and two songs, it sees the band evolve towards a more melodic aspect of their sound. Like the first ray of light shining through the gloom after a violent storm, both songs slowly move from impressively majestic chaos driven by cathartic screams and unfettered echoing solos, to almost-meditative and unadulterated moments of peace.
Cvlt Nation's Paul Castles states: « Endless Floods sustain a tone so disconcertingly heavy that you almost need to book yourself in for some fitness sessions with a personal trainer before attempting to face this release. (…) While most would shy away from these at times almost gossamer thin rhythms, those who find solace in such work will find their doom diet inexorably enhanced by Circle the Gold. »
On recent news, ENDLESS FLOODS have invited Year Of No Light guitarist Jérôme Alban to join them for further recordings and live performances. « Circle The Gold » was recorded and mixed at Amanita studio in Anglet (FR) by Stephan Krieger, and mastered by Brad Boatright at Audiosiege (USA). It will be available on 12″ vinyl and digital formats via Fvtvrecordings and Bigoût Records.
ENDLESS FLOODS New album « Circle The Gold »
Out February 15th on Fvtvrecordings / Bigoût Records
Vinyl preorder available on 
Bandcamp
 and 
Bigout Records
TRACK LISTING:
1. Circle The Gold (18:26)
2. Seeds (20:31)
« A juggernaut of sonic grandeur. » Metal Nexus
« Minimalist, almost droning beauty drenched in mournful melodies. » Doom Metal Front Zine
« Some the most haunting and emotive music you'll have experienced. » Alt Dialogue
« One of the most unique and heavy French bands out there. » Stoner Mountain
« The word 'sublime' should suffice here. » Pure Grain Audio
The Bordeaux-based metallers released their self-titled debut in 2015, then quickly returned with their sophomore full-length "II" in January 2017 (Dry Cough Records/Fvtvrecordings/Breathe Plastic). This minimalist, drone-sounding assault saw the band digging deeper within the realm of bleakness they created on "Endless Floods", immersing the listener in a hulking, feedback-laden sonic experience while contemplating 20+ minute-long monoliths "Impasse" and "Procession". "II" was praised by numerous international outlets, and described as "a vast, never-ending room of heavy" (Cvlt Nation), "a juggernaut of sonic grandeur" (Metal Nexus) as well as simply "sublime" by Pure Grain Audio.
About their upcoming third album « Circle The Gold », ENDLESS FLOODS state: « Circle The Gold was written, recorded, then deleted, re-written, recorded again and finalised over the course of two years. We started working on it right after the « II » recordings in the spring of 2016. In March 2017, we went to Amanita studio to record three songs. But afterwards, we broke off all creative process, rehearsals, and nearly put the band on hiatus. A few months later, we relaunched the band and decided to start all over again, and rethink the album to achieve what we had in mind in the first place. We wanted to free ourselves from any songwriting stereotype and follow our own path. Start again to do better, turn a page and move on. The two songs on « Circle The Gold » deal with this tough period around the album making, relationship within a band, friendship and personal experiences. »