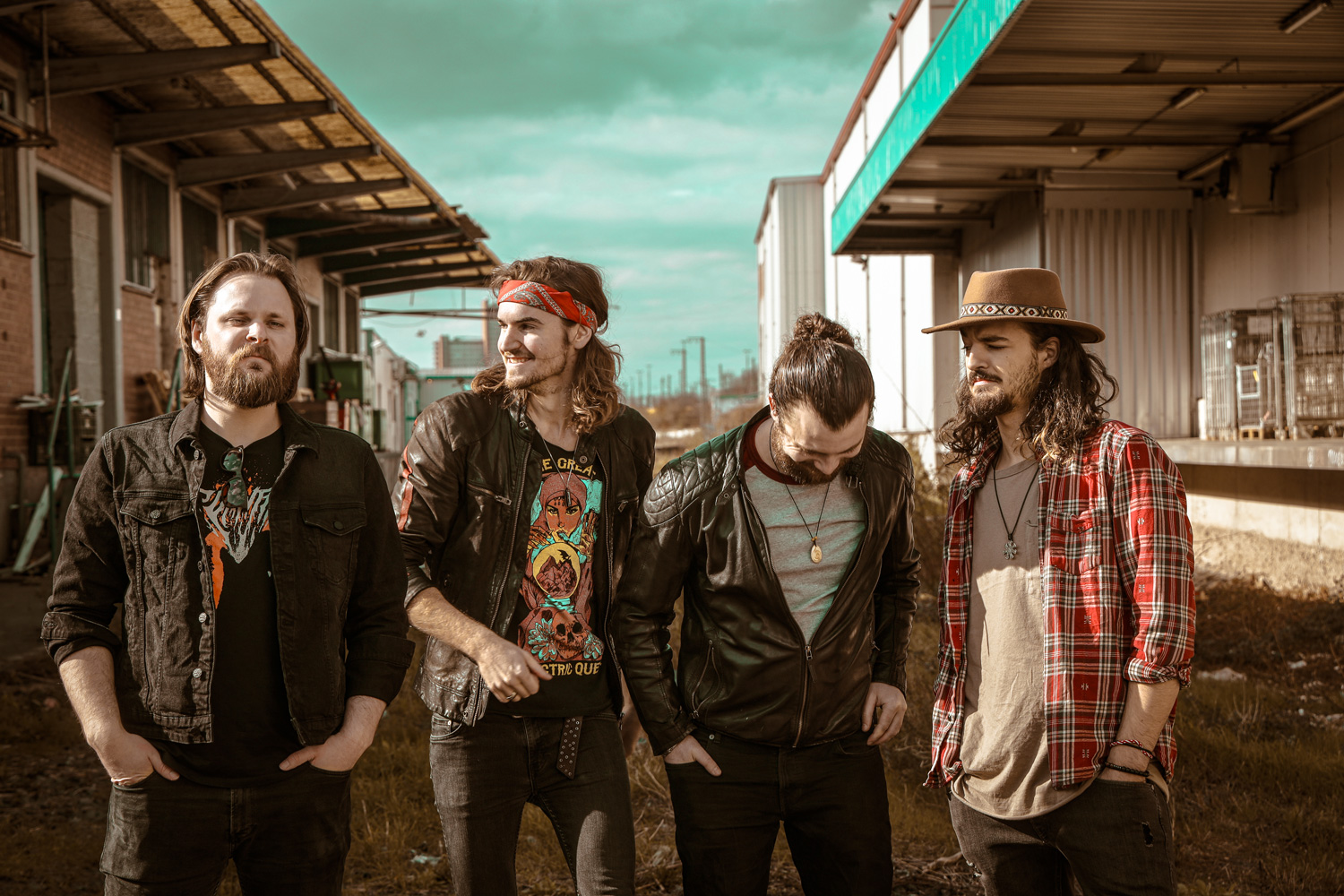 Cologne heavy rock'n'roll wizards PLAINRIDE unleash hilarious new video « Hour Of The Mûmakil ».
Germany's rip-roaring earth rockers PLAINRIDE present their hilarious and wizardesque new video for « Hour Of The Mûmakil », taken from their forthcoming album to be released later this year on Ripple Music. Let yourself be carried away by the sheer force of their rock'n'roll gospel right now! 

Earth rockin' drums, a beard growth-inducing bass, fuzzomental guitars, the roar of a wolfman, and a whole lotta beer: these are the elements that make PLAINRIDE's muscular brand of rock'n'roll so addictive. The Cologne foursome made the most of Germany's traditional celebration of Walpurgis Night to release their magic-worshipping and hilarious new video for « Hour Of The Mûmakil ». Backed by the natural wizardry of Richard Münchhoff on percussion and gospel composer and pianist Niko Schlenker on organs, this new song 
? Feel the magical fire of new video « Hour Of The Mûmakil » ?
Says frontman Max Rebel: « Hour Of The Mûmakil is one of those songs where you head into band practice with that riff stuck in your head and two hours later you come out with a full-fledged, balls-to-the-walls Rock'n'Roll tune. However it wasn't until Florian and Bob laid down a bunch of percussion over at our friend Richard Münchhoff's studio RE·36 and Flo's father, Gospel composer & pianist Niko Schlenker, stacked a few spicy organ lines on top that the song blossomed into its final shape. We had a bit of Cream-vibe going early in the writing phase but came out with an almost Santana-like ring to it in the end, which, pardon me, you simply have to dig. »

« Hour Of The Mûmakil » is heavily inspired by the writings of Italian-American scholar Silvia Federici's treatise Caliban And The Witch, according to which the concept of magic encompasses a notion of insubordination, a refusal of work, and the potential for grassroots resistance to power. In a world that has been "disenchanted in order to be dominated", the occult, ever-defiant power of Rock'n'Roll, riffs, myths, and magical beasts may be just what people need. In addition, make sure to watch their recent « Shepherd » video at this location. 
New single « Hour Of The Mûmakil »
Available on all digital platforms and Bandcamp
PLAINRIDE December 2021 Tour:
14/12/2021 – Bielefeld, Potemkin
15/12/2021 – Hannover, Bei Chez Heinz
16/12/2021 – Göttingen, Dots / Vinylreservat
17/12/2021 – Hamburg, Drafthouse
18/12/2021 – Bochum, Trompete
Uncounted shirts have fled their owners at the sound of Cologne's prime purveyors of heavy rock PLAINRIDE, who long ago freed themselves from the scourge of upper body raiments, are on a vendetta against dry sweat glands and the conformist regime set on keeping them that way. Their mission: liberation by the electric guitar. Having planted the seed of rebellion in the hearts and minds of audiences at Wacken Open Air 2018 and a Fu Manchu show that one time, they have now gathered such dangerous momentum, they've become an outright threat to public safety. Lock your bathroom windows because these four heathens will stop at nothing to expose themselves to you.
PLAINRIDE released their sophomore album 'Life On Ares' in the fall of 2018, an endeavor fueled by the ongoing and fruitful collaboration with Californian record label Ripple Music. After a chaotic and rather mind-numbing year 2020, the band returns to shake all souls, gearing up for the release of their third full-length in 2021 on Ripple Music.
PLAINRIDE is:
Max Rebel – Vocals & Guitar
Florian Schlenker – Drums, Percussion
Bob Vogston – Bass, Guitar

PLAINRIDE LINKS
Website⎪Facebook⎪Bandcamp⎪Instagram⎪Spotify

RIPPLE MUSIC LINKS
Website⎪Facebook⎪Bandcamp⎪Instagram⎪Youtube