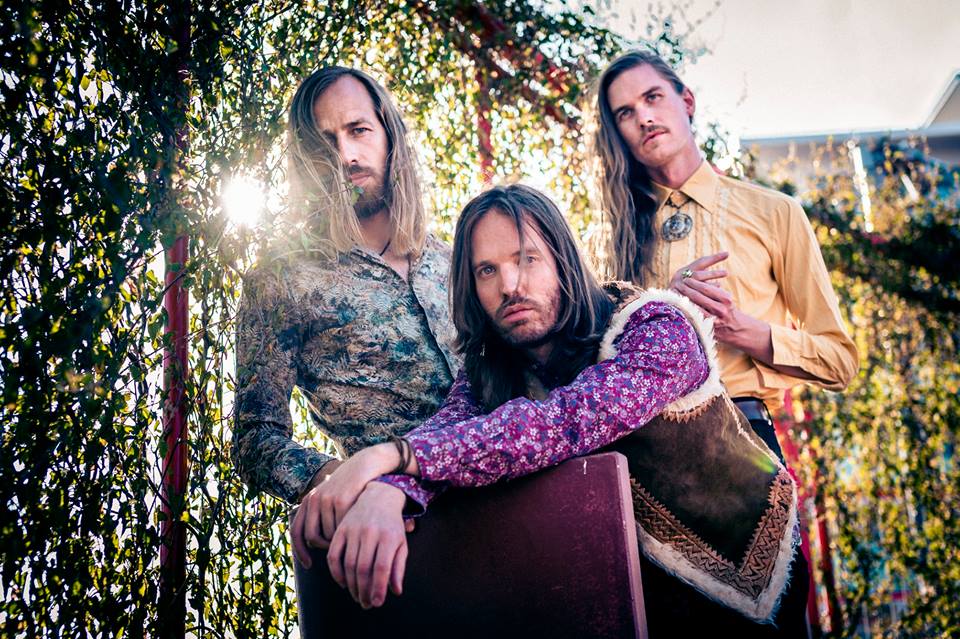 Psychedelic rockers THE SONIC DAWN stream new album "Eclipse"; European tour kicks off this week!
Denmark's retro-psych mongers THE SONIC DAWN return with third album « Eclipse » on HPS Records this week, and stream it in its entirety on Shindig Magazine. Full European tour starts this Thursday for twenty-five shows of pure 60's rock delight…
Flickering between light and darkness, their sound burns with an intensity that places the band among the top psychedelic acts of their time. Following their first two album releases, THE SONIC DAWN have toured Europe more or less constantly, only returning home to focus on their biggest work to date.
Keep it psyche! Stream THE SONIC DAWN's new album on Shindig

Eclipse is the product of a full year's labor, with 13 blistering tracks carefully selected among over more than 40 candidates. Recorded to tape in The Village Recording, Denmark's best analog studio, Eclipse has been produced by THE SONIC DAWN and Thomas Vang (Roger Waters). Mastered in the Svenska Grammofonstudion by Hans Olsson Brookes (Graveyard a.o.) and cut to vinyl in the Abbey Road Studios lead Eclipse to an ultimate sound quality.
THE SONIC DAWN New album « Eclipse »
Out February 1st on Heavy Psych Sounds
PRE-ORDER NOW
TRACK LISTING:
1. Forever 1969
2. Psychedelic Ranger
3. The Stranger
4. No Chaser
5. Opening Night
6. Circle of Things
7. On the Edge of Our Time
8. Christiania
9. The Last Page
10. Love Bird
11. To Change Who We Are
12. Islands in Time
13. Towards the End
In support of their upcoming release, THE SONIC DAWN are just about to kick-off a heavy touring schedule! Make sure to catch the psychedelic rockers live at the following dates:
31 JAN – DE – Kiel, Schaubude
01 FEB – DE – Leipzig, Moritzbastei
02 FEB – DE – Munich, Import/Export
03 FEB – AT – Salzburg, Rockhouse
04 FEB – CZ – Bilina, Moskva
05 FEB – DE – Dresden, Ostpol
06 FEB – DE – Nürnberg, Z-Bau
07 FEB – CZ – Prague, Kastan
08 FEB – PL – Wroclaw, Firlej Club
09 FEB – PL – Warsaw, Chmury
11 FEB – AT – Graz, Music House
12 FEB – AT – Vienna, fluc
13 FEB – HR – Zagreb, KSET
14 FEB – IT – Udine, Backyardie
15 FEB – IT – Cecina, Spazio Live Ritmi
16 FEB – IT – Parma, Splinter
17 FEB – IT – Castel d'Ario, L'Hostaria
18 FEB – IT – Zerobranco, Altroquando
19 FEB – IT – Erba, Centrale Rock
23 FEB – BE – Brussels, Magasin4 (HPS Fest)
24 FEB – NL – Deventer, Het Burgerweeshuis (HPS Fest)
28 MAR – DE – Göttingen, Dots
29 MAR – DE – Düsseldorf, R25 Kulturschlachthof
30 MAR – DE – Mannheim, Altes Volksbad
01 APR – DE – Tübingen, Münzgasse
THE SONIC DAWN
 was formed in Copenhagen in late 2013, by childhood friends Emil Bureau, Jonas Waaben and Niels 'Bird' Fuglede. They were soon picked up by the local underground label Levitation Records, who released their debut 7-inch, 
Down the Line
 (2014). During this period they toured Denmark extensively and made their first international appearances. Two full-length records and numerous European tours such as with desert rock titan BRANT BJORK later, the band's sound on 'Eclipse' continues to burn with an intensity that easily places them among the top psychedelic acts of their time.
THE SONIC DAWN are:
Emil Bureau (guitar & vocals)
Jonas Waaben (drums)
Niels 'Bird' Fuglede (bass guitar)
THE SONIC DAWN & HPS RECORDS LINKS
Bandcamp ⎮ Facebook ⎮ Instagram
HPS website⎜HPS Facebook⎜HPS Bandcamp