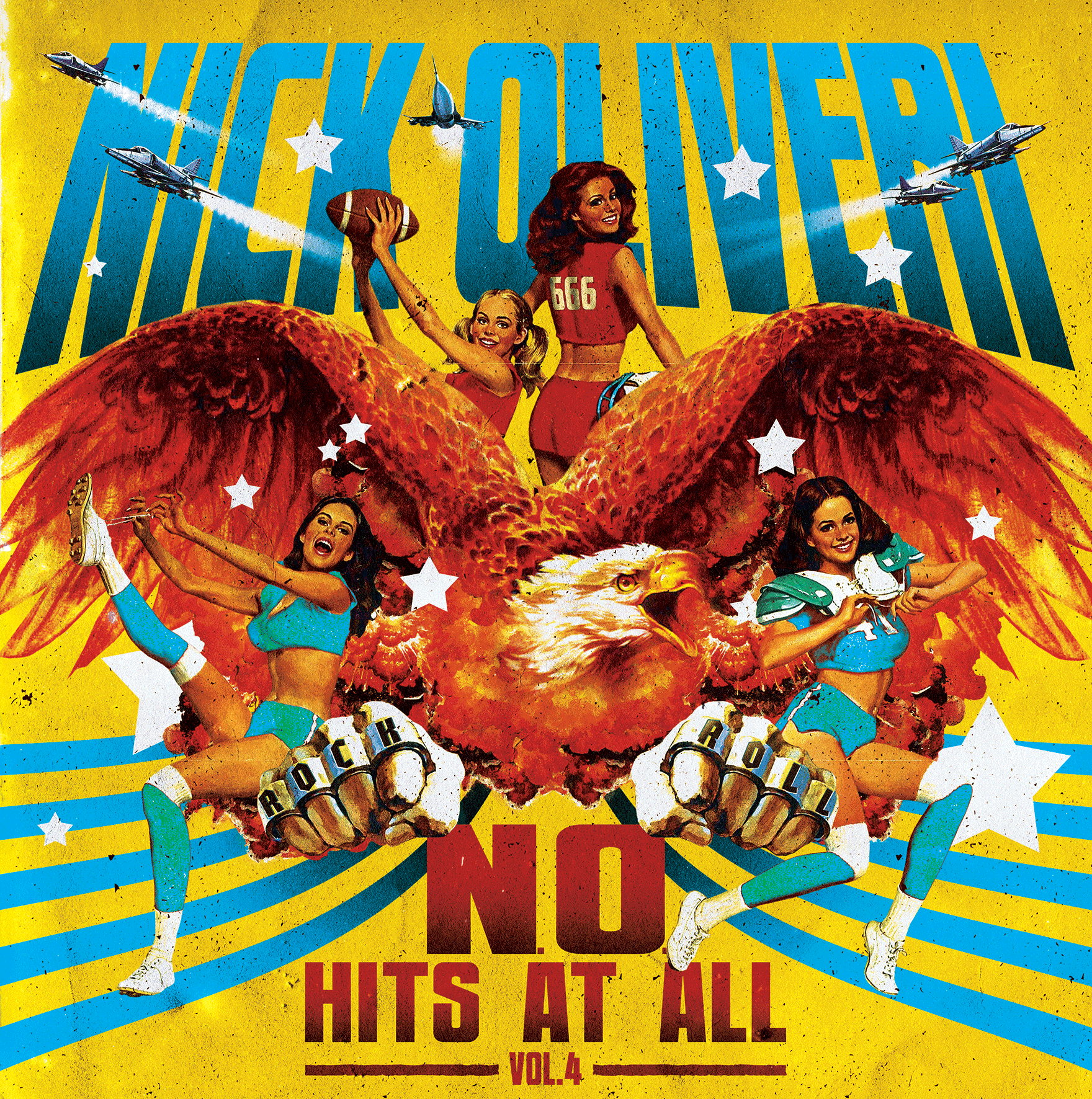 Desert rock legend NICK OLIVERI streams his « N.O. Hits At All Vol.4 » project, available 23.02 on Heavy Psych Sounds
The last episode of 

NICK OLIVERI

's « N.O. Hits At All » series – compiling the very best as well as some unreleased tracks from his numerous projects and collaborations over 20 years of career – is streaming in full today. The album comes out on February 23rd via HPS Records.
Following the successful issuing of his « 
N.O. Hits At All Vol.1
« , « 
N.O. Hits At All Vol.2
 » and « 
N.O. Hits At All Vol. 3
 » compiling rare an unreleased songs from his numerous projects and collaborations over the past 25 years (QOTSA, Dwarves, Kyuss Lives!, Death Acoustic, Winnebago Deal, Royale Deamons with Wino and Joey Castillo…), 
NICK OLIVERI
 returns next February 23rd with the final episode of the series, comprising tracks by The Dwarves, Death Acoustic, Rattlin' Bones and Loading Data.
« N.O. Hits At All Vol.3 » will see a black/colored vinyl, CD and digital release. Pre-orders for the physica copies will start on December 5th on HPS Records website.
NICK OLIVERI « N.O. Hits At All Vol. 4 »
Out February 23rd on Heavy Psych Sounds Records
Vinyl and CD pre-orders available here

SIDE A 
1. « WALK ON » (written by The Uncontrollable)
2. « IDENTIFY, ISOLATE, MANIPULATE » (written by biblical proof of UFOs)
3. « ENDLESS VACATION » (written by Ramones and performed by DEATH ACOUSTIC)
4. « HANGING LOW » (written By Loading Data)
SIDE B 
1. « FUCK YOU UP AND GET HIGH » (written by The Dwarves)
2. « SUPER HERO » (written by He Who Can Not Be Named)
3. « DONT BELIEVE » (written by Rattlin' Bones)
4. « SUSY IS A HEADBANGER » (written by Ramones)
NICK OLIVERI is an American musician from Palm Desert, California. He plays bass guitar, acoustic guitar, electric guitar, and is a vocalist. He is most widely known for playing bass in Kyuss, Queens of the Stone Age, and Dwarves, and has also performed with the reunited Kyuss under the names Kyuss Lives! and Vista Chino. As a band leader, his main project is Mondo Generator, a punk/metal hybrid that he formed in 1997. Born in Los Angeles, Oliveri began his career in 1987 with John Garcia, Brant Bjork, Josh Homme and Chris Cockrell under the band name Katzenjammer. In early 1989, after Oliveri's departure, the band would change its name to Sons of Kyuss, later shortening the name to Kyuss. He later rejoined the band, playing on the albums « Wretch » and « Blues for the Red Sun ». Oliveri would leave Kyuss again in early 1992, shortly after his father died in a car accident. Following this, he joined The Dwarves as an on again off again bassist under the moniker Rex Everything. However, he is perhaps best known as a member of Queens of the Stone Age from 1998 to 2004. Oliveri is also a solo artist and frequent contributor to his friends' albums and tours, including Winnebago Deal, Mark Lanegan Band, Masters of Reality, Turbonegro, Moistboyz aka Dickie Moist and the O.T.C., and The Knives. In the past he has been involved with « The Desert Sessions » Vol. 4 and Vol. 6. He is also one half of the acoustic duo The Uncontrollable, with The Dwarves frontman Blag Dahlia.