Ukrainian post-rock masters KROBAK unveil majestic new single « So Quietly Falls The Night » on New Noise Magazine.
Ukraine's avant-garde post rockers 

KROBAK

 are proud to be teaming up with New Noise Magazine to unveil their majestic new song « So Quietly Falls The Night », taken off upcoming third album « Nightbound ». 
In what looks like a renaissance year for post-rock, Ukrainian veterans of the genre KROBAKare back with their third full-length « Nightbound ». Following up with « Little Victories » (2013), « Nightbound » is made of four epic tracks that could be the rock equivalent of a Hans Zimmer piece. Hailing from Kiev, this unique foursome creates powerful and inspired rock soundscapes filled with strings… and soul.
Start daydreaming now with KROBAK's new song
Guitarist Igor Sydorenko tells more about the songwriting process: « Our first single from « Nightbound », « So Quietly Falls the Night » was born from two different ideas Marko (violin) and me had brought to the table. Asya (bass) helped with pacing and structuring those, and Natasha (drums) figured the transitions between them and the perfect tempo for the whole song. This is gotta be the first Krobak track we're all equally responsible for, and this alone makes it the most important thing we've ever done! Also it's pretty catchy despite being 11 minutes long, and this build-up before the big climax is just insane. »
KROBAK « Nightbound » (S/R) /// Out on November 4th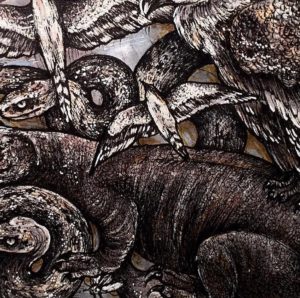 TRACK LISTING:
1. Stringer Bell
2. No Pressure, Choice Is Yours
3. So Quietly Falls The Night
4. Marching For The Freedom We Have Lost
– Artwork by Abra –
KROBAK (from Ukrainian « хробак », i.e « worm ») is an instrumental progressive/post-rock quartet from Kyiv, Ukraine. Initially founded as a solo project of guitarist Igor Sydorenko (Stoned Jesus, Voida, Arlekin), Their early releases were inspired by the likes of Godspeed You! Black Emperor, Yndi Halda and Mono. Encapsulated in « The Diary Of The Missed One » (Cardiowave, 2008) which is Ukraine's first officially released post-rock album, this era ends around late 2009 when Igor decides to focus on Stoned Jesus.
In 2012, a new lineup emerges with Asya on bass, Natasha on drums and Marko on violin. Second full-length « Little Victories » then comes out in 2013 along with a string of European and Ukrainian dates, including shows with Samsara Blues Experiment, Alcest and Maybeshewill. A wider scope of influences – Swans, The Mars Volta and King Crimson being the pivotal ones – helps the band develop their distinctive brand of instrumental soundscapes further. This autumn will see the release of their new album « Nightbound », recorded and mixed at Lipky Zvukozapys, Kyiv. KROBAK's third full-length album is filled with passion, tension and violins… More violins, please!
KROBAK LINKS