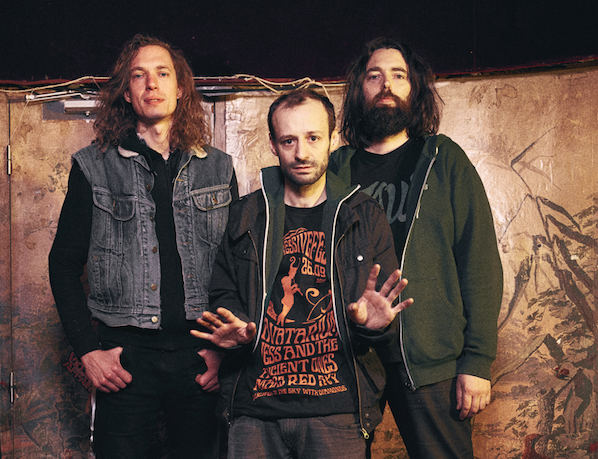 French psych trio MARS RED SKY reveal « Under The Hood » video and confirm European tour and festivals!
France's heavy psych rock envoys

MARS RED SKY

are teaming up with The Obelisk to disclose their new video for « Under The Hood », and announce a full European tour including highly expected appearances at Hellfest and Download France.
« Under The Hood » is taken off MARS RED SKY's third album « APEX III (Praise For The Burning Soul) », released in February 2016 on Listenable Records. The video was put together and edited by Geoffrey Torres and Jimmy Kinast, and features mages from 1983 sci-fi movie « Chronopolis » by Piotr Kamler.
The band also announced the release of a new track in the form of a very limited 12''EP, available from mid-June on their online store and directly at all their club and festival shows. This 19-minute song will be recorded live on analog tape at La Nef in Angoulême.
MARS RED SKY are taking the road this spring for an extensive European tour, taking them on the stages of major festivals such as Hellfest and Download France. The MRS spaceship will follow its course throughout the summer and in the fall, for more live dates to be announced soon.
MARS RED SKY ON TOUR
08/04 – LIEGE (BE) Insert Name Festival
29/04 – BERLIN (D) DesertFest Berlin
05/05 – CREIL (FR) La Grange à Musique
10/05 – DONOSTIA (SP) Dabadaba
11/05 – PORTO (PT) Cave 45
12/05 – LISBOA (PT) Sabotage Club
13/05 – MALAGA (ES) Sala Eventual Music
14/05 – MADRID (SP) Wurlitzer Ballroom
03/06 – SIZUN (FR) La Bergerie Rock (w/ James Leg)
09/06 – PARIS (FR) DOWNLOAD FESTIVAL FRANCE
15/06 – NEUDEGG ALM (AT) Funkenflug Society
17/06 – CLISSON (FR) HELLFEST OPEN AIR
24/06 – BOURLON (FR) Rock In Bourlon
21/07 – RIEGSEE (D) Raut Oak Fest
30/07 – ALBI (FR) Xtreme Fest
05/08 – ST M. DE GOURDANS (01) Sylak Open Air