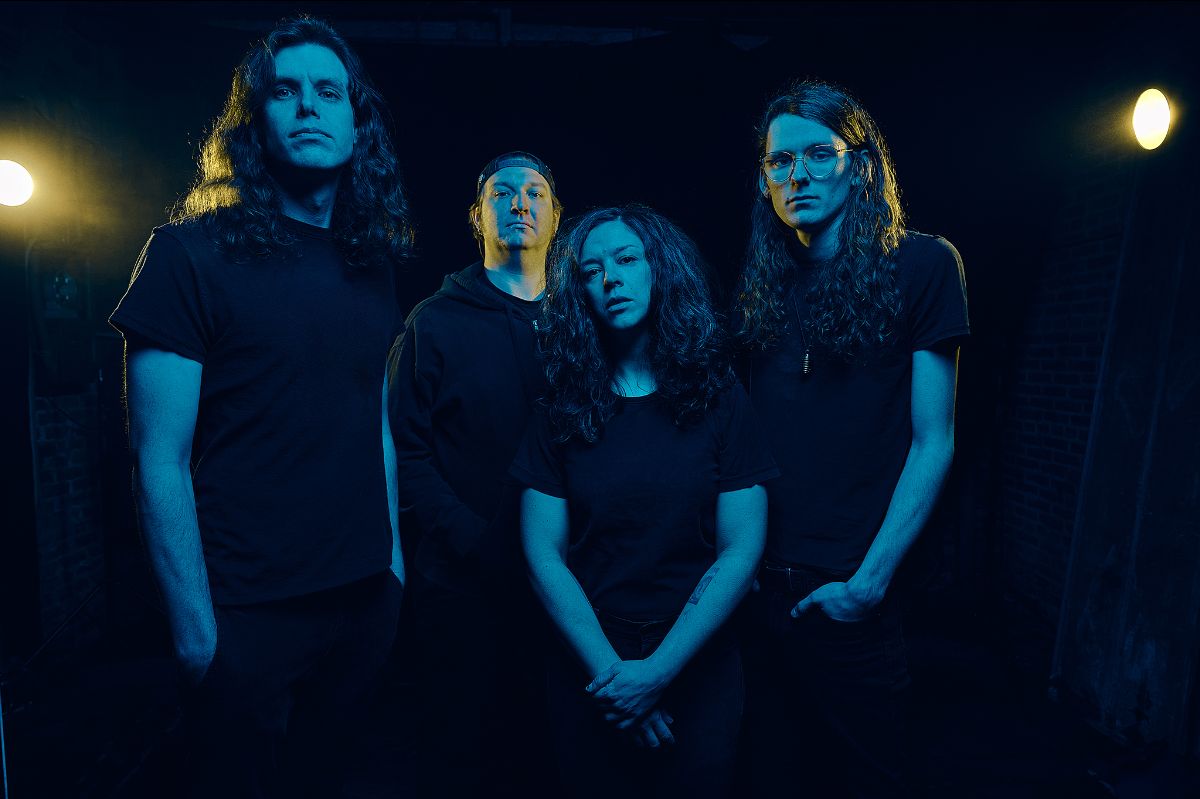 CAUSTIC CASANOVA share « A Bailar Con Cuarentena » video; new album out October 7th on Magnetic Eye Records.
Can I play with madness? CAUSTIC CASANOVA sure do! Tongue-in-cheek yet inherently serious, eclectic to the core yet irresistibly catchy, the wicked Washington D.C.-based riff-rockers serve up a cunning video clip with their new single 'A Bailar Con Cuarentena' (« To Dance With Quarantine »). The track is taken from the four-piece's forthcoming album « Glass Enclosed Nerve Center », which is slated for release on October 7.

On their fifth album, the brain-frying « Glass Enclosed Nerve Center », Washington, DC-based riffonauts CAUSTIC CASANOVA pull an expansive range of sounds into their tight, hyperkinetic core – and explode them outward in a kaleidoscope of progressive heavy rock exuberance. In ferocious opposition to playing music in an established style that might give listeners a way in but can narrow down what's allowable, the foursome plant their flag dramatically on the side of genre-agnostic exploration. Simply put, the Americans allow each song to go wherever the hell it wants (or needs) to head towards.
Watch Caustic Casanova new video « A Bailar Con Cuarentena« 
CAUSTIC CASANOVA comment: « Our first song with a title entirely en español, 'A Bailar Con Cuarentena', is one of the weirdest Caustic Casanova creations ever and it has a fairly interesting history », bass player and singer Francis Beringer teases. « Stefanie harbored some concern that the tune wouldn't be heavy, but when Jake got his hands on the bass and drum tracks after nearly a year of separation from us, he unleashed his crackling fuzz and octave-down fury all over it. He turned it into one of the heaviest and most over-the-top Caustic Casanova songs ever. It's easily the most challenging live song we've ever written. From a physical playing standpoint, it requires the entire band to be locked in and focused for every moment. » The video was directed and animated by Jase Harper.  
Caustic Casanova « Glass Enclosed Nerve Center »
Out October 7th now on Magnetic Eye Records
Formed in 2005 as the trio consisting of drummer and vocalist Stefanie Zaekner, bass-player and singer Francis Beringer, and guitarist Andrew Yonki, CAUSTIC CASANOVA's chose a path to constantly refine their thrillingly unpredictable music, which careens from sardonic noise rock to proggy sludge in the vein of BARONESS, RED FANG, and TORCHE, while also taking inspiration from the gargantuan heft of MELVINS to BORIS, and fleet guitar heroics with flashes of dark-hued post-punk. After a number of proudly DIY releases, CAUSTIC CASANOVA caught the attention of KYLESA, who released the band's third full-length « Breaks » through their own label. Having brought their pure rock fury to the riff-thirsty masses on more than a dozen full and regional US tours, CAUSTIC CASANOVA applied their road-honed chops to bang out a heavier, more joyously swaggering set of righteous songs for 2019's triumphant album « God How I Envy the Deaf ».

With the addition of second guitarist Jake Kimberley in 2019, the now-quartet set their sights on making the most adventurous and prog-rock CAUSTIC CASANOVA record yet. « Glass Enclosed Nerve Center » underscores all their strengths, while making the most of the expanded line-up that opened up their sound to new possibilities. Beringer's reedy, melodic bass dances heavily alongside the two frying guitars to empower a trio of lead voices. Zaenker's percussion is powerfully inventive across the album's five expansive songs, sounding equally at home in swinging, Bill Ward stomp as in math-rock jitteriness.

Long-time travelers in CAUSTIC CASANOVA's orbit will doubtless find « Glass Enclosed Nerve Center » an exhilarating welcome back that includes the ambitiously sprawling, 22-minute epic 'Bull Moose against the Sky' which occupies the album's entire B-side. Yet those who are new to the massive sound of these raging psychedelic sludge buffaloes will find outstanding songcraft and rich storytelling that is worth every second and countless repeat spins. Three, two, one… go!
« Glass Enclosed Nerve Center » was recorded and engineered by J. Robbins at Magpie Cage, Baltimore, MD, produced by J. Robbins and Caustic Casanova, mixed by Andrew Schneider at Acre Audio, Patterson, NY, and mastered by Dan Coutant at Sun Room Audio, Cornwall, NY. Artwork & Layout by Scott Partridge.
CAUSTIC CASANOVA are
Francis Beringer – vocals, bass
Stefanie Zænker – vocals, drums, percussion
Andrew Yonki – guitar
Jake Kimberley – guitar
CAUSTIC CASANOVA links
Facebook⎜Bandcamp⎜Instagram⎜Spotify
MAGNETIC EYE RECORDS links
Website⎜Facebook⎜Bandcamp⎜Instagram⎜Youtube