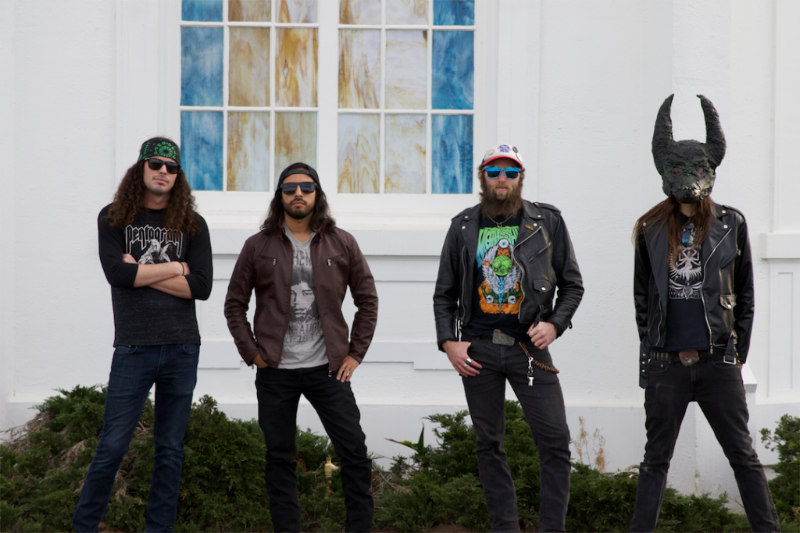 US rock'n'roll saviours GREAT ELECTRIC QUEST share ripping « Live At Freak Valley » album in full; out March 27 on Ripple Music!
West Coast's fiercest heavy rock'n'roll unit GREAT ELECTRIC QUEST return with their exhilarating « Live at Freak Valley » album this March 27th on Ripple Music. Stream it in its glorious entirety now via Doomed & Stoned!

« These guys are true rock stars. (…)Tyler sings like he's inherited the mantle of Saint Jim Morrison himself, while guitarist Buddy Donner sounds like he's possessed by Jimmy Page. » describes Doomed & Stoned editor. With « Live at Freak Valley », GREAT ELECTRIC QUEST are set to establish their mighty reign over the heavy rock underground for good. If headbanging to their first two albums « Chapter I » and « Chapter II » wasn't enough, you are about to experience the exhilarating force of their live shows through this absolutely must-have live record. Clocking in at one hour, the band delivers with maestria those skyscraping vocals, epic solos, proto-metal grooves and jammy turnarounds they are known for: electricity instantly fills the air while the crowd jubilates… You've just been thunderstruck by the sheer awesomeness of GREAT ELECTRIC QUEST.
Cheer up with « Live at Freak Valley » right now
Guitarist Buddy Donner comments: « Freak Valley Festival 2019 was the absolute highlight of our three-month « Beer Wars Tour ». Journeying from the west coast of North America to Canada and all over Europe, nothing topped the vibe at Freak Valley Festival in Netphen, Germany. A sold-out gathering of 2500 people, but it felt like everyone knew each other. One massive Rock'n'Roll Family. It was an honor to share the stage with Corrosion of Conformity, Wolfmother, Brant Bjork, Dead Lord, DeWolff and so many more. We are quite excited to release a live version of our performance at this event, and most honored to be releasing this with the mighty Ripple Music! It's been a long time coming! »
GREAT ELECTRIC QUEST « Live at Freak Valley »
Out March 27th on Ripple Music – Order
TRACK LISTING:
1. In The Flesh
2. Seeker Of The Flame
3. Of Earth Part I
4. Of Earth Part II
5. Of Earth Part III
6. Victim Of Changes (Judas Priest cover)
7. The Madness
8. Heart Of The Son
9. Wicked Hands
10. Highway Star (Deep Purple cover)
Sonic story tellers GREAT ELECTRIC QUEST are true merchants of Rock and Roll and Heavy Metal, taking listeners on a journey into an ever expanding world of captivating characters and allegories. Their sophomore album « Chapter II » brought their journey to flat out gargantuan proportions. High-flying solos, rhythms, and lyrics along with the production of Jeff Henson (Duel) and Tony Reed (Mos Generator) combine to bring a bigness and fullness of color that elevates this album into upper echelons. « Chapter II » was released in 2018, following which the band took over international stages with thunderous and dripping-hot performances at SXSW, Desertfest, Ripplefest, Freak Valley Festival and many more!
GREAT ELECTRIC QUEST is
Tyler « T-Sweat » Dingvell – Vocals
Buddy Donner – Guitar
Daniel « MuchoDrums » Velasco – Drums
Jared Bliss – Bass

GREAT ELECTRIC QUEST LINKS
Facebook⎜Bandcamp⎪Big Cartel
RIPPLE MUSIC LINKS
Website⎪Facebook⎪Bandcamp⎪Twitter