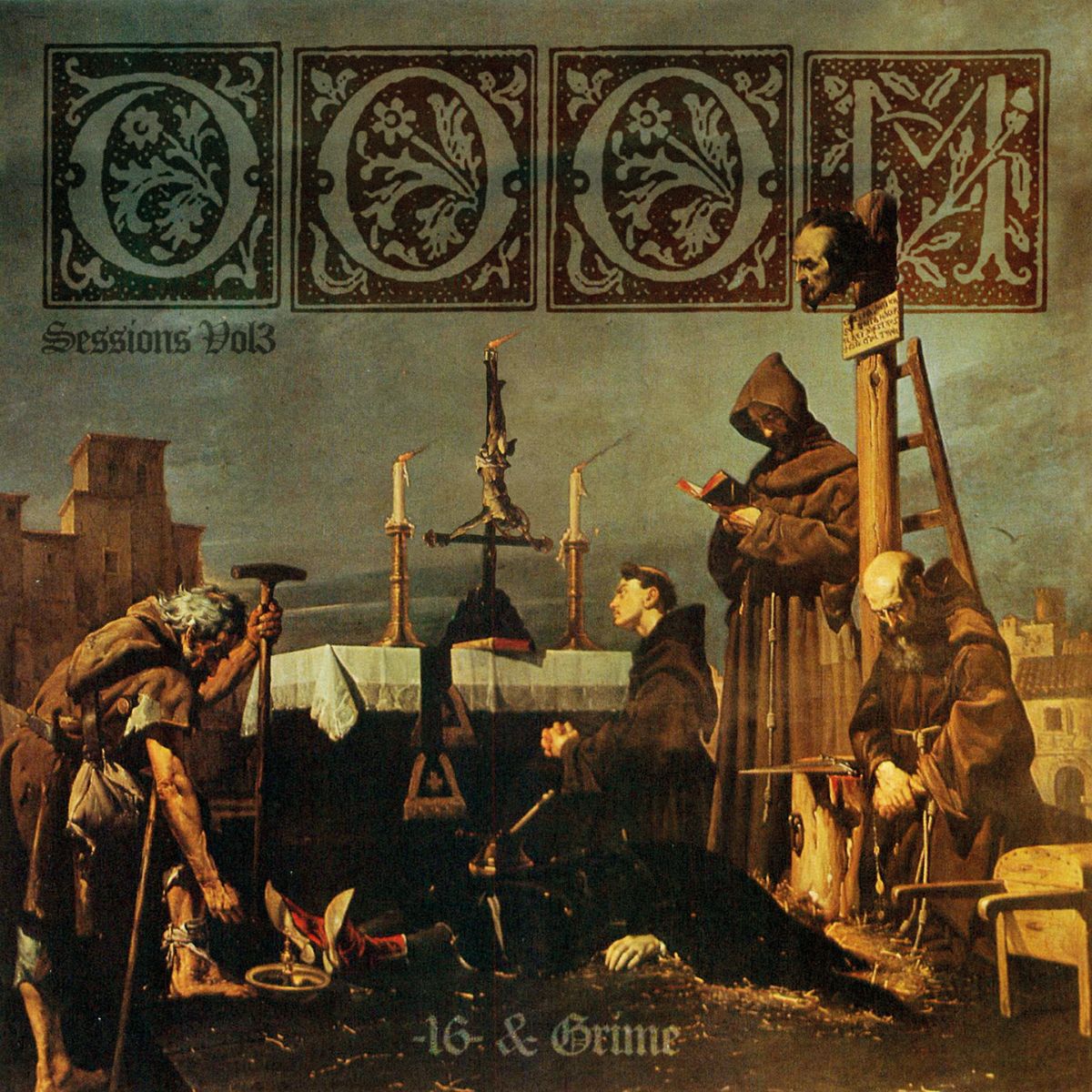 Experience the filth and power of -(16)- and Grime 'Doom Sessions Vol. 3' crushing split EP, streaming in full on Cvlt Nation!
L.A.-based sludge metal giants -(16)- and Trieste's revered filth merchants GRIME partnered up with Cvlt Nation to premiere their devastatingly heavy 'Doom Sessions Vol. 3' split EP, coming out this February 26th on Heavy Psych Sounds. 

Following along the elephantine trail marked by Conan and Deadsmoke's 'Doom Sessions Vol. 1', and Acid Mammoth and 1782's 'Doom Sessions Vol. 2', Heavy Psych Sounds keep making the world rumble with their 'Doom Sessions' split series, pairing together some of the most frighteningly heavy bands on earth. This third chapter features five caustic, aggressive and previously unreleased tracks by Relapse Records stalwarts -(16)- and Italy's harbingers of destruction GRIME for half an hour of intense and reckless sludge metal.
⚡️Stream 'Doom Sessions Vol.3' in full on Cvlt Nation ⚡️
« If you're looking for some doom that will breathe the putrid stench of death into your lungs, then hit play. » Cvlt Nation

« It's hard not to want the full 60-minutes that undoubtedly could have happened. » Distorted Sound Magazine

« Two bands firing on all cylinders. » Powerplay Magazine
'Doom Sessions Vol. 3' with -(16)- and GRIME
Out January 26th on Heavy Psych Sounds
European preorder – US preorder
TRACKLIST
SIDE A – -(16)-
Tear It Down – 5:39
Death On Repeat – 4:09
Nachzehrer – 4:12
SIDE B – GRIME
Piece Of Flesh – 5.44
Sick Of Life – 5:40
-(16)- BIO: 
A pioneering American sludge metal troupe based out of Los Angeles, California, -(16)- is credited with helping to shape the seismic hard rock subgenre alongside accordant extreme metal acts like Acid Bath, Eyehategod, and Crowbar. Founded in 1992, the band issued its debut full-length album, Curves That Kick, in 1993 via hardcore punk/heavy metal scene maker Pushead's independent Bacteria Sour label. Citing a wide array of influences, the band broke big in 1996 with the release of the critically acclaimed Drop Out. Despite enduring numerous lineup changes, the band continued to release new music, dropping Blaze of Incompetence in 1997 and Zoloft Smile in 2003, as well as a flurry of EPs and singles. The band went on an official hiatus in 2004 but re-formed in 2007 after inking a deal with Relapse Records. The resulting Bridges to Burn arrived the following year and earned high marks all around. 2010 saw Relapse reissue the group's 1993 debut, and 2012 yielded the band's sixth studio long-player, Deep Cuts from Dark Clouds. In 2014 the band added drummer Dion Thurman and bassist Barney Firks. The punishing Lifespan of a Moth followed in 2016. In 2018, Alex Shuster was added as lead guitarist and subsequently became the in house producer.
Fast forward to 2020 and -(16)- return with their new album, Dream Squasher. A testament to the power of loss, every moment of Dream Squasher casts the now San Diego based band into new, deeper depths.
-(16)- is:
Bobby Ferry: Vocals, Guitar
Alex Shuster: Lead Guitar
Barney Firks: Bass
Dion Thurman: Drums
GRIME BIO:
Grime starts its mission in Trieste, Italy during summer 2010. Their sound is rooted into rotten burial ground and their songs are the voice of a decaying swamp filled with trash. In 2011 they released their self-produced EP, later reprinted in 2012 by Mordgrimm Records (UK), which was received as one of the best first works in the contemporary sludge/doom scene. One year later, in 2013, they released their first full-length "Deteriorate" through Forcefield Records (US). With this album they focused on a more atonal, filthy and less groovy sound. After a year of touring as a three-piece, they welcomed a second guitar player and started working on their second LP, adding some old school raw Death Metal elements to their distinctive sound. In late 2015 « Circle of Molesters", recorded by Lorenzo Stecconi (Ufomammut, ZU) and mastered by Brad Boatright at Audiosiege, was released by the newborn Argento Records (NL).
Over the years the band did a bunch of European tours (with Converge, Windhand, Cough, Fistula, Today is The Day and -16-, to name a few) and had the honour to play some great European festivals, such as Roadburn, Heavy Days in Doomtown, Bloodshed Festival, Barroselas Metal Fest, Metal Days and Desertfest (London and Belgium), they were also invited to play two festivals in Russia with Suma. In 2018 they toured the US West Coast with Cough and in 2019 Europe with Windhand. Back to being a three piece for the past three years, they are ready to release new material in 2021 to celebrate the 10th anniversary of their debut. They will come spreading their plague over your town very soon. Be afraid.
GRIME is:
Marco: vocals/guitars
Paolo: bass/backing vocals
Chris: drums
-(16)- LINKS: Facebook – Bandcamp – Instagram
GRIME LINKS: Facebook – Bandcamp – Instagram
HEAVY PSYCH SOUNDS LINKS: Website – Facebook – Bandcamp – Twitter – Instagram