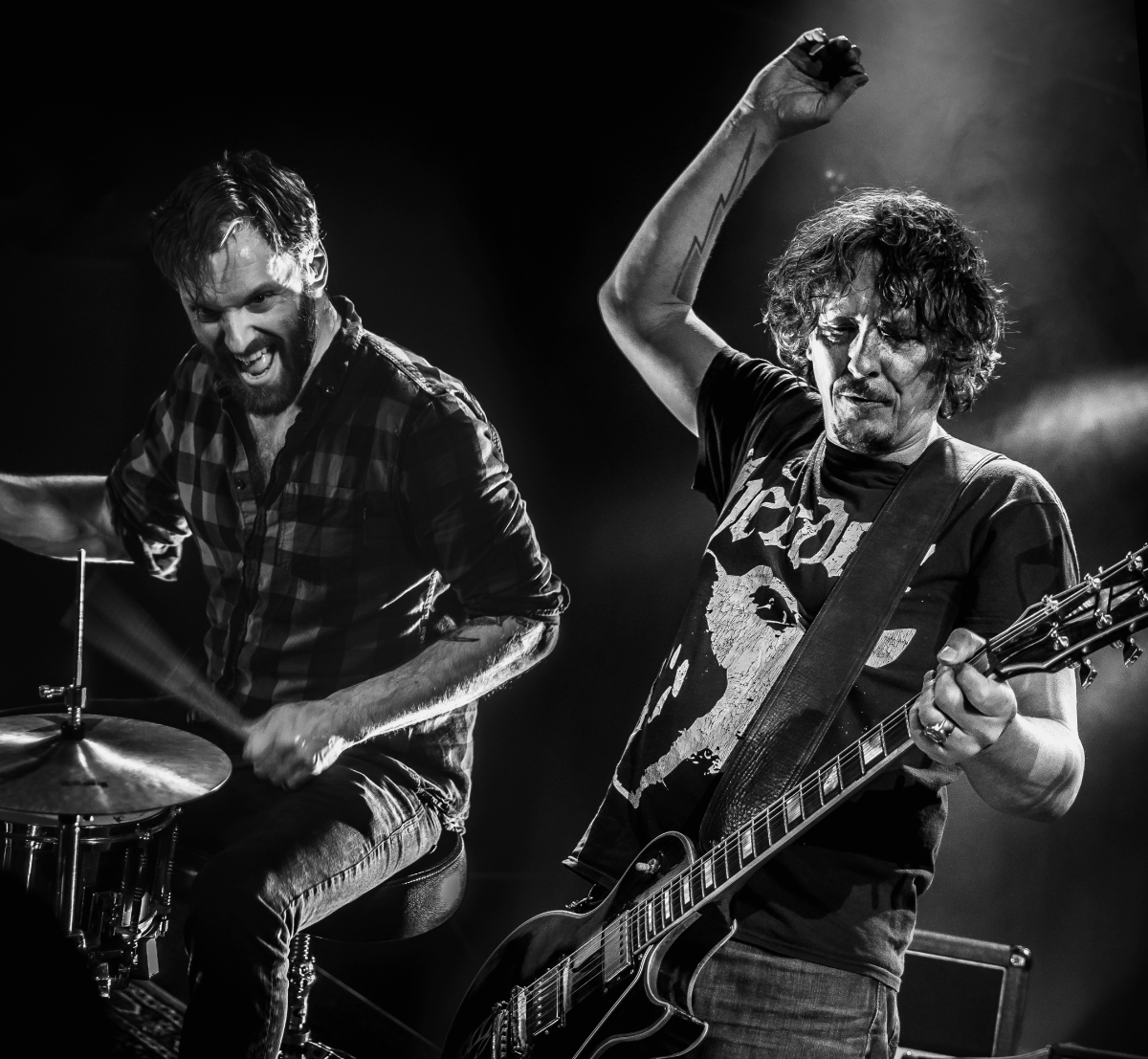 Dutch heavy rock duo TANKZILLA drops new single « Lucifer » off upcoming debut album on Heavy Psych Sounds.
Eindhoven-based stoner swamp boogie rockers TANKZILLA (with members of Peter Pan Speedrock and Wolfskop) join the Heavy Psych Sounds roster for the release of their self-titled debut this May 19th. Stream their raucous new single « Lucifer » via Outlaws of the Sun!
« Satan fucked a Panzer and the offshoot is TankZilla« . Or so it seems. Well, this is what really happened in the Eindhoven grit: after Peter Pan Speedrock went tits up, singer and guitar player Peter van Elderen hooked op with former Wolfskop drummer Marcin Hurkmans. As soon as these music junkies started jamming they got on like a house on fire: it felt as if their motor skills were connected. This two-headed creature wrecks like a tank and packs Godzilla-sized riffs and beats. In the same vein as Repomen, Peter's short-lived but heavier-than-thou Roadburn alumni, the tarmac grooves are scorching. TankZilla goes full-tilt boogie!
Blast TankZilla's new single « Lucifer » at this location
About their debut album, TankZilla comment: « As we write this, it's hard to realize the long road we've traveled to get to this debut full length. We started rehearsals 5 years ago with absolutely no ambitions. We were without bands at the time, both cranking amps and slaying drums at the local rehearsal space, so it felt only natural to jam together. Nobody could have guessed what was about to happen, 'cause after we decided to join forces, all hell broke loose. While shows were growing at a fast rate, we started finetuning the 'TankZilla sound'. Not long after, we were invited to perform at the almighty Roadburn festival where we released our first 7 inch. Fast forwarding through the pandemic, we finished writing a dozen songs. And here you have it. Recorded in Belgium, no Dutch beers involved, no fillers, no fancy stuff. Just the result of true & pure rock'n'roll style recording sessions. Put it on and crank the shit up 'cause this one goes to eleven!« 
« TankZilla » was recorded live at the Ultra Elektric Studio by Alessio Di Turi, assisted by Cedric Maes. It was mixed at Anker Studio by Peter van Elderen, and mastered in the Void by Pieter Kloos. Artwork by Loudmouth.
TANKZILLA – Debut album « Tankzilla »
Out May 19th on Heavy Psych Sounds – PREORDER

TRACKLIST:
1. Lucifer
2. Crossroad
3. Wrong Place
4. Soulsurfer
5. Brother from Another Mother
6. Wolfpack
7. Pluck the Rooster
9. Mutant Freak
10. Diggin' 4 Gold
11. Hard Way

TANKZILLA is:
Peter van Elderen — Guitar & Vocals
Marcin Hurkmans — Drums

TANKZILLA links
Facebook⎜Bandcamp⎜Instagram⎜Spotify

HEAVY PSYCH SOUNDS links
Website⎜Facebook⎜Bandcamp⎜Instagram⎜Youtube