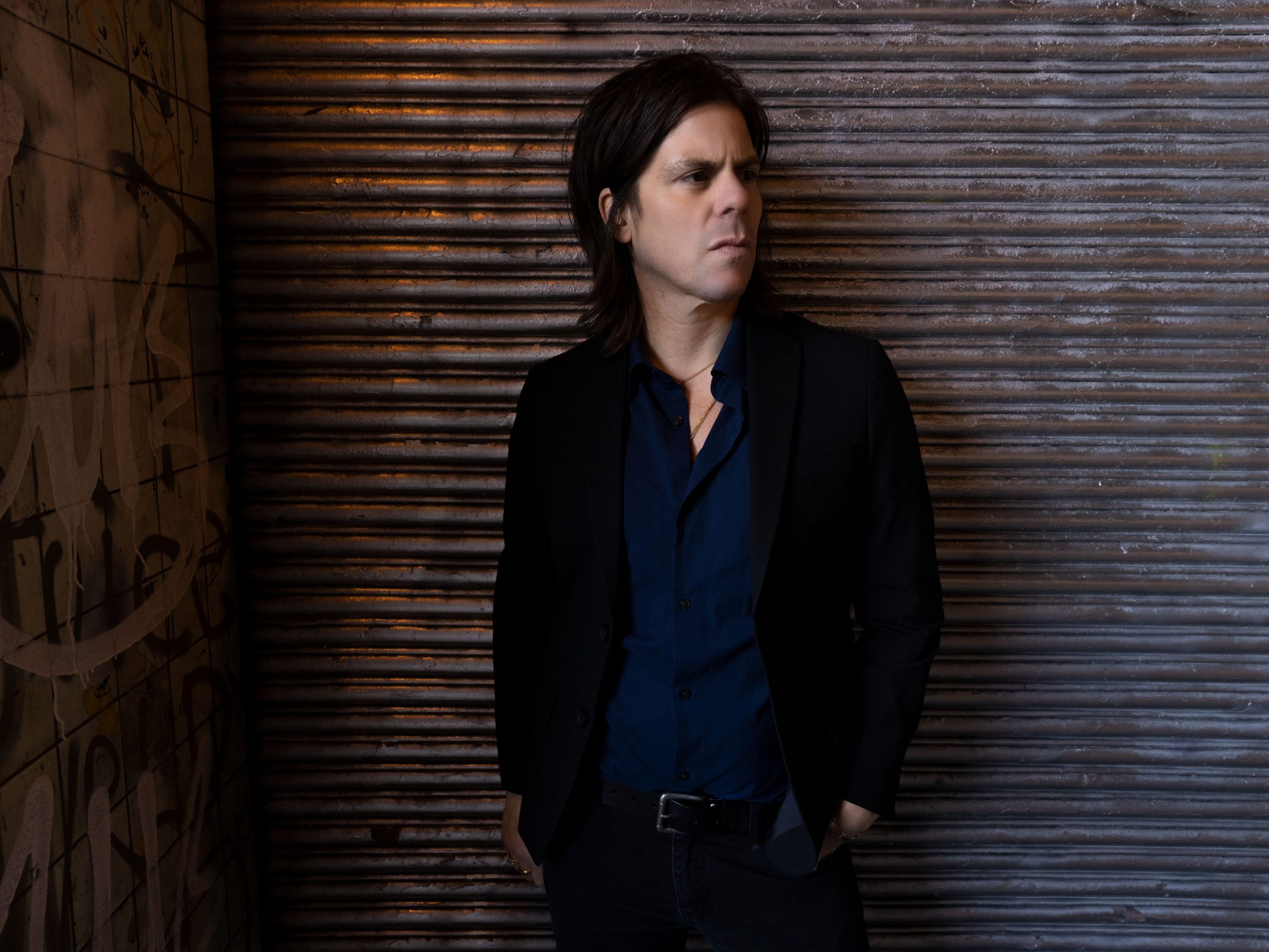 Oakland hard rock visionary THADEUS GONZALEZ share details for new album on Rebel Waves Records; watch « The Death Of A Good Hustle » via MXDWN!
Oakland hard rock and alt-punk artist THADEUS GONZALEZ has joined the Rebel Waves Records ranks, for the worldwide release of his third studio album 'Opposites Faces' on July 16th. Today, the charismatic frontman unveils his brand new video « The Death Of A Good Hustle » exclusively on MXDWN! 
« Thadeus is able to balance accessible classic rock sensibilities with an adventurous spirit. This dichotomy makes for music that pushes a crowded, decades-old genre into new territory, a true rarity. » — MXDWN
THADEUS GONZALEZ is a singer, songwriter, and musician from Oakland, California. While fronting local rock band Electric Sister nearly ten years ago, he caught international critical attention and was called « a frontman to watch with an arena-looking and sounding attitude ». After launching a solo career in 2014, his reputation for genre blending was solidified. With two full-lengths under his belt, Thadeus kicked off nearly two years of coast-to-coast and international touring, opening for KISS, Motley Crue, Slash, as well as Bon Jovi at the SAP Center in San Jose, CA. 
Watch « The Death Of A Good Hustle » at this location
Stream the single on all digital platforms
About the song, Thadeus Gonzalez comments: « I have friends that think of, or use the term, 'hustle', as having a hard work ethic. This song is more about selling fake gold watches in Times Square. 'The Death Of A Good Hustle' is about the end of behaviors that were causing way more pain to other people than the pleasure I gained, similar to pulling one over on someone. "The Death Of A Good Hustle" is getting rid of the old ideas and thoughts that used to seem so natural. It's also about what can be after all those habits are put to an end, how you don't know what is on the other side. I needed to write this song to clear up things in my life that were not getting me anywhere.« 
Confident as ever, THADEUS GONZALEZ's third album 'Opposite Faces' weaves together loud and razor-edged riffing, a straightforward attitude, alongside an alt-punk flare and a gift for singalong-ready hooks. The pervading tension and the man's emotional commitment and inner fire never let go of the listener all throughout the ten tracks, offering a refreshing take on modern hard rock and a compelling journey into the world of one of the US most inspiring rockers. 'Opposite Faces' was recorded at Sonic Rooms Studios, in Livermore, CA and produced by Tim Narducci (The Watchers). It will see a July 16th, 2021 release on vinyl, CD and digital through Rebel Waves Records.
THADEUS GONZALEZ 'Opposite Faces'
Out July 16th on Rebel Waves Records
Preorder coming soon
TRACK LISTING: 
1. "Death Of A Good Hustle"
2. "Ripe"
3. "Horses Lay Down"
4. "Apparition World"
5. "Lightning Hits the Land"
6. "Getting in the Wrong Fight"
7. "The Sapphire Thieves"
8. "Never Tear Us Apart"
9. "Opposite Faces"
10. "The Sounds I Saw"
Oakland-based singer/songwriter THADEUS GONZALEZ has fronted several bands within the Bay Area. In 2010, he started opening various high-profile gigs throughout the west coast and achieving commendable radio and video play before pursuing a solo career with Thadeus Gonzalez in 2014, earning international critical acclaim since then.
A credible songwriter and guitar player, Thadeus released his debut solo record 'Utopian Society' in 2014. The title track demonstrates total rock bombast, alt and punk influences come through in "Your Needle Scratches My Vinyl" and "Literally." While the lyrics are evocative and unusual, Gonzalez's unique writing style is most evident in the sexy, moody "Our Connection" and the vulnerably revealing ballad, "White". 'Utopian Society' was produced by Dennis Hill (Hagar/Satriani, Lit, Good Charlotte) and recorded/mixed by Kyle Homme (Matt Costa, Sugarcult, Reel Big Fish).
In 2017, THADEUS GONZALEZ was signed to Spectra Music Group and his second solo record, 'Silver Inside', was released in January 2018. The first single and title track has enjoyed a phenomenal amount of attention with national radio and video play. 'Silver Inside' featured Dennis Hill and Thadeus on guitars, Scott Richards on bass and Nathan Walker on drums. Dennis Hill once again produced and Kyle Homme recorded and mixed the record at The Lodge. The Californian artist has now signed to Rebel Waves Records for the release of his third studio album 'Opposite Faces' on July 16th, 2021.
THADEUS GONZALEZ LINKS
Website⎪Facebook⎪Spotify⎪Instagram⎪Youtube
REBEL WAVES RECORDS LINKS
Facebook⎪Bandcamp⎪Instagram⎪Shop