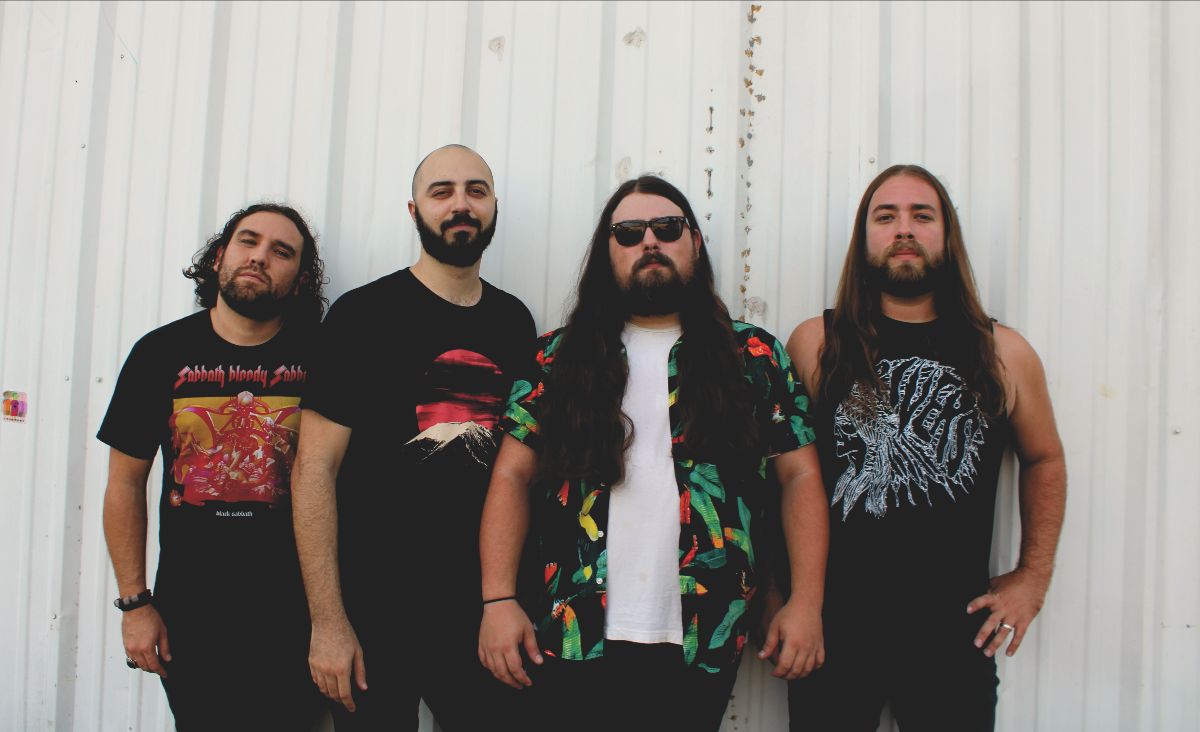 Houston heavy rock cultists WARLUNG premiere « Vulture's Paradise » video; new album out on Heavy Psych Sounds.
Houston's premium occult heavy rockers WARLUNG share their brand new « Vulture's Paradise » video on Doomed & Stoned, taken from their fourth studio album « Vulture's Paradise » out now on Heavy Psych Sounds.
💀 Watch Warlung's new video « Vulture's Paradise » 💀
Listen to new album « Vulture's Paradise » on Spotify
« There is something painfully beautiful about the whole experience that invites repeated listens. » – Doomed & Stoned
« If you're looking for a doom album wrapped up in psych-heavy riffs and horror themes, then you're going to love Vulture's Paradise. » – Metal Injection
WARLUNG's haunting melodies and crushing riffs perfectly unite beauty and brutality, and the Texan foursome's fourth album « Vulture's Paradise » is another heavy metal ripper filled with epic shredding, haunting psych-pop vocals, and the foursome's relentless energy. ​The Texas foursome brilliantly melds NWOBHM, proto-doom, 60s psych and picturesque horror, all wrapped in a modern production without ever sounding dramatic or pompous. Their sense of storytelling and gift for delivering massive headbang-inducing anthems should win over all metal fans from Sabbath, Blue Oÿster Cult to Uncle Acid & The Deadbeats and Green Lung! ► Watch their latest videos for « Sky Burial » and « Return of the Warlords« 
WARLUNG « Vulture's Paradise » 
Available now on Heavy Psych Sounds


WARLUNG took the heavy rock underground by storm in 2017 with the release of their debut album « Sleepwalker ». Playing festivals such as End Hip End It Fest and opening for acts like Wo Fat and Dead Meadow, they quickly gained a cult following and high praise from both fans and critics alike. Less than a year later, they entered the studio to record their second album, which was released in February 2019. Immortal Portal hit #14 on the Doom Charts and was included in Weedian's first artist compilation. 
WARLUNG continued to host various breweries and festivals like SXSW, and quickly became a fan favorite within the local rock community and abroad. Their audience grew as they opened for bands such as High Reeper, Forming the Void or King Buffalo. Their hotly anticipated third album « Optical Delusions » (2020, Heavy Psych Sounds) was hailed as « prodigious » by Metal Hammer and « texas-sized, riff-glazed doom seasoned with psychedelia and 70s prog » by Zero Tolerance Magazine.
About their fourth album « Vulture's Paradise », WARLUNG says: « We knew we had to go big on Vulture's Paradise. These songs found the perfect balance of a raw, live sound and psychedelia. Though the lyrical themes revolve around death and destruction, the music is more alive and creative than ever. » « Vulture's Paradise » was recorded by Jacob Rodriguez at King Benny's House of Sound, mixed by Jeff Henson (assisted by Jeff Klein) at Red Nova Ranch and mastered by Alberto de Icaza. The artwork was designed by Meike Hakkaart. The album will be issued on November 4th, 2022, with limited/classic vinyl and CD preorders available now through Heavy Psych Sounds.
WARLUNG is:
George Baba – Guitar/Vocals
Philip Bennett – Guitar/Vocals
Chris Tamez – Bass
Ethan Tamez – Drums
WARLUNG links
Facebook⎜Bandcamp⎜Instagram⎜Spotify
HEAVY PSYCH SOUNDS links
Website⎜Facebook⎜Bandcamp⎜Instagram