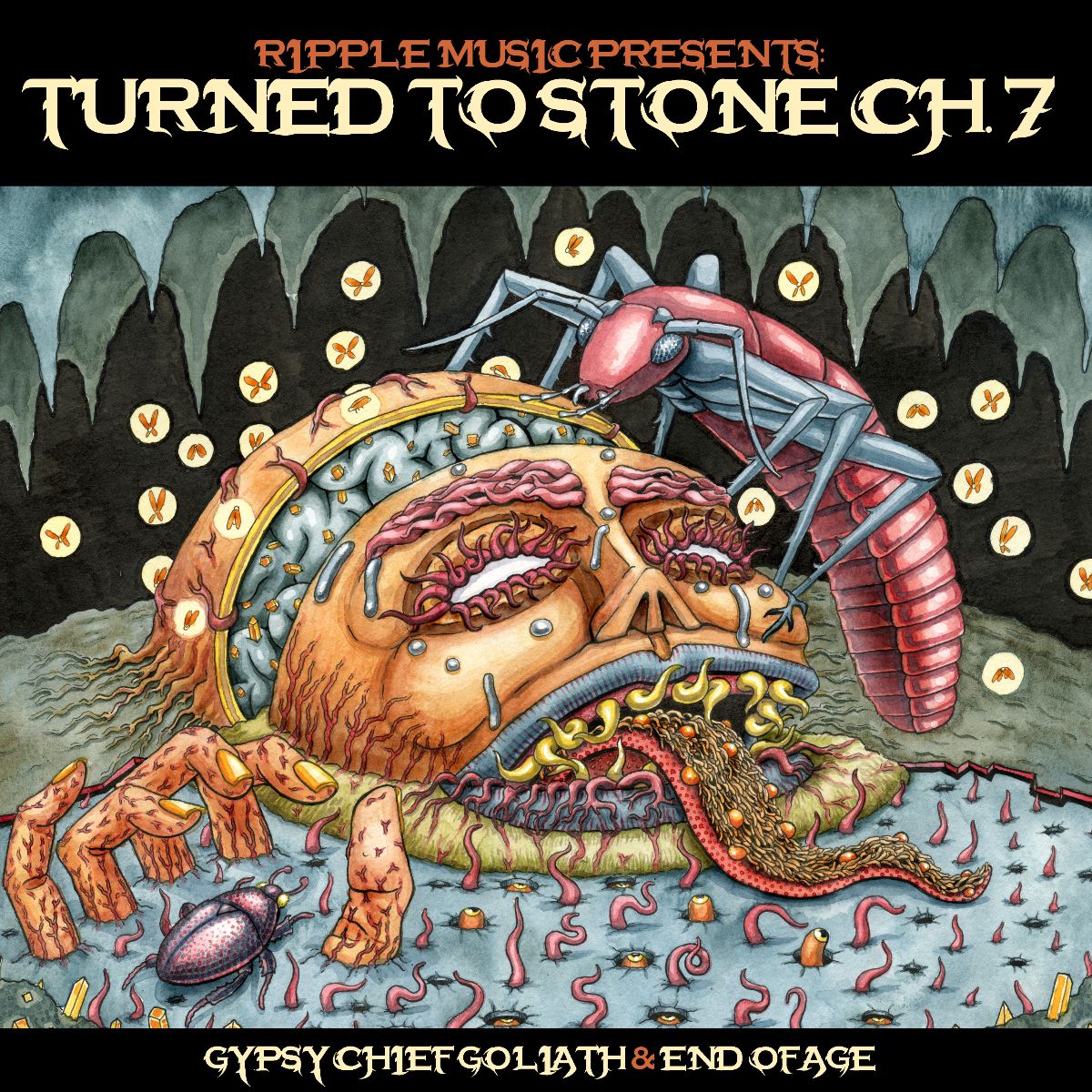 Gypsy Chief Goliath and End Of Age to release 'Turned To Stone Chapter 7' split on Ripple Music; stream first track now!
North American heavy rock units GYPSY CHIEF GOLIATH and END OF AGE join forces for the release of the 'Turned To Stone Chapter 7' split album, to be issued this January 20th on Ripple Music. Listen to a gritty first track now with GCG's « Demons Suffer »!
⚡️ Listen to Gypsy Chief Goliath's new track « Demons Suffer » ⚡️
Get ready to welcome the seventh chapter of Ripple Music's 'Turned To Stone' series, the thematic split releases curated by John Gist (Vegas Rock Revolution, Doomed & Stoned Show). Combining the multi-faceted talents of Ontario-based heavy mongers GYPSY CHIEF GOLIATH and Pennslyvania's proto-metal duo END OF AGE, 'Turned To Stone Chapter 7' offers a generous 10-track journey through the ages of heavy. GCG effortlessly sprinkle their loud stoner metal assaults with adventurous 70s hard rock, in a rowdy Corrosion Of Conformity-meets-Thin Lizzy approach. On side B, END OF AGE delivers a frenzy of 70s-infused heavy drenched in unforgettable melodies and exquisitely progressive at times.
'Turned To Stone Chapter 7' will be available on January 20th in two limited vinyl editions as well as on digital, with preorders available now through Ripple Music.
Gypsy Chief Goliath / End Of Age 'Turned To Stone Chapter 7'
Out January 20th on Ripple Music
US preorder – World preorder

TRACKLIST:
1. Gypsy Chief Goliath – Loup Garou
2. Gypsy Chief Goliath – Demons Suffer
3. Gypsy Chief Goliath – High Priest
4. Gypsy Chief Goliath – Black Dwarf
5 – Gypsy Chief Goliath – Shadows Of A Solar Love
——————–
6. End Of Age – Want To Go
7. End Of Age – Yelling Tree
8. End Of Age – Cat's Blood
9. End Of Age – Dormant Hibernation
10. End Of Age – Aestivation
Among the most bizarre names in Rock & Roll, GYPSY CHIEF GOLIATH has much more dynamic chemistry, fused with pure electric potency and enough volume to make the eardrums crumble. This Canadian five-piece has been ripping stages apart since 2009. Often described as a stoner metal band, there are simply too many layers to classify them as such, when with each year that passes, G.C.G seem to evolve into a greater beast than the last inception. Charged by the creative forces of soulful meets primal vocals, dual harmony guitar lines, a massively heavy rhythm section, and rustic keys from time to time, the band showcases their brand of hard rock, heavy metal, and blues all rolled into one masterful delivery. Fronted by Canadian stoner rock notable, vocalist/guitarist AL The Yeti Bones (The Mighty Nimbus, Georgian Skull, Mister Bones), the band also consists of Adam Saitti on drums (Georgian Skull, Ol Time Moonshine), John Serio lead guitar, Jeff Phillips lead guitar (Thine Eyes Bleed, Kittie) and Jagger Benham on Bass. Facebook⎪Bandcamp⎪Instagram⎪Spotify
END OF AGE was formed by vocalist/guitarist Ben McGuire and drummer Mark Hanna formerly of the band Black Cowgirl. Soon after Black Cowgirl ceased to exist in 2015, McGuire began construction of a recording studio within a 150-year-old barn in Lancaster County Pennsylvania with the sole purpose of having a place to record without the time constraints of a traditionally paid studio session. Unfortunately on the first day of renovations the barn was discovered to be structurally unsound and needed to be entirely torn down. Distraught and defeated McGuire briefly considered using gasoline to solve the problem after finding a newspaper article dated 1885 under the floorboards that detailed a local arson from 130 years prior but wisely ignored the "sign" and decided against it making the decision to disassemble the cursed barn and immediately start the slow process of collecting material to build a new structure. This unforeseen obstacle coupled with multiple other unexpected life events delayed End of Age from recording and playing more than a few shows for a couple of years while the new studio took shape. The pair recorded 5 songs for Ripple Music with a makeshift studio set up in 2020 during lockdown as construction continued on the permanent location.

Finally, to the elation of Hanna and McGuire the final studio they are calling Wilderness Exile was completed in early 2022. What first appeared to be a crippling misfortune proved to be a blessing in disguise. McGuire and Hanna now have a place that provides limitless experimentation and creativity for their projects as well as other musicians. END OF AGE already knew they could lay the musical foundation for a tune and construct a real doozy of a ditty. Now they know they can literally lay the foundation for a physical building and construct the piss out of one as well. They temporarily traded their drums and guitars for hammers and nails assuming the role of blue-collar warriors on the warpath for riffcraft. Now that their fortress of sonic excess has been realized auditory experimentation can begin. Facebook⎪Bandcamp⎪Instagram
RIPPLE MUSIC links
Website⎪Facebook⎪Bandcamp⎪Instagram