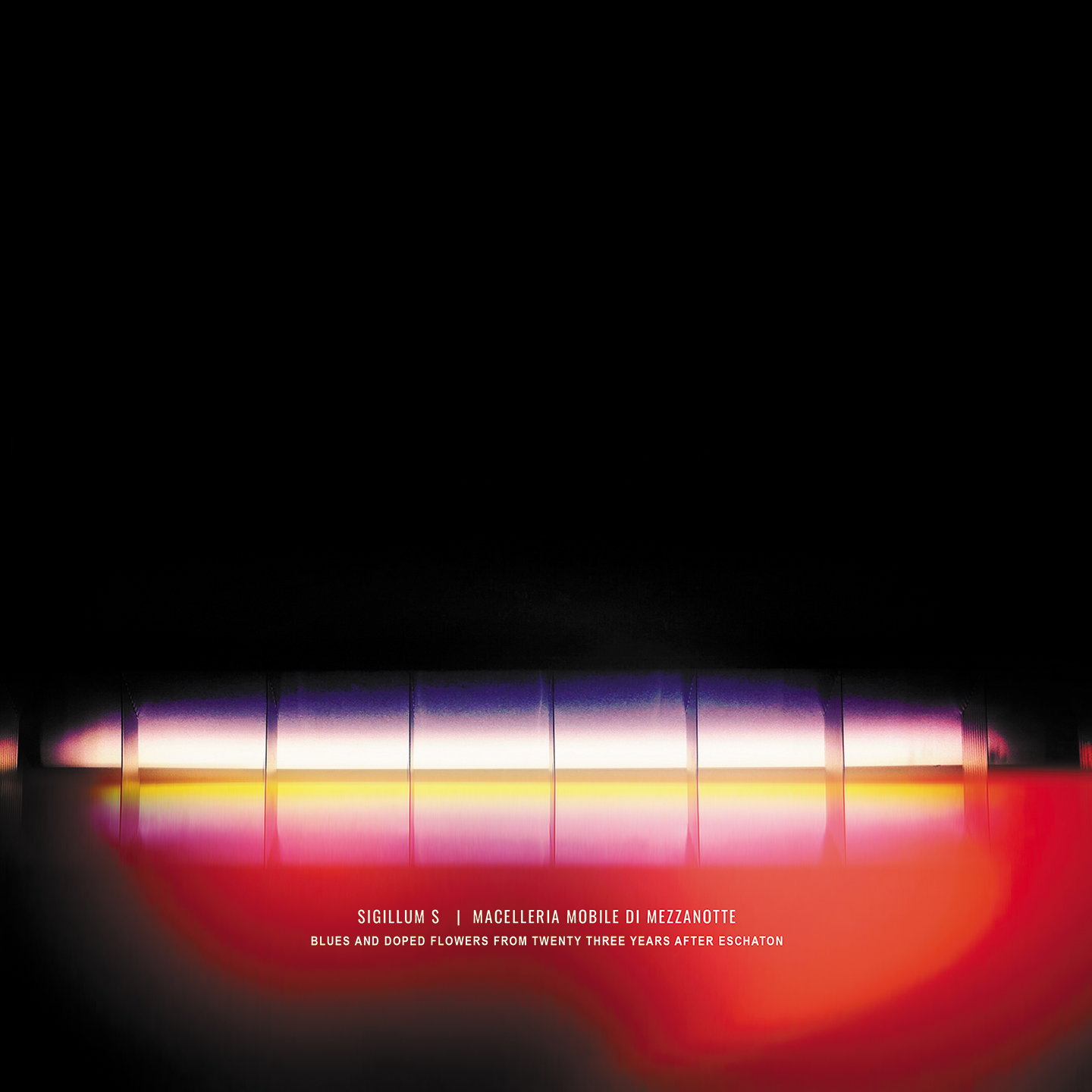 Subsound Records to release collaborative album from SIGILLUM S and MACELLERIA MOBILE DI MEZZANOTTE; first track available!
Dark electronic pioneers Sigillum S and noir jazz forefathers Macelleria Mobile Di Mezzanote join forces to create one massive 2-track album and turn your world upside down. 'Blues and Doped Flowers from Twenty Three Years After Eschaton' will be released on June 4th through Subsound Records, with preorder available today. Listen to the album's mind-bending first track below!  

« While surfing through the hard times of 2020 lockdowns, Adriano Vicenti's proposal to join forces with MMM came as a very appropriate way for SIGILLUM S to deal with the apocalyptic pressure in a positive and unexpected way. Exploiting at best the foundation of the previous collaborations between Paolo L. Bandera and MMM, this triggered a very fluid and novel interaction, starting from the very cinematic initial seeds from Roma and getting deep into weird waters from the hidden corners of London, Milano and Ravenna… The end result is an extremely satisfying and unique sum of all parts, merging MMM's obscure doom jazz atmospheres with SIGILLUM S fringe electronics into a sleazy soundtrack for a future world still to be invented…. We couldn't have been happier ! » Explore the sonic world of new track « Blues and Doped Flowers from Twenty Three Years After Eschaton 1 » at this location.

The album was recorded between March and November 2020 in Roma, London, Ravenna and Milano. It was assembled, produced and mastered by Eraldo Bernocchi. It will be issued on LTD edition blue vinyl, ultra LTD doped flower vinyl, black vinyl and digital on June 4th, 2021 via Subsound Records.
Sigillum S | Macelleria Mobile di Mezzanotte
'Blues and Doped Flowers from Twenty Three Years After Eschaton' LP
Out June 4th on Subsound Records – PREORDER
SIGILLUM S have been covering unknown territories among extreme electronics, fringe acoustics and occultist noise since 1985, with an original lineup of Eraldo Bernocchi, Paolo L. Bandera and Luca Di Giorgio, having now morphed into a four-piece joined by Bruno Dorella. They have been continuously developing their own special brand of post-industrial audio investigations, employing sound to mapof the subconscious and a reconfiguration of cognitive processes.
The result has been an endless series of mutations where, from the droning ritualism and ethnic explorations of the late '80s through the surreal science fiction soundtracks of the '90s to the super deep complexity of the new millennium, SIGILLUM S have been constantly evolving, crashing their way through a few tens of releases in all formats and feeling particularly at home on the stages of the world. Their latest configuration is digging profoundly in an ever-changing continuum of harsh, irregular beats and sudden shift in experimental atmospheres, with an intrinsic penchant for unique graphic / video representation mixing with crazed theories and overblown textual philosophies of all kinds: a current obsession for space travel and apocalyptic utopia makes for a very dangerous, but very rewarding listening experience.
SIGILLUM S is
Eraldo Bernocchi — Electronics, Guitar
Paolo L. Bandera — Electronics, Samplers
Bruno Dorella — Electronics, Guitar, Synth
Website ⎜Facebook ⎜Bandcamp

MACELLERIA MOBILE DI MEZZANOTTE (or MMM) is a project formed in 2001 in Rome by Adriano Vincenti. The name refers to the New York subway which, after midnight, turns into a dangerous slaughterhouse as seen in Clive Barker's novel « Midnight Meat Train ». From the power electronics and harsh noise of their first cult record « Profilo Ottimale delle Ferite », the band switched to noir jazz atmospheres melted in rough electronics, seasoned with sex and murder-related lyrics with their 2004 « Black Rubber Exotica » and 2006 « La Dolce Vita ». 2007's « Ultimo Vero Bacio » introduced cinematic atmospheres and more dark romanticism. 2011 « Hardboiled Night Club » showed a transition towards more sophisticated songwriting and jazz oriented songs. In 2013, the band defined the uprising doom jazz scene with their « Black Lake Confidence » that featured a stripped down version of Twin Peaks' « Just You and I ». In 2014, they take a detour in raw power electronics with « Nylon Crimes », a project involving Paolo Bandera (Sigillum S) as well and a tribute to the Italian power electronics scene.

2015 is the year of their most acclaimed release « Funeral Jazz », a bastard collection of noir ballads mostly sung in italian and their first album with Subsound Records. In 2017, the band released « Hiver Noir », a blurred collection of brutal dark progressive songs. At the end of 2019, the release of « Noir Jazz Femdom » marks their 20th year of activity and their most powerful record to date: a fierce collection of tracks spanning from harsh noise to industrial, doom jazz and post-electronica. 

MACELLERIA MOBILE DI MEZZANOTTE is
Adriano Vincenti — Samplers, Sound Morphing Tools
Lorenzo Macinanti — Synthesizers, Drum Programming, Effects
Riccardo Chiaretti — Synthesizers, Keyboards
Pierluigi Ferro — Saxophone
Facebook ⎜Bandcamp

SUBSOUND RECORDS LINKS
Website⎜Facebook⎜Bandcamp⎜Instagram⎜Youtube