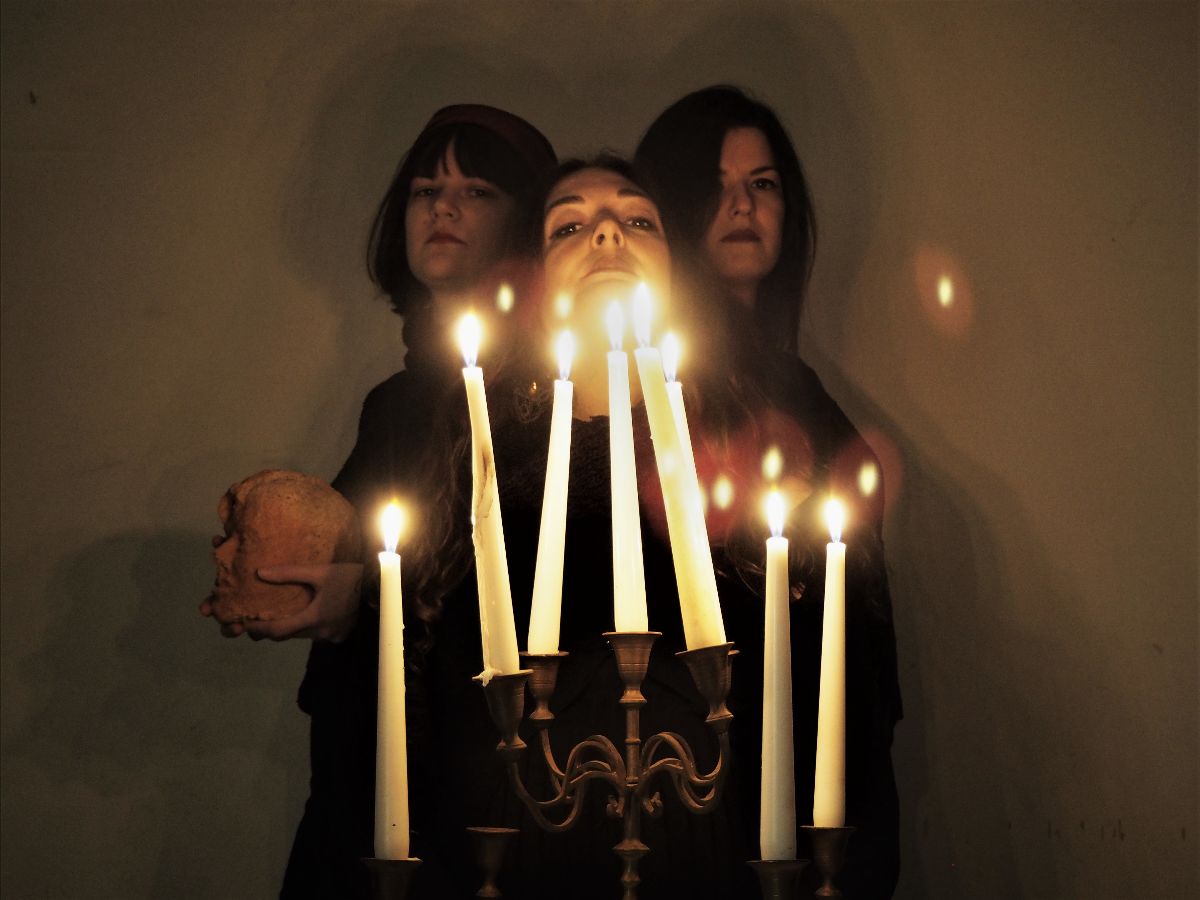 Occult rock trio KABBALAH present new video « Night Comes Near »; new album 'the Omen' available January 15th on Rebel Waves Records.
Bow down, fanatics! Spain's most exciting occult rockers KABBALAH deliver the thrilling second excerpt off their upcoming album 'The Omen' on Rebel Waves Records and Ripple Music. Watch the « Night Comes Near » video courtesy of Astral Noize website now!
« Kabbalah weave a certain uneasiness into their surprisingly catchy strain of doomy psych rock (…) The track displays the band's ability to construct infectious riffs backed up by a certain bewitching atmosphere, as if the subtle melodicism is luring you in before the ominous swirling guitar work and solemn, ritualistic croons can ensnare you once and for all. » describe Astral Noize

?Are you ready as the « Night Comes Near »?
Watch Kabbalah's new video HERE ?

Hailing from Pamplona, Spain, KABBALAH was formed on the ashes of local outfit Las Culebras, looming in the dark, esoteric realms of witchcraft and closed door arts. The trio started a prolific cycle of music by self-releasing three EPs ('Kabbalah', 'Primitive Stone' and 'Revelations') between 2013 and 2016, progressing to their 2017 debut album 'Spectral Ascent'. With their garage-sounding, 70s-style hard rock and Coven–inspired occult atmospheres draped over the bones of Black Sabbath and Blue Öyster Cult, the Spanish power trio has been well received among followers of the darkest sounds.
On new album 'The Omen', KABBALAH affirm this unique way of theirs to turn their 70s rock influences into a craft of their own: while the guitar and bass twirl around like on a haunted carousel, the trio sprinkles all eight tracks with a subtle Spanish folk and western vibe while keeping the heaviness intact. An unwaveringly creative, enigmatic and spellbinding album that has chances to quickly enter your 2021 favorites list! The band previously unveiled the spooky video for « Ceibas », watch it at this location.
KABBALAH New album « The Omen »
Out January 15th on Rebel Waves Records / Ripple Music
European preorder – US preorder
In the winter of 2021, KABBALAH are coming back to life with their sophomore full-length 'The Omen', an occult rock grimoire where sticky melodies, funerary riffs and liturgy vocals come together as an impressive and infectious breed of 70s heavy, doom and psych. It will be released through US independent label REBEL WAVES RECORDS, Ripple Music's imprint for all things psychedelic, alt-rock, pop, post-punk and garage. Keep your eyes peeled for more info about 'The Omen' will come your way soon!
KABBALAH is:
Carmen Espejo — Drums/vocals
Marga Malaria — Bass/vocals
Alba DDU — guitar/vocals
KABBALAH LINKS
Facebook⎪Bandcamp⎪Instagram⎪Youtube
REBEL WAVES RECORDS LINKS
Facebook⎪Bandcamp⎪Instagram⎪Shop