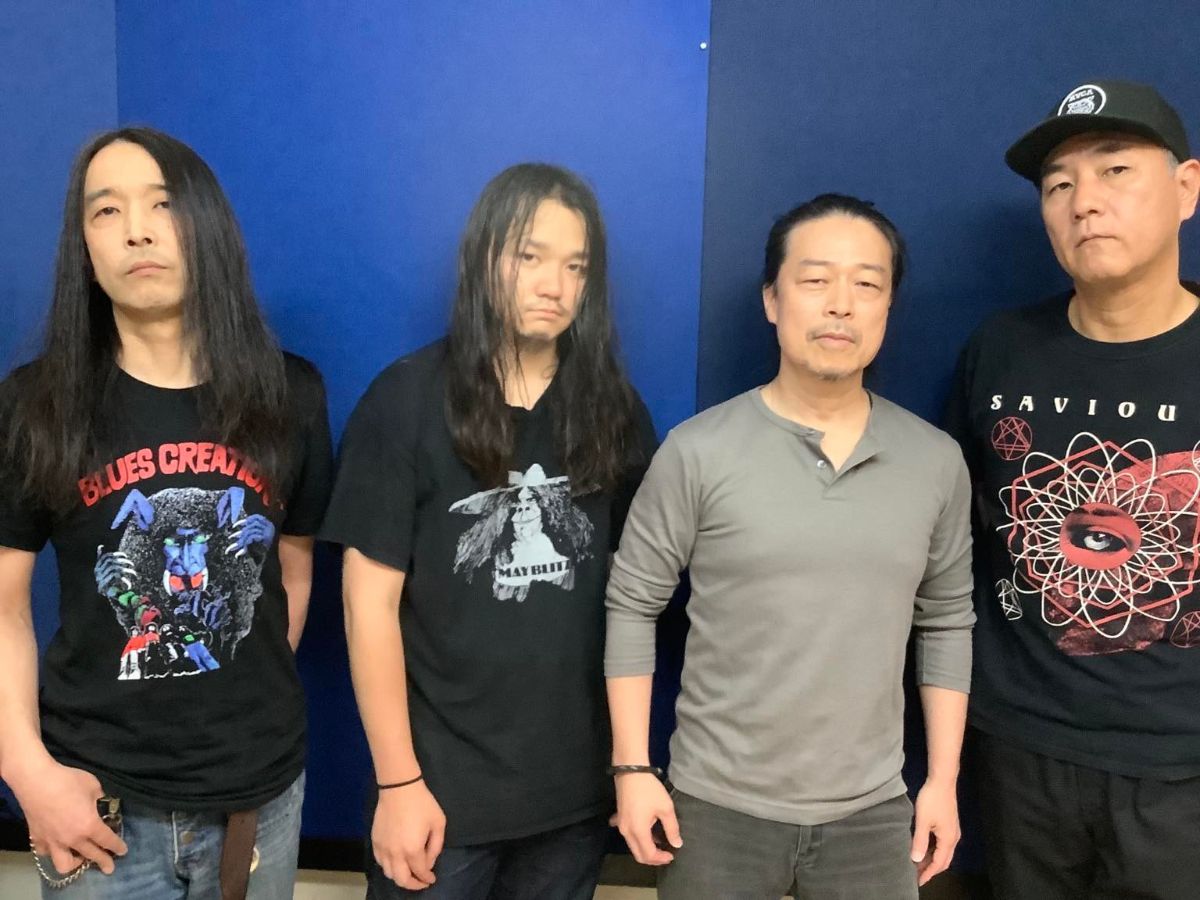 Japanese heavy blues wizards SONIC FLOWER (w/ Church Of Misery members) release new album « Me and My Bellbottom Blues » on Heavy Psych Sounds.
SONIC FLOWER, the Japanese 70s hard blues project formed by Church of Misery members, unleash their third studio album « Me and My Bellbottom Blues » today on Heavy Psych Sounds Records.
"A veritable wah odyssey, an embarrassment of six-string riches." Guitar World Magazine
"An essential release for fans of the hard rock underground scene." Outlaws of the Sun
"A killer fuzzy seventies inspired rifftastic blues explosion." Musipedia Of Metal
Stream new album « Me and My Bellbottom Blues » on Spotify
If you're looking for the tastiest bluesy licks and perfect 70s throwback all in one, look no further than « Me and My Bellbottom Blues »! With Church Of Misery bassist and founder Tatsu Mikami at the helm, SONIC FLOWER comprises original Church Of Misery vocalist Kazuhiro Asaeda, as well as blues guitarist Fumiya Hattori and drummer Toshiaki Umemura. Sounding harder and heavier than their previous outings, this third album maintains skyrocketing levels of groove and swagger and should thrill fans of Cactus, Leaf Hound, Sir Lord Baltimore, Granfunk Railroad.
Recorded in Tokyo in early 2022 and mixed by Japanese doom guru Yukito Okazaki of Eternal Elysium fame, "Me And My Bellbottom Blues » is « their biggest work to date », according to Mikami. It is available now in various vinyl formats, CD and digital, alongside the repress of their acclaimed 'Rides Again' and self-titled albums. 
SONIC FLOWER 'Me And My Bellbottom Blues'
Available now on Heavy Psych Sounds
SONIC FLOWER was formed as a side project of Church of Misery in 2001. Tatsu Mikami (Church Of Misery bassist) and Takenori Hoshi (guitarist on Church of Misery's second album « The Second Coming ») teamed up to play more bluesy and instrumental heavy rock influenced by 70's acts such as Cactus, Grand Funk Railroads, Groundhogs or Savoy Brown. Guitarist Arisa and drummer Keisuke Fukawa quickly joined them. In 2003, they released their bluesy heavy rock self-titled debut album 'Sonic Flower' on Japanese label Leafhound Records. This instrumental, improvised double guitar-charged record was internationally acclaimed, and they got the chance to support Electric Wizard, Bluebird or Acid King on their Japan shows.
In 2005, SONIC FLOWER went to the studio to record new material, but as Arisa was pregnant and day jobs prevailed, they put the band on hiatus after the recording session. These recordings have been sleeping in the vault for fifteen years until Tatsu decided to reform the band in 2018. This time he teamed up with former Church Of Misery singer: the result was their new album 'Rides Again', 2021 through Heavy Psych Records. Their brand new album 'Me and My Bellbottom Blues' sees guitarist Fumiya Hattori joining on guitar, for a late September release on the Italian label.
SONIC FLOWER is:
Tatsu Mikami – Bass
Kazuhiro Asaeda – Vocals
Fumiya Hattori — Guitar
Toshiaki Umemura – Drums
SONIC FLOWER links
Facebook⎜Spotify
HEAVY PSYCH SOUNDS links
Website⎜Facebook⎜Bandcamp⎜Instagram⎜Youtube