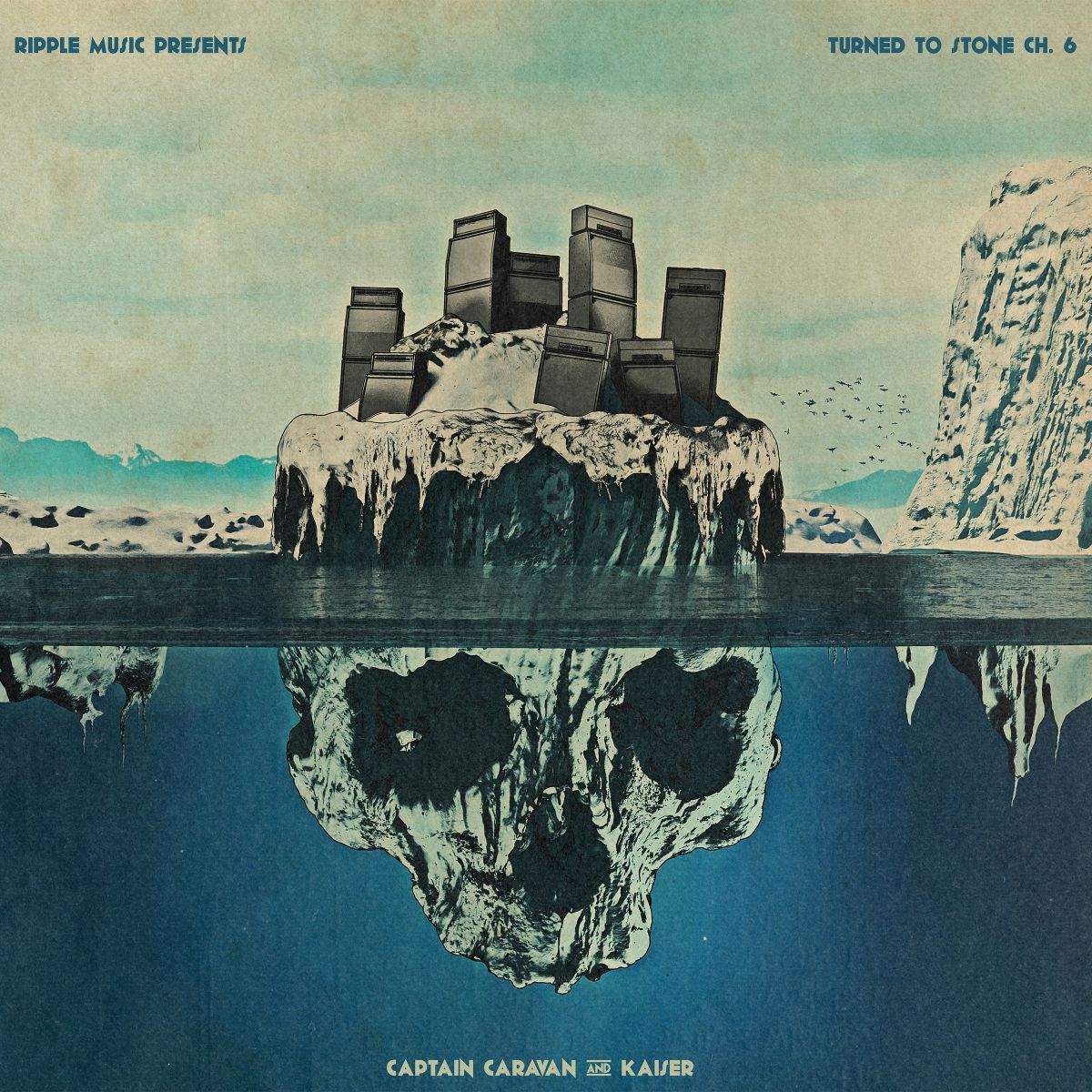 Ripple Music announce 'Turned To Stone Chapter 6' split with Scandinavian stoner rockers CAPTAIN CARAVAN and KAISER; stream debut single « Fire »!
Ripple Music present the brand new chapter of the revered 'Turned To Stone' split series by pairing up the stoner rock power of Scandinavian units CAPTAIN CARAVAN and KAISER. 'Turned To Stone Chapter 6' will be issued on November 18th, with preorders and a first track available now!
Curated by John Gist (Vegas Rock Revolution, Doomed & Stoned Show) as part of Ripple Music's thematic 'Turned To Stone' split series, 'Turned To Stone Chapter 6′ puts the pedal to the metal with nine rubber-burning anthems that skyrocket all fuzz levels and inject a healthy dose of fun in both bands' unstoppable quest for the Stoner Rock Grail. 
🔥 Listen to Kaiser's brand new track « Fire » 🔥
About this new collaboration, Helsinki fuzz rockers KAISER comment: « It was early 2020 when we started to hunt a publisher for our '1st.Sound' EP. We started to get desperate as we realized that record labels don't do EPs anymore. We were about to do it all DIY: publishing, vinyl plant, and distributors were already looked up. But then our loyal Gandalf John Gist hooked us up and asked 'would you like to do a split with Captain Caravan for Ripple Music?' We were like 'Fuck yeah, we'll do it! » It was a relief, and what better way than doing it with our Norwegian awesome bros? » 
Norway's stoner blues mongers CAPTAIN CARAVAN add: "We are very excited to have this opportunity. This split shows a different side of us with more up-tempo songs than on our 2018 album Shun the Sun. We cannot wait to have it released on Ripple Music together with our long-time friends in Kaiser."
The album will be available on November 18th in various limited vinyl formats, classic vinyl formats, as well as CD and digital. Preorder is available now through Ripple Music.
'Turned To Stone Chapter 6: Captain Caravan and Kaiser'
Out November 18th on Ripple Music

TRACKLIST:
1 Captain Caravan – Down
2 Captain Caravan – Sailors
3 Captain Caravan – Painted Wolf
4 Captain Caravan – She Can
5 Captain Caravan – Void
6 Kaiser – Howl
7 Kaiser – Fire
8 Kaiser – Black Sand Witch
9 Kaiser – Phoenix Part 1, 2, 3: Fission, Death, Rebirth
Hailing from Egersund, Norway, CAPTAIN CARAVAN was formed in 2015 when BK, Morten, Geir and Christian got together following individual projects, and started to rediscover their collective craft based on their stoner rock, doom and classic rock influences. In 2018, the band parted with Christian and Johnny got aboard — the last piece needed to take CC on brand new sonic roads. Longer, heavier and more experimental songs became the main focus, all carried by Johnny's powerful vocals. CAPTAIN CARAVAN started recording what was supposed to be a six-track EP at guitarist BK's own studio "BK Studios", with a mixing and mastereing by Kent Stump from Crystal Clear Sound. The release of the debut single « Crown » in the spring of 2018 garnered some high praise from both fans and reviewers alike and caught the attention of Danish label Cursed Tongue Records, who signed them shortly afterward. The band aimed for a full LP release with their 2018 debut album "Shun the Sun". The band embarked on numerous tours, including a highlight performance at the Planet Desert Rock Weekend in Las Vegas, where they met their soon-to-be label mates Kaiser. In 2021, the band issued the new single "Ethel Floon" and got ready for the release of their upcoming split album with Kaiser on Ripple Music.
Facebook⎪Bandcamp⎪Instagram⎪Spotify
KAISER was founded in 2013 by Otu and Riku, after meeting on an online music forum. Their first jam session together made them realize that they were musical twins and had great synergy. They soon welcomed Pex on bass, one of Riku's childhood friends. They recorded their debut self-titled EP in 2014, which ensued with a short hiatus. Their debut album was recorded with Finnish producer Hiili Hiilesmaa (HIM, Kypck, Apocalyptica), and released on German Oak Island Records in 2018. Vegas Rock Revolution ranked it 3rd out of their Top 50 albums of 2018, and Finland's Inferno Magazine ranked it 9th of the Best Albums of 2018 among others. KAISER subsequently toured across Europe alongside Lonely Kamel and Nebula, including numerous festival appearances. Part of the band's new material will see a release through Ripple Music's « Turned To Stone » split series with Kaiser in the fall of 2022. 
Facebook⎪Bandcamp
RIPPLE MUSIC links
Website⎪Facebook⎪Bandcamp⎪Instagram