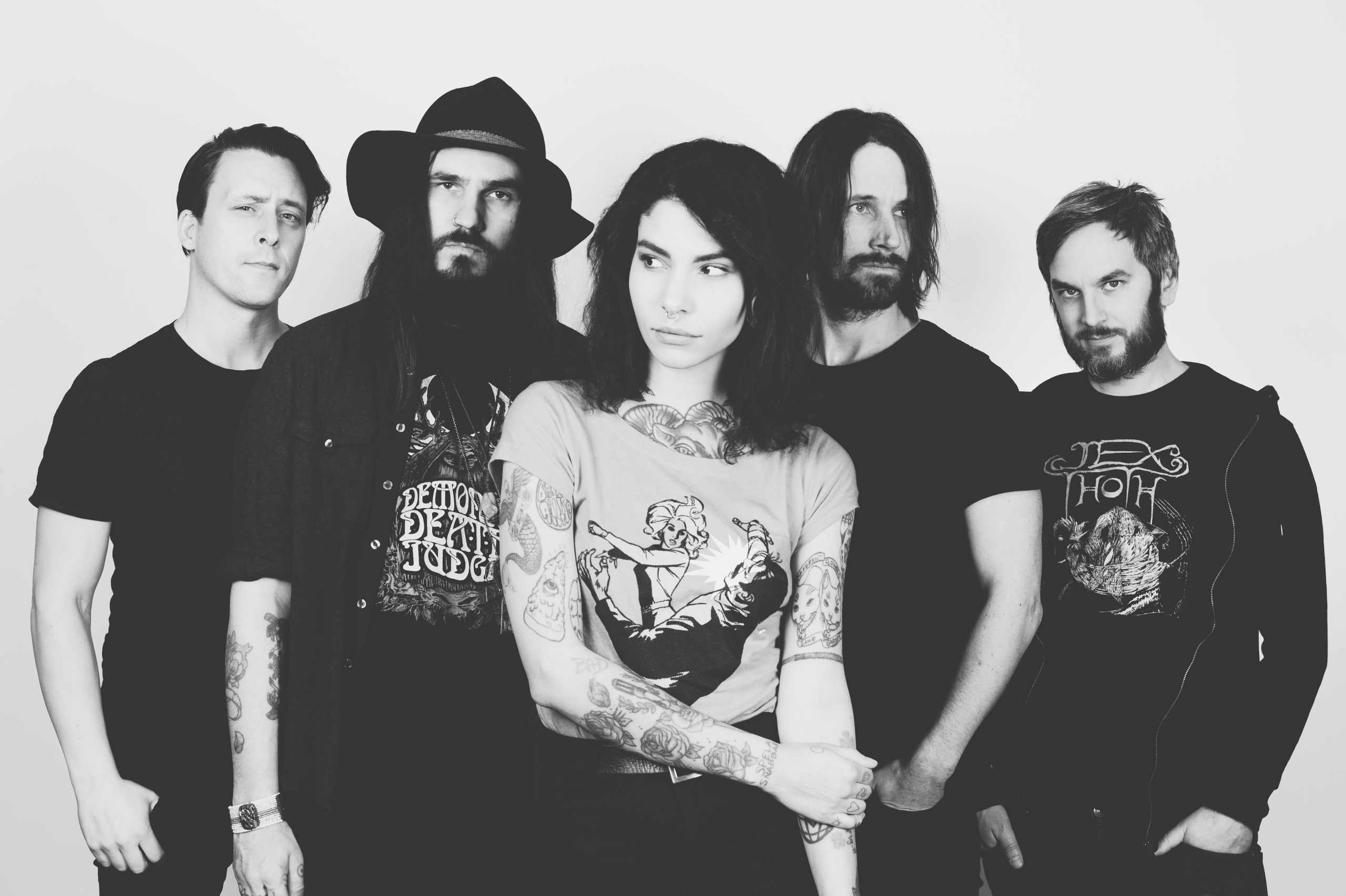 Swedish rock shamans BESVÄRJELSEN debut new video; "Frost" EP out August 9th on Blues Funeral Recordings
Sweden's most captivating heavy rock outfit BESVÄRJELSEN (with Dozer and Greenleaf former rhythm section) unveil the first track and video taken from their upcoming « Frost » EP on Blues Funeral Recordings.
BESVÄRJELSEN (Swedish for "conjuring") are not your everyday stoner rock band. The Swedish quintet conveys a unique sense of mystique and harrowing beauty through their crushing and alluring brand of rock, carried by Lea Amling Alazam's spellbinding vocals. « These heavy hitting Swedes deliver beautifully produced doom rock with lush soundscapes and terrifying vibes. » describes Two Guys Metal Reviews.
Watch Besvärjelsen new video for « When We Fall » HERE

Drummer Erik Bäckwall says about the video: « The song is about searching for good when it feels hopeless, The difficulty in finding good people and not just surrounding yourself with stuff that drags you down. It doesn't really tie in with the video though. The video came out of an idea to make a simple video where all band members where present, since only two appeared in the previous videos from the last album. »

On « Frost », the followup to their 2018 debut « Vallmo », the feel of being isolated in a cold wilderness in the grip of higher forces is palpable all throughout the five tracks, with outstanding songwriting from guitarist/vocalists Andreas Baier and Staffan Stensland Vinrot and the forceful rhythm section of Johan Rockner and Erik Bäckwall (both formerly of Dozer). « Frost » was recorded in the dead of winter, in a cabin in the woods of Dalarna county in Sweden. It was mastered my Karl Daniel Lidén. It will be available on August 9th through Blues Funeral Recordings.
BESVÄRJELSEN « Frost » EP
Coming August 9th on Blues Funeral Recordings
and as part of Postwax subscription series TRACK LISTING:
1. When We Fall
2. All Things Break
3. In The Dark
4. Human Habits
5. Past In Haze
BESVÄRJELSEN – Swedish for "conjuring" – was formed in 2014. Though clearly rooted in the realms of doom, within their engulfing sound lies traces of progressive metal, punk, folk, and classic rock all carefully weaved together resulting in a sound that is at once crushingly heavy and alluringly sophisticated. They released their debut EP « Villfarelser » in 2015, quickly followed by the « Exil » EP (2016) which also celebrates the addition of drummer Erik Bäckwall (former Dozer, Greenleaf) to the lineup. In 2018, the quintet release their first full-length « Vallmo » (Swedish for "poppy"), offering seamlessly wandering from crushing doom riffs to catchy vocals and melodies, deep lyrical content and storming drum work, all topped by stunning guitar solos and, for the first time since the band's formation, songs in English as well as their native Swedish. A couple of months before the release, the band welcomed bass player Johan Rockner (former Dozer, Greenleaf) to the fold.
BESVÄRJELSEN return in2019 with their new « Frost » EP, an almost full length format that raises the band's standards even higher. It will be available on August 9th worldwide through Blues Funeral Recordings after being first included as part of the exclusivePostWax series. PostWax is a groundbreaking subscription-style series of exclusive records for diehard fans of stoner, doom, heavy, psych rock, launched by Blues Funeral Recordings. The « Year One » series will also feature releases from Elder, Lowrider, Domkraft, Big Scenic Nowhere on limited edition vinyl with jaw-dropping artwork and next-level design. More info here.

BESVÄRJELSEN is
Andreas Baier – Guitar, vocals
Staffan Stensland Vinrot – Guitar, vocals
Johan Rockner – Bass, vocals
Lea Amling Alazam – Vocals
Erik Bäckwall – DrumsFind Besvärjelsen on Facebook⎜Bandcamp
Find Blues Funeral Recordings on Facebook⎜Bandcamp