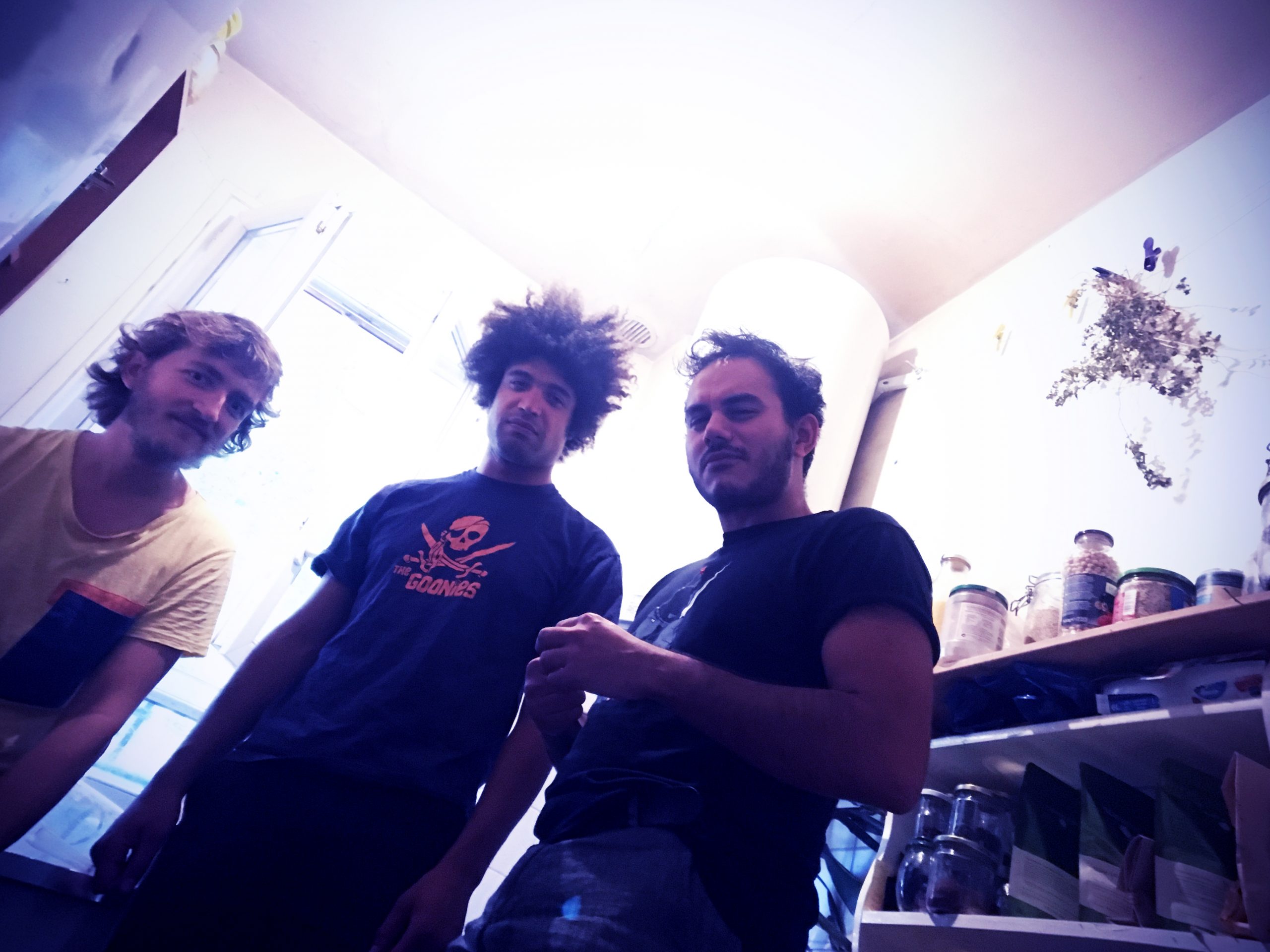 Paris post-noise/industrial metal champions CHAOS E.T. SEXUAL premiere new album 'Only Human Crust' in full before November 20th release on Chien Noir.
When a band makes it so hard to pigeonhole, you better pay attention and get ready to be riveted by the music genius. This feeling is predominant with CHAOS E.T. SEXUAL, which new album 'Only Human Crust' is being premiered exclusively on Everything Is Noise today. Embrace the French trio's disturbing and engaging fusion of industrial noise, post-metal and cold beats below!

"An addictive album built on a dark and eerie atmosphere, with a rich layering of trip-hop, noise rock, and post-metal influences. Only Human Crust is full of such clever songwriting tricks, with an engaging listen releasing your attention to different layers and movements of the instrumentation that make it such a beautiful album to behold." describe Everything Is Noise
Stream new album 'Only Human Crust' on Everything Is Noise
CHAOS E.T. SEXUAL's new album 'Only Human Crust' takes you through a disturbing urban jungle studded with political speeches and deconstructed bits of daily life. From that intolerant, industrial and oppressive scenery, emerges an unlikely blackened dub euphoria. Nine tracks that highlight the modern world's chaos and darkness in a highly compelling and intoxicating way. The French trio's music is a bold fusion of alternative genres such as electronic music, industrial metal and hip-hop. Think Godflesh, Dälek, Neurosis and Techno Animal being involved in a gruesome transe amidst a deranging world.

Whiletheir first video « La Française Des Jeunes » mocked French politics, « 1674 – Now: Many Thousand Gone » openly condemned slavery, their third video « Asile » conveyed a strong feeling of oppression and discomfort, one to be experienced throughout the whole album. Recorded and mixed by the band and mastered by Chris Fielding (Conan) at Skyhammer Studio, 'Only Human Crust' is due out on November 20th via Chien Noir on 2xLP, CD and digital format, with an album artwork designed by French artist Ëmgalaï.
CHAOS E.T. SEXUAL 'Only Human Crust'
Out November 20th on Chien Noir
on 2XLP, CD, cassette and digital – PREORDER
French underground's most loyal members since 2010, CHAOS E.T. SEXUAL is an ambitious project mixing massive drone/industrial soundscapes and hip-hop/noise-laden beats to produce a hybrid songcraft. Highly sensitive to anything visual and improv-related, the band always offer a live set that involves visual artists or video makers. Bass frequencies out loud, cold mechanical beats and sci-fi topics infused with political speeches that are disrupting the auditive approach, making it a subversive yet highly engaging sonic experience.

Following their dark experimentations infused with urban beats, CHAOS E.T. SEXUAL have issued two self-released albums: 'Ov' (2012) and 'Ovna' (2013). The band's third effort 'Only Human Crust' is far more more politically engaged than the previous records, with nine tracks that highlight the modern world's chaos and darkness, in the most compelling and intoxicating way. About 'Only Human Crust', the band says: « Laurent Gaudé's book Eldorado, that tells several stories linked with the crossing of the Mediterranean Sea by migrants, inspired us a lot, we realised that we shared the same topics, these are about capitalist totalitarism and the different kinds of control, addiction an intolerance coming out of our contemporary societies. You can see all of this through Ëmgalaï Grafik's artwork. » Recorded and mixed by CHAOS E.T. SEXUAL and mastered by Chris Fielding (Conan), 'Only Human Crust' comes out on November 20th via Chien Noir and will be available on LP, CD digipack and digital.

CHAOS E.T. SEXUAL is:
Yves ('Chaos'): baritone guitar, vocals
Thomas ('E.T'): guitar, vocals
Tarik ('Sexual'): machines, drums, vocals, production
CHAOS E.T. SEXUAL LINKS
Facebook⎪Bandcamp⎪Instagram

CHIEN NOIR LINKS
Facebook⎪Bandcamp | Instagram