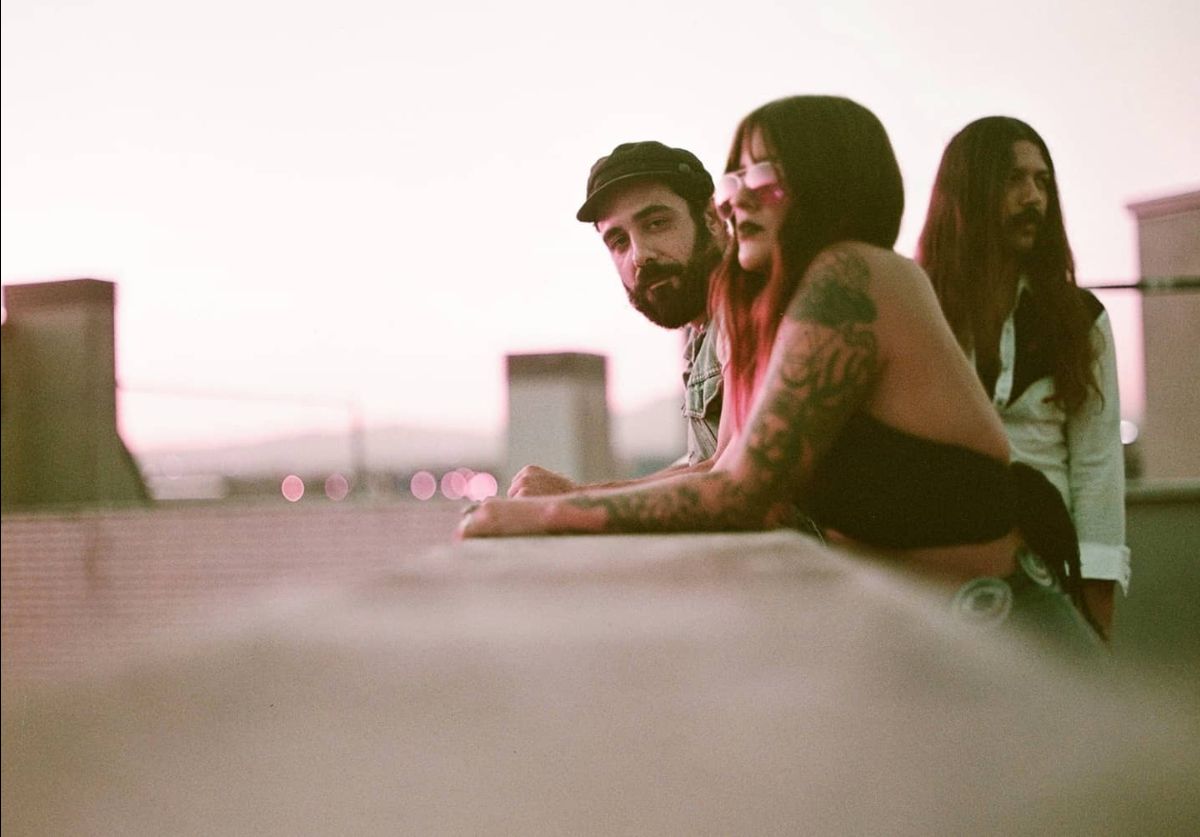 Barcelona heavy blues trio CACHEMIRA shares blazing new single « Mujer Vudù »; new album out June 24 on Heavy Psych Sounds.
Barcelona's heavy blues and psych revelers CACHEMIRA share their upbeat new single « Mujer Vudù » exclusively on Outlaws Of The Sun website. Their sophomore album « Ambos Mundos » will be available on June 24th through Heavy Psych Sounds.

About the song, CACHEMIRA says: "Mujer Vudù is the first song we ever wrote in Spanish, which gives it an exotic feel. It features a 5/4 rhythm signature to spice up the riff. Special mention to Organ Fury from Moundrag for trading licks on the solo section!"
Listen to new single « Mujer Vudù » at this location
Delightfully vintage-sounding, their sophomore album « Ambos Mundos » masterfully explores the 60s-70s classic and psychedelic rock realm with an unbeatable fire and powerful, soulful vocals from new bassist Claudia González Diaz. Their loud and high-octane jams propelled by a rock-solid rhythm section place the colorful trio among the likes of Blues Pills, Radio Moscow and The Heavy Eyes. « Ambos Mundos » will be issued worldwide in various vinyl formats, CD and digital on June 24th, 2022 through Heavy Psych Sounds.
CACHEMIRA 'Ambos Mundos'
Out June 24th on Heavy Psych Sounds
CACHEMIRA was born in Barcelona after many nights of jamming together in the summer of 2015. It was originally formed by Alejandro Carmona (Prisma Circus) on drums and Gaston Lainé (Brain Pyramid)on guitar, later joined by Pol Ventura on bass. The trio released their first single ''Jungla'' in 2017, and subsequently played across Europe before they went on hiatus in the summer of 2018. When Covid hit, the band felt the urge to jam and reform, welcoming Claudia González on bass and vocals, which tenure and powerfully soulful vocals insufflate take their sound to a whole new level. The trio is now signed to Heavy Psych Sounds for the release of their new album in June 2022.
CACHEMIRA is:
Claudia González Diaz – Bass & Vocals
Gastón Lainé – Guitar & Backing Vocals
Alejandro Carmona Blanco – Drums & Percussion
CACHEMIRA links
Facebook⎪Bandcamp⎪Instagram⎪Spotify

HEAVY PSYCH SOUNDS links
Website⎜Facebook⎜Bandcamp⎜Instagram⎜Youtube