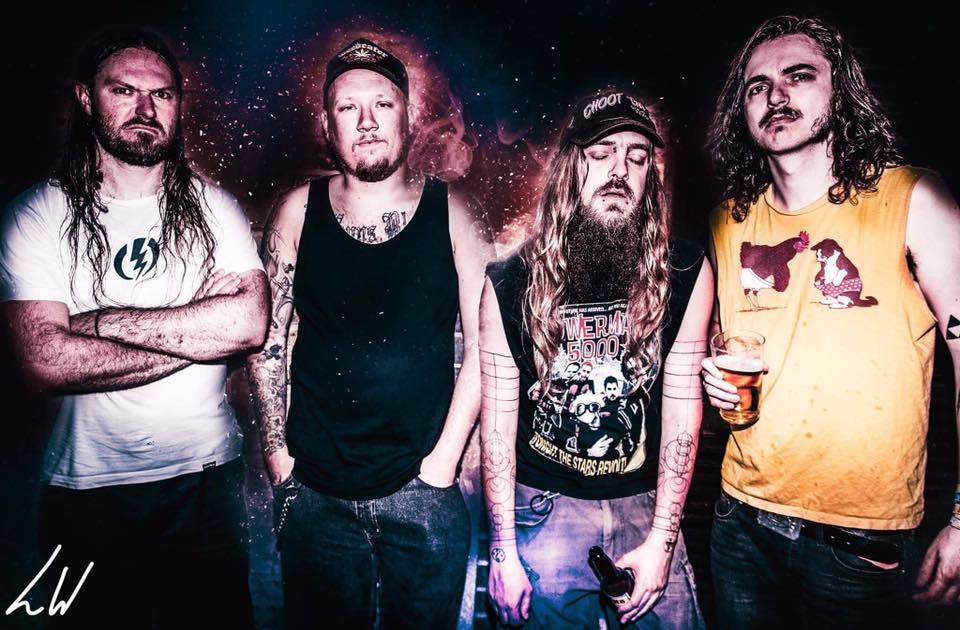 UK sludge purveyors GURT to release new album 'Bongs Of Praise' ; watch blistering first video now!
London party doom purveyors GURT announce the release of their third album 'Bongs Of Praise' and share a thundering first excerpt with the animated video for 'Jazz Cabbage'!
They take the blues and groove of 70s rock and drag it backwards through the swamps of Louisiana. The drums are thunderous, the vocals demonic and the guitars down-tuned, down-tempo and down right sexy. This is not doom, this is not sludge: this is GURT. 
Watch off-the-wall video for 'Jazz Cabbage' here
The UK foursome's wicked sense of humour bubbles at the surface of their latest release 'Bongs of Praise'. Without any sense of irony, the band deliver sleaze in the best possible way, and first excerpt 'Jazz Cabbage'makes no exception and delivers a blistering, crushing minute-long sludge onslaught, enhanced by this fun animated video crafted by Dead Walk Designs. 
GURT's new album 'Bongs Of Praise' will see a release in the coming months, while the band are still on a hunt for a label to host their new sludgy adventures. Stay tuned as more details will be unveiled soon!

Since their genesis in 2010, the band have laced up their boots and stomped over everything you thought you might have known about them and the beloved conventions of metal. GURT collide their barbaric sound with lines of funk and tongue in cheek lyricism to mould what has been hailed as "party doom". In 2014, they unleashed their debut album 'Horrendosaurus' through independent label When Planets Collide, and which they promoted through a three week European tour with Dopethrone, as well returning home to a packed out audience to open Bloodstock's second stage.
Released in 2017, their sophomore album 'Skullossus'explores darker and more menacing shades of sludge doom. Through a theatrical performance, their sound swelled in size as they toyed with their repertoire; adding rip-roaring, guttural vocals, psychedelic rhythms and classic rock'n'roll-worshipping riffs. On top of their two full-lengths and seven EPs, GURT have been relentlessly touring the UK and Europe, sharing the stage with the likes of Weedeater, Red Fang, Eyehategod, Black Tusk, Valient Thorr, Cough. In their own right way, they have cast their hypnotic savagery to the crowds of Bloodstock, Desertfest, Riffolution (UK) as well as Stonerhead (Salzburg) and 2019's Monospace Fest (Paris)
GURT are:
Gareth Kelly – Vocals
Bill Jacobs – Drums
David Blakemore – Bass
Rich Williams – Guitar
GURT LINKS
Facebook ⎪Twitter ⎪Bandcamp⎪Website