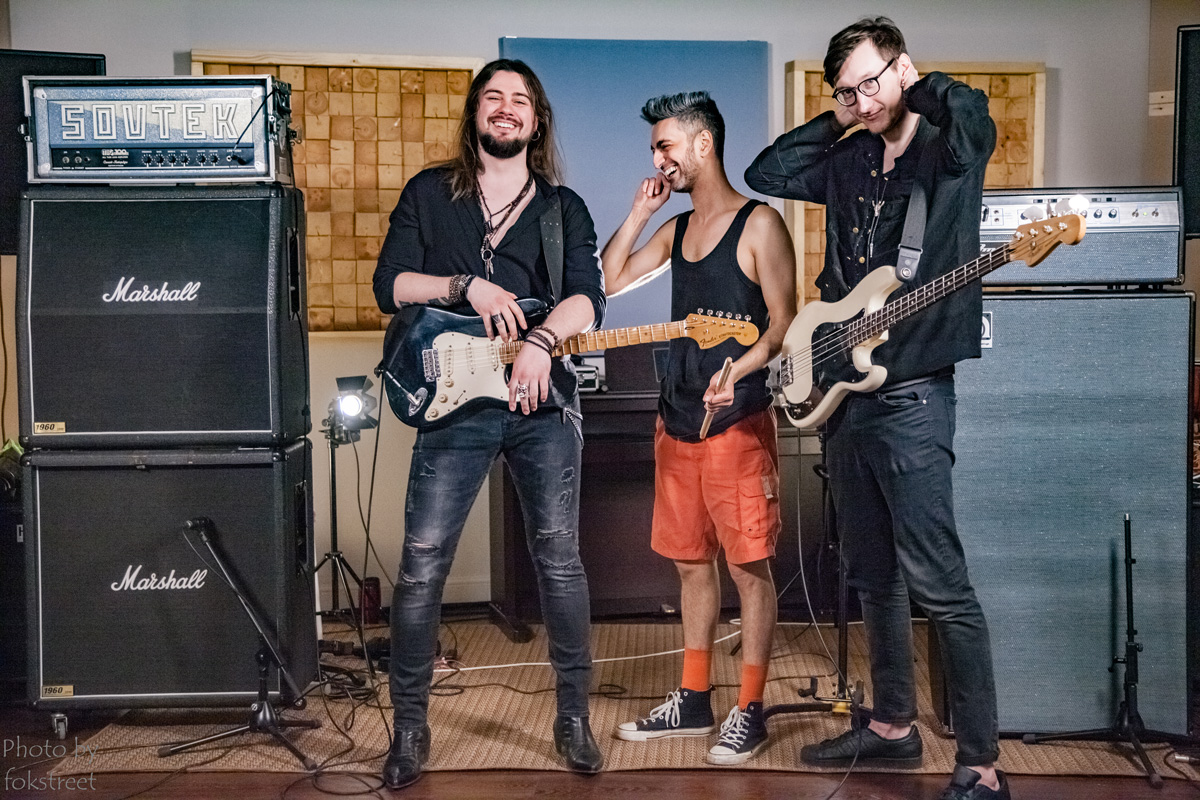 High-voltage rockers STARIFIED premiere new album 'Fat Hits' in full via New Noise Magazine; out January 15th on Ripple Music!
When it's time to ROCK, STARIFIED are ready to deliver! The energetic Moscow rock trio teams up with New Noise Magazine today, to unveil their brand new album 'Fat Hits' in its entirety before its official release this Friday 15th January through Ripple Music. Turn on, tune in, drop out!
STARIFIED are masterful purveyors of a high-voltage, pulsating brand of rock filled with hard-hitting riffs, melodic vocals and an all-out in-your-face attitude. Combining their 90s alt-rock and classic rock influences in the most spirited way, the Moscow trio delivers anthem after anthem with an unwaveringly contemporary approach, winning over over Magnus Lindberg (Cult Of Luna) who mastered their new album.
Their aptly-titled third album and first Ripple Music release 'Fat Hits' is a wrecking ball of infectious hooks, propelled by knockout clean vocals from drummer Vadim Ambartsumian. With its irresistible stadium-friendly aura, 'Fat Hits' has been compared by international critics to an energetic mix of Foo Fighters, Soundgarden, Faith No More and Orange Goblin.
⚡️Crank it up with Starified's vibrant new album 'Fat Hits' ⚡️ 
About their new album 'Fat Hits', STARIFIED comment: « It was a long and tough journey: working on the material, searching for the right sound, recording it in Moscow's best studios, mastering the album in Sweden with Magnus Lindberg from Cult of Luna. « Fat Hits » has already changed our lives. We dedicated our hearts and all of our energy to this work. « Fat Hits » is right for you if you love music and the emotions it evokes, and not a specific genre. We were influenced by too many artists and genres so one or two hashtags wouldn't work. You decide. »
New album 'Fat Hits' will be released on January 15th on vinyl, CD and digital through Ripple Music. STARIFIED also recently released the « Don Loco » video, as well as an epic cover of Thin Lizzy's « Cold Sweat« .

STARIFIED New album 'Fat Hits'
Out January 15th on Ripple Music
US preorder // European preorder
STARIFIED is a hard-hitting, groovy and heavy rock trio founded in Moscow in 2017 and powered by drummer and vocalist Vadim Ambartsumian, Yuriy Berezovik on guitar and Dmitri Shurpakov on bass. STARIFIED's new album 'Fat Hits' is the follow-up to their 2018 outing CSBR Records outing 'Feathers', which found the band revamped from a five-piece to a trio, with just guitarist Yuriy Berezovik and bassist Dmitri Shurpakov carried over from the original lineup on the prior 2017 self-titled debut. The newcomer in this pared down version of the group for 'Feathers' was lead vocalist/drummer Vadim Ambartsumian, and he continues to make an impression as Starified strip away excess from their songwriting and refine their material on 'Fat Hits'.
From the opening bruiser "Scapegoat" through "Don Loco" and the sans-frills structures of "What If" and "Anti-Rebel," 'Fat Hits' is clean and sharp in its production and holds its purpose in the songcraft, but isn't to be taken lightly in terms of performance. Less "a drummer who sings" than both a drummer and a vocalist, Vadim Ambartsumian casts a significant presence and is forward in the mix, but he, Berezovik and Shurpakov are all pretty clearly on the same page when it comes to knowing what they want their sound to do, and that would seem to be to engage as many ears as possible. (Words by JJ Koczan)
STARIFIEDis:
Vadim Ambartsumian – vocals, drums
Yuriy Berezovik – guitars
Dmitri Shurpakov – bass guitar

STARIFIED LINKS
Facebook | Bandcamp |  Instagram
RIPPLE MUSIC LINKS
Website⎪Facebook⎪Bandcamp⎪Instagram